Dream Team : Alan Higgs
I saw my first speedway meeting in 1975 at Oxford and instantly became a speedway addict. I followed the Rebels and the Cheetahs home and away before moving north in 1988. Had short spells helping 'Johno' in his Belle Vue, Ipswich and Wolves days and we are now great friends. Speedway a great sport for meeting great friends.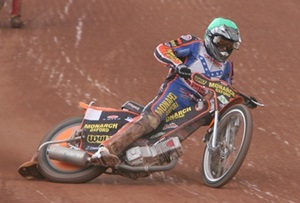 'Johno'
Picture by Ian Adam
Hans Nielsen
A genius on a speedway bike, Hans made it look effortless. Great to see him team riding or pulling extraordinary victory wheelies. The true master.
Leigh Adams
What can I say that hasn't already been said or written about this superb speedway rider? Another legendary character who I had the pleasure of befriending and seeing racing on numerous occassions. How this man didn't win a world title is beyond me!!!
George Hunter
I remember watching George in my early speedway days. A great team rider who had the knack of slowing a race down to bring his partner to the front, a great team man and in his day a great number 1 for Oxford.
Martin Yeates
I remember Martin winning the 'Super National' at Oxford when he beat Joe Owen in a run off. Fast starting, Martin only had one year at Oxford but what an incredible year it turned out to be reaching the British Final.
Bruce Penhall
Another speedway legend. I was fortunate to be on the Wembley terraces in 1981 to see Bruce win the World Championship. A great nights racing including probably the best race I've ever seen between Penhall & Ole Olsen, quite breathtaking.
Joe Screen
Screeny, pure class on a motorcycle. Nothing better than to watch Joe make a sweeping pass around the outside with his leg trailing style. Another rider who didn't achieve as much as he could of!!!!!
Steve Johnston
Last but not least, my great friend, 'Johno'. a proper character, always willing to chat to the fans even after a bad night!! Johno could beat anyone on his day, a great team man and a good professional. Supporters don't always see what work goes on behind the scenes and Johno was meticulous in his preparation. He would be a great mentor to some of todays yougsters. Good luck in your retirement mate.
This article was first published on 5th May 2011
[ Use Desktop Version ]
Comment on this Article | Contact Us | Go Back to Main Menu