Dream Team : Alan Pennington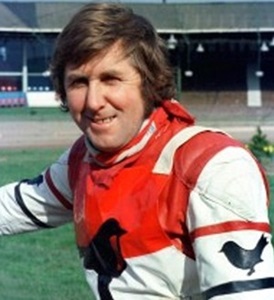 Barry Briggs
Ray Harris
Captain of Stoke when I started as a kid I was always upset when he wasn't in the team and looked forward to the second half more than the match to see him. See my article in Riders To Remember.
Ken McKinlay
Brilliant stylist and if he had won a world title in the late 50's it would not have been a surprise he was a 9+ rider for 15 years, class act. Went on too long if truth's known.
Barry Briggs
Best ever, passed people for fun and a world class rider for 20 years. I saw all his BL riders finals wins at Belle Vue when it meant something.
Mike Broadbank
World class in the early 60's, joined Stoke at the end of his best days. Suffered some bad injuries and illness but bounced back and was fantastic to watch. A nice bloke as well, cleverest rider I ever saw.
Jimmy Gooch
Took a long time to hit the big time did Jim but was always a spectacular sight to see around the outside when most others hugged the line. I saw his only world final appearance.
Peter Jarman
Another Stoke hero who should have done a lot better but was a bit temperamental and didn't reach the heights he should have, but another with terrific track craft.
Geoff Curtis
A chubby little Aussie who rode for Crewe in 69. A great gater who improved season by season and averaged well over eight at Reading before he sadly died in a horrific crash. He told me he wanted to be as good as his mate Jim Airey, and I think he would have if he had lived.The only rider I ever got to know reasonably well. A lovely quiete polite man.
I'm sure I could pick loads of teams, I've had loads of heroes in this great sport.
Submit Your Own Dream Team
This article was first published on 28th April 2013
[ Use Desktop Version ]
Comment on this Article | Contact Us | Go Back to Main Menu