Artem Laguta - A Russian Champion at Last
By Tracy Holmes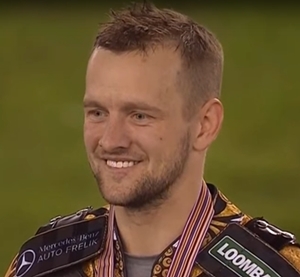 Artem Laguta - World Champion
Artem Laguta is the new Speedway Champion of the world. At last we can say there is a Russian World Champion. I think two were cheated out of a possible real chance by referees, more on that soon.
Let us remember 1963. Wembley, heat 3. Boris Samorodov is at the back as Ove Fundin leads Barry Briggs and Ron How. The excited Russian slams into How who goes flying. The race is stopped, Samorodov is excluded and rightly so.
However, Boris does not see it that way and refuses to leave the track. There was almost 'an incident of international proportions.' Boris eventually gave up his protest. From his next four heats, 11 out of 12 points. Beaten only by Bjorn Knutsson.
The results; 1st Ove Fundin 14. 2nd Barry Briggs 13. 3rd Bjorn Knutsson 12. 4th Boris Samorodov 11.
It was the same result for Boris at Gothenburg the following year. 4th with11 points. Barry Briggs was singing in the rain, with the maximum 15 points. Then, in a photo-finish, Igor Plechanov beats Ove Fundin the run-off for 2nd. They scored 13 points each.
Plechanov repeated that performance at Wembley in 1965. As Bjorn Knutsson took the Gold Medal with 14 points, Plechanov beats Fundin in the Silver medal run-off, 13 points each.
Wembley 1967. After four rounds, four riders have 11 points. Igor Plechanov who lost to Ivan Mauger. Ivan Mauger who lost to Bengt Jansson. Bengt Jansson who lost to Ove Fundin. Ove Fundin who lost to Igor Plechanov. The last round sees Fundin beat Mauger. Then in the last heat, Plechanov has to beat Jansson. Who will join Fundin in the Gold Medal run-off?
The tapes went up and Plechanov made an electric start to hit the front. British referee Arthur Humphrey stops the race. How many times have we seen this over the years? A rider makes a perfect start only to be penalised for his brilliance. Fundin breathed a huge sigh of relief. Even more so when in the re-run, Jansson hit the front from Eric Boocock with a disappointed Plechanov unable to make up any ground. Jansson wins and Plechanov finishes 4th overall behind Fundin, Jansson and Mauger. Robbed of his best ever shot, Plecahnov had every right to feel cheated. Why did Fundin breath a huge sigh of relief ?He knew he could beat Jansson. He was not so confident about Plechanov ! How do I know? He told me.
1968, Gothenburg sees Ivan Mauger unbeaten with Briggo 2nd. Then Edward Jancarz beats the Russian Gennady Kurilenko in the Bronze Medal run-off with 11 points each.
Wembley 1969 and Valeri Klementiev only scores 4 points. But that included a round two win over the British Champion, Barry Briggs! He improved on that the following year at Wroclaw, 8 points to finish 6th. Sadly, Klementiev lost his life early in 1971.
Gothenburg hosted the Final that year and Vladimir Gordeev scored 11 points to finish 5th. He later received a 12 month ban from international competition for having used nitro. Someone had to be made an example of.
There were 6 Russians at Wembley in 1972 with Alexander Pavlov proving the best, 8 points to finish 6th.
1973, Chorzow. After 5 rounds, the defender Ivan Mauger and Jerzy Szczakiel have 13 points each. They can be joined by either Zenon Plech or Russian Grigori Chlinovski. These two meet in heat 19. Peter Collins made the gate but he was rammed by Plech and went from first to last. Plech had the lead from Chlinovski, Valeri Gordeev [ Vladimir's brother ] and Collins. But Chlinovski, the more experienced of the two, never gave up and into the last lap, Plech opened up a gap, Chlinovski drove underneath, took Plech out with Pole falling into the fence. Gordeev hit Plech's bike and also fell with Collins avoiding the chaos. The race was not stopped. Chlinovski won joining Mauger and Szczakiel on 13 points. Collins got 2 points.
All hell broke loose with the Poles screaming foul. It may very well have been, however; the race was not stopped so could not be re-run. Referee Georg Transpurger from West Germany then robbed Chlinovski of his place in the Gold Medal run-off. He took away his 3 points. Peter Collins was declared the race winner and given 3 points. Plech awarded two points and Gordeev 1.
At the end of the meeting, the results were; 1st Jerzy Szczakiel 13. 2nd Ivan Mauger 13. 3rd Zenon Plech 12. 4th Ole Olsen 11. 5th Grigori Chlinovski 10. 6th was another Russian, Vladimir Paznikov with 8 points. He had beaten Chlinovski in round 1.
When the 4-valve revolution hit in the mid-seventies, the Russians got left behind. But let's not forget the very impressive 8 points and 8th place at the 1975 Wembley World Final by Viktor Trofimov.
Fast forward to the SGP era. In 2009, Emil Sayfutdinov is 3rd behind Jason Crump and Tomasz Gollob. That's after winning his debut GP in Prague followed by another two in the 11-round series.
Injuries wrecked the following year but he was back in 2011 with a 6th place. 2012 5th and 2013 6th. He then disappears for a few years, not from Speedway but pours all his efforts into the European Championships. Did he give away his best few years? He was 3rd again in 2019 but only made four of the ten Finals. 8th in 2020. This year he takes his 3rd Bronze Medal.
As for Artem Laguta, he rocketed into the stratosphere this year and his head to heads with Bartosz Zmarzlik have been magic. Of the 11 Finals, they won 5 each. The opening round won by Maciej Janowski. I wished Zmarzlik no harm, but I did not want him to win. The reason? There was something so special about Ivan Mauger being the only Triple Crown winner. In the era of the World Finals and the SGP. I figured if Erik Gundersen, Hans Nielsen or Tony Rickardsson couldn't do it, no-one could.
Bartosz had me gearing up for a 'Mauger' re-think. It was his to throw away, and he did! When he fenced Sayfutdinov in a nonsense desperation piece of madness, the writing wasn't on the wall, it was paint bombed all over it. Unlike Plechanov or Chlinovski, no referee was going to rob Laguta of the opportunity to become the first Russian winner. He held his nerve, stepped up to the plate and smashed it into oblivion. VODKAFUL!!!
This article was first published on 10th October 2021
[ Use Desktop Version ]
---

Mike Wilson:

"Great article as always Tracy but we should mention Viktor Kuznetsov's brilliant 1986 World final effort of 10 points and 5th equal. Outscoring the defending champ Gunderson, Shirra, Morton and Ermolenko."
Tracy Holmes:

"Thanks Mike. I had Viktor Trofimov and Viktor Kuznetsov ready to go. What happened? Like so many things these days, wish I knew !!! haha"

Comment on this Article | Contact Us | Go Back to Main Menu