The BLRC 1973
By Tracy Holmes
Thanks to Dave Hobson for this magnificent shot of the 1973 BLRC trophy. This forms part of the collection at www.ivanmauger.net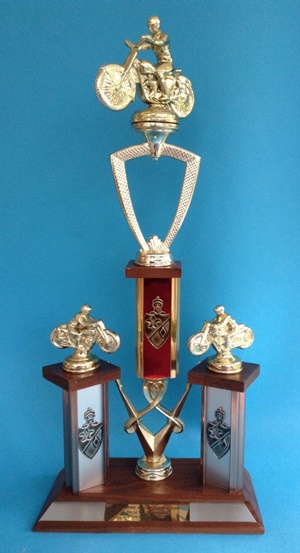 Belle Vue, October 20 and the meeting was rained off. The re-stage two weeks later on November 3 meant the non-appearance of John Boulger, Nigel Boocock, Bob Valentine and Reserve John Titman, all having to catch their planes to Australia. It shows the depth of talent that each replacement was well up for the task. Tommy Jansson too was a non starter and also having qualified but missing because of injury were Bengt Jansson, Eric Boocock and Christer Lofqvist.
Ivan Mauger needed this and his determination lit a fire that no-one got near to extinguishing. The sparks flew and after four straight wins, he needed one point to secure it and was quite happy to follow home Anders Michanek. Winning the Title salvaged his season on the International stage.
Ray Wilson was Leicester's replacement for John Boulger and he sure made the most of that! A naff start was followed by swapping places with Michanek in Round 2 before heading the Swede to the flag. And he took Ole Olsen from behind in Round 3. Then he had to out-gun them again in the 2nd place run-off, which he did to make Soldier Boy's night.
Michanek duffed his hopes by breaking the tapes in Round 3, with all due respect, his easiest heat. So finishing on the podium was some consolation. After 4 Rounds, the defender, Ole Olsen with 11 points needed to beat Mauger in Heat 19 to force a run-off. Well, just like last year, their clash turned to shyte. This time, Ole went through the tapes and 25 thousand groaned with disappointment.
Arnold Haley was Sheffield standby for Bob Valentine and his 11 points surprised none of his loyal supporters. That place in the run-off was well deserved.
Martin Ashby, unbeaten at halftime looked set for a possible podium finish until he knifed the tapes in Round 4. And that was it. A brilliant night of high drama to end a season the likes of which would never be seen again. Thus endeth the lesson.
Heat 1. Michanek, Thomas, Louis, Eide.
Heat 2. Ashby, McMillan, Wilson, Hedge.
Heat 3. Olsen, Middelton, Simmons, Cole.
Heat 4. MAUGER, Haley, Sjosten, Smith.
Heat 5. MAUGER, McMillan, Eide, Cole.
Heat 6. Ashby, Sjosten, Thomas, Middelton.
Heat 7. Wilson, Michanek, Haley, Simmons.
Heat 8. Olsen, Hedge, Louis. Smith ef
Heat 9. Ashby, Simmons, Eide, ANDREW. Smith ns
Heat 10. Olsen, Haley, McMillan, Thomas.
Heat 11. Sjosten, Hedge, Cole, Kennett. Michanek ex/tapes
Heat 12. MAUGER, Louis, Wilson, Middelton.
Heat 13. Wilson, Olsen, Sjosten, Eide.
Heat 14. MAUGER, Hedge, Simmons, Thomas.
Heat 15. Michanek, McMillan, Middelton, Smith.
Heat 16. Haley, Louis, Cole, ANDREW. Ashby ex/tapes
Heat 17. Haley, Middelton, Eide. Hedge ef
Heat 18. Wilson, Thomas, Cole, Smith.
Heat 19. Michanek, MAUGER, Ashby, Kennett. Olsen ex/tapes
Heat 20. McMillan, Louis, Simmons. Sjosten fall
2nd place run-off. Wilson, Michanek, Olsen. Haley ef
IVAN MAUGER Exeter 14. Ray Wilson Leicester 11. Anders Michanek Reading 11. Ole Olsen Wolverhampton 11. Arnold Haley Sheffield 11. Martin Ashby, Swindon 10. Jim McMillan Coatbridge 10. John Louis Ipswich 8. Soren Sjosten Belle Vue 7. Trevor Hedge Wimbeldon 6. Garry Middelton Coventry 5. Malcolm Simmons Kings Lynn 5. Barry Thomas Hackney 5. Reider Eide Newport 3. Howard Cole Cradley Heath 3. Pete Smith Poole 0. Res BILL ANDREW Halifax 0. Res Gordon Kennett 0. Bengt Jansson Hackney, Tommy Jansson Wimbledon, Christer Lofqvist Poole, John Boulger Leicester, Bob Valentine Sheffield, Nigel Boocock Coventry, Eric Boocock Halifax & Res John Titman Halifax all q ns.
This article was first published on 30th August 2020
[ Use Desktop Version ]
Comment on this Article | Contact Us | Go Back to Main Menu