DVD Review: Before Air Fences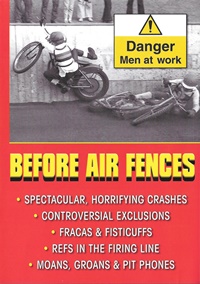 Retro Speedway's new double-DVD is described as "a tribute to the risk takers" and this is a worthy tribute indeed. Running to four hours, it's packed with horrific crashes and lots of interesting interviews and reflections.
Part of the attraction of speedway has always been the risk of a crash, with that inherent danger probably hooking the attention of many first time fans, long before they learn to appreciate the talents of the riders. There are hundreds of crashes included in this DVD, but it's definitely not a product that tries to cash in on those. They are always presented in context and the human cost is always acknowledged.
The contributions from Len Silver and Barry Thomas on the deaths of Denny Pyeatt and Vic Harding at Hackney are particularly hard hitting.
The sand-based track at Bristol's Eastville circuit was always notoriously difficult to ride and we see Bob Coles take a spectacular tumble. Interviewed many years later he is able to recount it in vivid detail.
Exeter was another track with a fearsome reputation, not least due to the steel fence that surrounded the circuit, made from air-raid shelters we're told. Tony Lethbridge, for many years a key figure in the Falcons' administration, takes us on a tour of the track.
If the fence at Exeter was infamous, then the early years at Arena Essex were notable for the complete lack of any fence. A run off area into the adjoining stock car circuit being deemed sufficient protection. The crashes included here suggest that the lack of a physical fence was too discombobulating for some riders.
Quite often a crash can lead to some direct confrontation between those involved. In a section called "Fracas and Fisticuffs" we see Sean Wilson and Roman Matousek in a coming together at Sheffield. Sean is keen to "discuss" the crash with Roman, reflecting afterwards that "Roman wanted a fight, so I gave him a fight!".
The "Reffin Hell" section features an incredibly high-pitched Alun Rossiter getting quite animated after a crash with David Walsh. Walshie's reaction is hilariously contrasting, with him seeming quite bemused by what the fuss is all about!
David is one of those featured during the "In Bandit Country" section, which highlights that Berwick has been the site of many frightening crashes over the years. We see Walsh get tangled up with Paul Thorp and both of them ending up on the centre green, having floored the poor third bend flag marshal. The crash involving Jon Gould at Berrington Lough is even more terrifying as the Poole rider's bike flies over the fence, narrowly missing a photographer happily snapping away.
World Final a accidents are given extensive coverage, including the Carter vs Penhall incident in 1982, perhaps the most famous speedway crash of all time. Neither rider gives an inch, but it's clear from the different camera angles that the decision taken was the correct one. Other crashes on the biggest night include the likes of Briggs, Nielsen and Mauger.
Things get very somber towards the end of the second disk, with a section on crashes that proved career ending, involving Dougie Wyer, Mikael Blixt, Erik Gundersen and Mark Loram.
We follow Gundersen's story from the horrific first bend crash at Bradford, through his stay in hospital and during the first steps in his rehabilitation.
There's also a lengthy interview with Mark Loram, who talks us through his ill-fated last race and reflects on the effect it had on his life.
Erik and Mark were both very unlucky to see their careers end so suddenly, but both would agree that they're very fortunate compared to those who gave their lives for the sport.
Needless to say, no fatal crashes are included on the DVD, but tribute is paid to those lost their lives on the speedway tracks of the world.
This DVD really has a bit of everything. Spectacular crashes, fabulous nostalgia and some thoughtful comment on track safety and the risks that riders take.
You can order your copy from RetroSpeedway.com.
This article was first published on 8th November 2020
[ Use Desktop Version ]
Comment on this Article | Contact Us | Go Back to Main Menu