The Unsolved Mystery of Two Bill Allens
By Tony Webb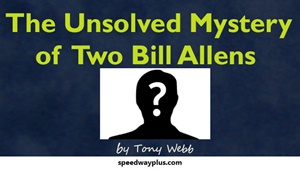 As an investigative writer I have solved and debunked several myths in the past including the origins of modern day speedway, The myth of Maitland, the first Australian speedway sidecar team tour in England by the Carleton brothers in 1952. I also found the truth and last resting place about Garry Middleton with the help of his family on the practical side I was able to work with Exeter historian Tony Lethbridge to get a memorial in place at Plymouth for Noel Johnson who was the Uncle of our local plumber! We are currently working on plans to renovate Jack Arnott's memorial in Brisbane.
Therefore it was a great surprise when I revisited the Bill Allen story with some new links I was to discover that he was connected to all my previous works. Jack Arnott, Davies Park, Deagon, China and Noel Johnson were all linked and even Garry Middleton lay in a cemetery not far for from Bill's place of rest
Bill Allen, remained on my files until today with many question marks, a cold case you may say, it was only after newspaper research recently I was able to update my records. However many writers have indicated that late in Bill Allen's career there was an involvement in midget car racing. I will give my opinion on this connection in my conclusion, but first let me tell you about Bill Allen the speedway rider.
I will refer to him as Bill, but he was never consistent with his Christian name using Bill, Jack and Will at different times. He was also referred to as a New Zealander, Australian and English It was a story that was tinged with tragedy and ended in a violent confrontation in Western Queensland but let me start at the beginning.
Shipping Records show that he was born Wilfred Allen in 1901 at Wolverley, near Kidderminster. The shipping records show he sailed to Sydney on the S.S. Moreton Bay from Southampton in 1926, going by the entered birth date he was then 15. It is likely he sailed with his parents as their future address was Alice Street, Windsor in Brisbane. The shipping manifest states he is a mechanic, his final destination is Auckland, NZ and his permanent residence is other part of British Empire. If the facts of his birth are correct he would only have been a schoolboy. To confuse the issue his age at death in 1937 is given as 30 and the name is Jack Shaw Allen. One can only assume that the original information as regards name and date of birth are incorrect.
Bill Allen turns up first in New Zealand in 1927 riding grass tracks, there was no speedway to speak off in New Zealand at that time. Bill makes friends with New Zealand grass track Champion Jack Arnott and together they sail to Brisbane to ride at Deagon and Davies Park in 1928.
Bill was seriously injured in a bad crash at Deagon on June 6 1928, he recovered eventually and won the Australian 100 mile Championship at Deagon on November 12th 1928. He then returned to Wellington NZ to ride in the first meeting at Kilbirnie on March 9th 1929. When the short season ended at Kilbirnie they return to Davies Park where the first tragedy strikes.
New Zealander Jack Arnott won an Australian championship at Deagon where he also held the one mile Australian record and was competing at Davies Park on November 18 1929. He fell in a heat of the Second Division Handicap, although he was flung clear of the following riders and lay by the fence he was hit by a back-marker who saw him too late to avoid him. Arnott, died before they could get him to the medical room. It fell upon his friend Will to contact the family in Pakownai, Hawkes Bay New Zealand to tell them the bad news. Jack, who resided at Ferndale, 95 Villiers Street, New Farm, Brisbane, had a large nursery business in Hawkes Bay left a wife and child. He lays at rest in Toowong cemetery in Brisbane where supporters had a large monument erected to his memory.
Bill Allen lived with his parents at Alice street Windsor in Brisbane and was a member of the Indian MCC, continued to race at Davies Park and Deagon until early 1930.
He then joined a party of 11 Australians on an ill-fated tour of China based in Shanghai. Levante the promoter absconded with the funds and the riders had to find their own way back to Australia. Bill found employment in China and raised the funds to return home in September 1930.
The departure of the 11 Australians had been a death knell for both the Deagon and Davies Park tracks as it completely deleted the riders then available in Queensland. Deagon never recovered and closed down after nine years, Davies Park reopened in late 1930 when Bill and two other returned riders appeared. However the crowds did not return to Davies Park. The final blow was the departure of several top riders to New Zealand to ride in March 1931 and with virtually no star riders the venue closed for ever.
Bill then travelled to England, joining Coventry where he only had five pointless meetings as reserve with the Southern league club from June 6 before the fateful night of August 25. Will travelled to Plymouth and had scored in his first two rides for Coventry. In heat 7 he had a battle with Noel Johnson, Plymouth's Australian star who by coincidence was also from Brisbane and a near neighbor of Bill's. Noel over-slid and was hit by Allen who had no chance of taking evasive action they collided and Noel received fatal head injuries.
According to the Coroner's report, Bill was described as Wilfred Allen of Kidderminister, it was stated he had experience of riding speedway in the Antipodes. He was cleared of any responsibility in the fatal accident and returned to Australia. He rode again in Sydney and Brisbane in 1933 and then the trail gets a little hazy and another Bill Allen comes into the scene, which raises the question are they the same person?
The second Bill Allen comes into the Speedway picture in 1933 courtesy of three journalists who have connected him as being the same person as Bill Allen the speedway rider. It is easy to see how they came to that conclusion, the second Bill Allen had New Zealand connections and was motorcycle racer and then a Stuntman in Hollywood. He was racing midgets in America. He wanted to promote the sport in Australia and returned to Melbourne where he became involved with promoter John Wren and he built three cars which were known as Roadmasters.
Bill drove in the first meeting at Olympic park on December 15 1934 and raced until March 1935. He came onto the speedway scene at a time when our first man was fading from the public. By assuming the two men were the same was an injustice to Bill Allen the second as he had an individual place in history as he was the first man to introduce speedway midgets to Australia.
Searching the newspapers in Brisbane I came across the story of a Jack Allen in the Truth newspaper February 9 1937. Under the headline. "Jealous lover in shooting tragedy" the report said "Jack Allen, a former speedway rider, died in a love triangle drama in 1937."
The story went on to say that late in 1936 he was working as a mechanic in his father's Pioneer garage in Edward Street Brisbane. Jack had a long time girlfriend from Paris Street in the West End, a relationship which was not going well. His girlfriend went up to Millmerran near Toowoomba for a break. Jack hired a car from Fowler's garage Milton and followed her up there on February 11 1937. He was in an emotional state as he wrongly believed that she had another suitor. He confronted her outside the Imperial where she was talking to a Mr Henry Drake, who she had just been introduced to by her sister, and shot them both outside the local hotel. Jack then took off into bushland pursued by the police. He turned the gun on himself. His girlfriend survived but Jack died from his injuries
There is a Jack Allen who now lies at rest in Lutwych cemetery on Gympie road in Brisbane as Jack Shaw Allen 1906 - 1937, Plot number 19, Section 20R, COE3. Close to the 1939 proposed Windsor speedway halted by World War 2
Conclusion, in my opinion they were separate men, although it is uncanny they both had New Zealand connections, they were both speedway riders and Bill the midget racer came on the scene as Bill the speedway rider faded from the public eye.
I am certain that Jack Allen at rest in Lutwyche cemetery is our speedway rider. Bill Allen was a separate person, it is just the careers crossed over and was never clearly researched in the following years, however it is not a closed book, I am still open for opinions.
This article was first published on 9th May 2021
[ Use Desktop Version ]
---

Graeme Frost:

"I believe the people referred to are 3 different people. The first person, who rode at Deagon in the mid-1920s was Wilfrid Allen, born in Kidderminster Eng, but lived most of his life in NZ. Only briefly rode in Australia, and rode in the UK in 1931, but rode in NZ in the 1920s and 30s and died in NZ in 1976.

Jack Allen who rode in Australia through the 1920s and 30s, went to China, and klled himself in 1937 was a different person. Jack was riding in Queensland at the same time that Wilfrid was riding in NZ.

The Midget Car "Bill Allen" is a bigger mystery. All the claims that he raced midget cars in the USA, including racing in the 1932 Indy 500, aren't verified as far as I know. I think all that is proven is that he raced midget cars in Australia. The rest of his "career" in midget cars seems to have come from him and I've never seen any historical information about him in the USA or NZ."
Matt Jackson:

"Great to read the article by Tony Webb regarding the two Bill Allens. If it's any help with his continued investigation, (and it's the same family), Bill's birth and census record has him being born with the unusual first name spelling of Wilfrid with an i. The family lived in 1911 at an address called Longcroft in the village of Wolverley. His father was also Wilfrid, his mother was Lucy and his sister, born in 1903, was also Lucy. Wilf senior was listed as a market gardener on the census."
Tony Webb:

"Thanks Graeme and Matt, Great to stimulate interest in past mysteries and get welcome feed back. I will keep digging! There is another Queensland based rider Harold Hard luck Stevens, who I think died in a road accident 1937-38 that I am researching. He was actually born in UK, Arthur Yenson and Fred Hore are two more UK riders who were the first to ride in Australia."
Anonymous:

"Regarding the rider Jack Arnott who tragically lost his life. You write that his Parents lived at ''Pakownai'' in Hawkes Bay NZ. It was most likely Pakowhai very near to Hastings Hawkes Bay and just 10 minutes from where I live because if you google the other name it doesn't exist. Jack most likely would be credited as the first ever rider from this region. "
Tony Webb:

"Jack Arnott, thanks for the correction on my spelling for PAKOWHAI. We are still keen to give his monument a clean up. we were told the to check with family which we have had no success on. He had a child who was born about 1924, however our researh did not come up with anyone."

Comment on this Article | Contact Us | Go Back to Main Menu