Riders to Remember: Bill Andrew
By Tracy Holmes & Peter Hosking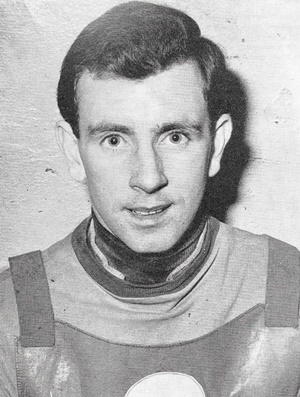 Bill Andrew
Errol Campbell Andrew was born on December 13, 1940 in Palmerston North, New Zealand. The Speedway world would always know him as Bill. He was a man who would carve out two successful careers. One as a jockey and the other as a Speedway motorcycle rider. Both relying on horse power! Haha. Trust me, it won't get any better.
This was off the 'Jockey World' site,
'Rode about 30 winners in NZ from some 200 rides. In the UK, 1970, he rode for Les Kennard and won 7 Steeplechase events! Another win in 1973 for Stan Wright.'
Now I know nothing about the jockey world but if that's correct, sounds very impressive indeed. Bill himself never counted his victories. Two of his biggest wins were at Royal Ascot and he was presented with the trophy by The Queen Mother. Bill's proudest moments! And juggling speedway? Sometimes the sponsor of Newport would fly Bill from racetrack to speedway in his private aircraft!
His days as a jockey started as a lad when he left school and was apprenticed to the top trainer Theo Howe, in whose charge he spent three years. He also enjoyed watching the speedway with his friends, one of whom was fellow jockey apprentice, Brian Clements. They would travel to Wellington and watch Bruce Abernethy at the Taita circut. It became a case of 'AA'. Andrew was inspired by Abernethy.
The Palmerston North Showgrounds re-opened after many years of inactivity. December 1960 saw its return drawing big crowds with the likes of Maury Dunn, Ray New, Ron [Smith] Phillips and Merv Neil doing the headlining.
That being the debut season for Clements with Bill's debut season being 1961/62. "I bought my own bike when I was 18 and Brian and I took part at Palmerston North each week."
He learned fast with strength and fitness from riding horses paying off like it had for Clements. This is from 'The Big Thrill' by Allan Batt;
'Local jockey come speedway rider Bill Andrew proved the best of the bike class, but he had to work hard in heading home Bruce Ovenden and John Laurie in the Handicap Final.'
And this;
'Bruce Cribb was one of a number of riders who were putting their hand up to take over from the established riders like New, Dunn and Neil who had all been so prominent the previous year. Also in the group of aspiring riders were the likes of Brian Tong, John Laurie, Bill Andrew, Joe Panetta, Bruce Ovenden and Merv Hodgson but clearly Brian Clements was 'the man' to beat and at the seasons third meeting, he headed Andrew home in the Scratch Final, while Cribb continued to display his promise by finishing third.'
The seventh meeting was on December 26. The second Test, Australia V New Zealand. The NZ Team being Maury Dunn, Brian Clements, John Laurie, Bill Andrew and reserve, Auckland's Bryce Subritzky. Australia won 27 / 24 but Clements was a revelation with 12 points. Bill scored 2 points but can you imagine, a Test rider at the very start of your career?!
Such was his promise that selection for the 4th Test at Rotorua was rewarded with a 6 point return. Bill's enthusiasm and strength paid off and when the NZ Championship was held at the Showgrounds, he scored 9 points to finish 6th behind Ronnie Moore 15, Merv Neil 14, Ken McKinlay 13, Bryce Subritzky 11, and Brian Clements 10. Bill also got to ride in the two meetings staged at the Soleway Showgrounds.
At season's end, Bill was on his to the UK! Ronnie Moore was so impressed with his performances, he arranged for Bill to join Newcastle in the Provincial League. Brian Clements was also England bound. He had made such an impression on the Australian ace Chum Taylor that he was signed by the 1st Division side Southampton. This would be Brian's one and only UK season but for Bill, it was the first of eight.
His speedway career would however have to be shared with his being a jockey. He would be up early training horses then on race day, doing the business followed by driving, getting the train or flying to his speedway commitment! Exhausting just thinking about it! He said that compared to speedway, the steeplechase was more dangerous but, "There was nothing like riding a good jumper."
Being a jockey would take preference in four years being 1963, 1967, 1969 and 1972. He rode speedway as he did horses as whatever the occasion, "it was just another meeting", "a big race was just another race to me" but he always tried his hardest.
Regards being a jockey Bill said, "Of course it is possible to ride six days a week over there and because there are bookmakers, owners can earn more and offer better money to the jockeys."
And being a speedway rider, "If you are doing well, you chase everything you can get, but it's a cut-throat business."
The following speedway statistics show how Bill lived up to his work ethic.
1962 Newcastle. Second top scorer with 155 points behind Brian Craven with 222. PLRC Belle Vue. Sept 22. Res 5 points.
1963 DNR
1964 Newcastle. Second top scorer with 174 points behind Ivan Mauger with 248. League winners. PLRC Belle Vue. Sept 26. 8 points.
1965 Poole. Second top scorer with a 9.0 average behind Ronnie Genz with 9.4
1966 Poole. Top scorer with a 9.1 average. BLRC Belle Vue Oct 22. 6 points.
1967 DNR
1968 Poole. Top scorer with an 8.3 average but a broken ankle in July ended his season.
1969 DNR
1970 Newport. Second top scorer with a 7.7 average behind Sandor Levai on 8.4
1971 Newport. Fourth with a 7.2 average.
1972 DNR
1973 Halifax. Fifth with a 6.2 average. BLRC Belle Vue Nov 3. Res 0 points.

After the 1971 season, Bill called it quits. "I'm tired of travelling up to 1500 miles a week to meetings. It takes real determination to turn down offers which include a rent-free house, two cars and up to $17,000 for seven months work." But it was time for Bill to settle down in Godzone.

However Newport were determined to have him back and even sent him the air tickets for himself and his family! "They have been phoning me every second day trying to persuade me back." But the answer was "no" and Bill sent the tickets back. So another year off speedway to concentrate on family and horses. It was Halifax that secured his signature for one last season in 1973.

In the World Championship, Bill made it through to three British Finals being 1965, 1968 and 1971. The West Ham staged Final of 1965 was the last round to the World Final at Wembley. The top 6 would qualify so a double figure score had to aimed at. Sadly, Bill was to score just 1 point and his night started with an engine failure chasing Nigel Boocock, Ken McKinlay and Bob Andrews. With the 1968 World Final being held in Sweden, the British Final at Wimbledon was another stepping stone with two further rounds, the British/Nordic & European Finals, to go. And again, Bill's first heat proved a disaster. He faced Eric Boocock, Trevor Hedge and Charlie Monk. It wasn't a bad start but he fell on the first turn and broke his ankle. Final over and worse, season over!

1971 again saw the World Final being held in Sweden and Bill qualified as reserve for the Coventry event. He got just one ride in heat 16 replacing Eric Boocock, coming home last behind Tony Lomas, Ronnie Moore and Ray Wilson. This trio all qualified for the next round.

In the 1966 season, Bill got to ride in The Internationale at Wimbledon on May 30. The biggest UK individual event along with the British League Riders Final. In his first heat, he took a frightening fall outside Arne Pander and Bob Paulson. He was excluded but then scored 7 points from his next three rides only to fall again in round 5. Here are a few other meetings I found him in;
1965 Johnny Thomson Memorial Trophy. Poole. 1st Bill Andrew. 2nd Jimmy Gooch. 3rd Geoff Mudge.
1965 Jack Unstead Memorial Trophy. Exeter. 1st Colin Gooddy. 2nd Chris Julian. 3rd Bill Andrew.
1966 Johnny Thomson Memorial Trophy. Poole. 1st Bill Andrew. 2nd Olle Nygren. 3rd Ronnie Genz.
1966 Westward TV Trophy. Exeter. 1st Jack Geran. 2nd Bill Andrew. 3rd Cyril Maidment.
1970 Prince of Wales Trophy. Newport. 1st Barry Briggs. 2nd Christer Lofqvist. 3rd Bill Andrew.

While in New Zealand, Bill also drove Stock Cars including in Test Matches against Australia and Midget Cars. His jockey engagements meant he was a stranger to the NZ Championship HOWEVER, in 1970 at Western Springs, he actually was NZ Champion for a few minutes! WHAT??? It went like this.

At the end of competition, Bill was tied with Belle Vue's Chris Bailey. So to the run-off and here is how Bailey saw it, "The start gate was a big piece of elastic, pinned on the inside of the track and the start marshall stretched it out to the outside. We were ready to go and the start marshall seemed to flex his hand. I thought he was letting go so I dropped the clutch but was too quick. The elastic wrapped round my front forks and because it was pinned on the inside, I went round in a circle and knocked the referee off his feet! He excluded me..."

So that meant Bill Andrew was NZ Champion! Well hang on, Chris continues, "I managed to persuade him that the marshall had actually let go, which he agreed. Anyway, I managed to win the re-run." So there you have it. The ref changes his mind and Chris Bailey, after a terrific re-run scrap was NZ Champion, leaving Bill second but he did not line up for the presentation. Local broadcaster and personality Ralda Familton stood in and wore the sash. Bryce Subtrizky was 3rd followed by Freddie Timmo, Colin McKee, Bob Andrews, Jack Millen, Allan Brown, Jim Wells, Roger Wright, Goog Allen, Merv Hodgson, John Roberts, Tommy Sweetman, Lance Gandy and Gary Peterson with reserves Rim Malskaitis and Colin Farquharson.

Now there is true story of 'so near and yet so far.' Alan Clark reported that Bill needed first aid for an injured foot immediately after that run-off which may have accounted for his presentation absence. Yea, maybees ...

Mike Wilson put it to Bill that speedway riders were treated "like Rock Stars". While he enjoyed that description, Bill shared Kiwi experiences that backed it up. He told Mike about the times when NZ's national airline NAC would hold up the flights so Bill could could make his next meeting! He told of one horse racing event in Wairoa. After his last race, it was through the fence to a waiting top-dressing plane to fly him to Gisborne where he caught the waiting plane to Auckland so he could race at Western Springs. Google map and see what an effort that was! That's how big speedway was and the huge regard Bill was held in. But he was also quick to say that in NZ, being a jockey took preference. He was "too busy riding horses to properly maintain the gear, speedway came second."

Bill's last year in the British League was 1973 and he returned to Kiwiland. His last ever meeting was on Jan 19, 1974 at the Palmerston North Showgrounds. An International Best Pairs with the result being;

1st Edward Jancarz / Robin Adlington 15
2nd Zenon Plech / Bill Andrew 13
3rd Mike Hiftle / Chris Pusey 12
4th Bob Valentine / Graeme Smith 10
5th Scott Autrey / Bert Harkins 7

The second half; Heat 1 result; Hiftle, Plech, Andrew, Pusey. Then his last ride being the Consolation Final result; Andrew, Adlington, Harkins, Smith. How cool is this?!

Well, that was it. He started at the Showgrounds and that was where it ended. Bill continued as a jockey until he turned 40 and continued training, moving into a ten acre block where they built the stables, at one time home to 20 horses. He also went into the plastering and Gib-stopping business in no small way, making it a family deal and hiring a team that took on many big projects over the years.

It was 2002 when Bill trained for his practical certificate in Equine Muscle Release Therapy for horses and continued to treat their injuries. A brief look into family life sees that with his wife Vivienne, they had three sons, Leon, Jules and Gene. They were all programmed with a love for horses but Leon also developed a passion for Moto-X and won the National 125 cc title in 1989. Their 4 grandchildren also love horses and Leon's daughter Holly is a well known jockey with over 100 wins so far. Bill still attends the races at Woodville, Palmerston North, Otaki and Whanganui.

For Bill Andrew, it's been an amazing ride, in speedway but first and foremost with the horses, which is where his heart has always been. His speedway efforts have been largely overlooked because the bigger names have received more attention but as you can see, his contributions were impressive indeed. I saw his last meeting and enjoyed his polished style. When it came to an autograph on my programme, that came with a big smile. Never forgot that.

We very much thank Janine Knap for making this article possible and Bill for living this wonderful life in the first place. We hope you have enjoyed our glimpse into the double life of a true Kiwi hero, on 4 legs or 2 wheels. Ladies and gentlemen, BILL ANDREW.

* * * Facts and Figures * * *

League points and averages

Provincial League.
1962. Newcastle. 1 Brian Craven 222 - 2 Bill Andrew 155.
1963. DNR
1964. Newcastle. 1 Ivan Mauger 248 - 2 Bill Andrew 174.


British League.
1965. Poole. 1 Ronnie Genz 9.4 - 2 Bill Andrew 9.0
1966. Poole. 1 Bill Andrew 9.1
1967. DNR
1968. Poole. 1 Bill Andrew 8.3
1969. DNR
1970. Newport. 1 Sandor Levai 8.4 - 2 Bill Andrew 7.7
1971. Newport. 4 Bill Andrew 7.2
1972. DNR
1973. Halifax. 5 Bill Andrew 6.2
1974. Retired.

New Zealand Championship.

1962 Palmerston North. 6th
1963 Palmerston North. 5th
1964-1968 DNR
1969 Palmerston North. 3rd
1970 Western Springs. 2nd
1971-1974 DNR


World Championship results

1962.
Provincial league Q rounds.
Newcastle June 4. 11 points.
Poole June 6. 4 points.
Leicester June 8. 9 points.
Provincial League Final dnq

1963.
Did not compete. Not riding.

1964.
Did not compete. Provincial League riders could not enter.

1965. British League Q rounds.
Swindon June 12. 9 points.
Wimbledon June 19. 9 points.
Poole June 23. 11 points.
British Semi Final. Glasgow July 30. 8 points.
British Final. West Ham August 31. 1 point.


1966.
Coventry May 21. 12 points.
Newcastle May 23. 6 points.
Poole May 25. 14 points.
British Semi Final. Cradley June 13. 3 points.


1967.
Did not compete. Not riding.

1968.
Leicester May 28. 15 points.
Poole May 29. 13 points.
Swindon June 1. 12 points.
British Semi Final. Sheffield June 27. 13 points.
British Final. Wimbledon. July 11. O points. First heat fall, broken ankle, unable to continue.


1969.
Did not compete. Not riding.

1970.
Coventry April 25. 4 points from two heats. Rained off.
Newport May 1. 13 points.
Cradley May 2. 8 points.
Coventry May 13. 8 points.
British Semi Final. Sheffield. May 21. 8 points.

1971. Halifax April 17. 13 points.
Poole April 21. 10 points.
Newport April 30. 12 points.
British Semi Final. Sheffield May 20. 8 points.
British Final. Coventry June 16. Reserve 0 points.

1972.
Did not compete. Not riding.

1973. Poole May 16. 8 points.
Wolverhampton May 18. 11 points.
Halifax May 19. 11 points.
British Semi Final. Wimbledon June 7. 1 point.

1974.
Did not compete. Retired.

NZ Test Matches

1961/62. NZ V Australia.
2nd Test . Palmerston North. Dec 26. 2 points. Australia 27. NZ 24.
4th Test. Rotorua. Jan 2. 6 points. Australia 28. NZ 26.

1968/69. NZ V England.
2nd Test. Napier. January 29. Reserve 5 points. NZ 25. England 23.

1969/70. NZ V England.
1st Test. Western Springs. January 17. 5 points. England 72. NZ 36.
2nd Test. Western Springs. January 24. 3 points. England 65. NZ 43.
3rd Test. Christchurch. January 31. 4 points. England 67. NZ 40.

Challenge Match. New Plymouth. 6 points. England 50. NZ 22.

Overseas Tests and matches

1962. Britain V Overseas.
1st Test. Poole Sept 12. Reserve 7 points. Overseas 56 Britain 52.
2nd Test. Cradley Sept 24. DNR Britain 66 Overseas 42.
3rd Test. Edinburgh Oct 6. 1 point. Britain 60 Overseas 48.
4th Test. Exeter Oct 8. 3 points. Overseas 57 Britain 50.
5th Test. Middlesborough Oct 11. 2 points. Britain 61 Overseas 47.

1964. Scotland V New Zealand.
1st Test. Glasgow April 22. 5 points. New Zealand 57 Scotland 50.
2nd Test. Edinburgh April 25. 2 points. Scotland 65 New Zealand 42.
3rd Test. Newcastle April 27. 4 points. Scotland 63 New Zealand 45.

1964. Britain V Overseas.
1st Test. Newport July 24. Reserve 0 points. Britain 57 Overseas 51.
2nd Test. Hackney Aug 12. 0 points. Britain 58 Overseas 50.
3rd Test. Exeter Aug 17. DNR Britain 53 Overseas 53.
4th Test. Sheffield Sept 10. DNR Overseas 54 Britain 53.
5th Test. Long Eaton Sept 15. 8 points. Overseas 58 Britain 50.

1964. Scotland V Rest of World.
Glasgow Sept 30. 7 points. Rest of World 61 Scotland 47.

1965. West of England V Soviet Union.
Exeter July 12. 9 points. West of England 56 Soviet Union 51.

1965. Poole V Gornik from Poland.
Poole July 21. 8 points. Gornik 52 Poole 26.

1966. West of England V Soviet Union.
Swindon July 9. 10 points. West of England 59 Soviet Union 49.

1966. Poland V Great Britain.
1st Test. Bydgoszcz July 18. Reserve 1 point. Poland 77 Great Britain 31.
2nd Test. Gdansk July 19. Reserve 0 points. Poland 62 Great Britain 46.
3rd Test. Gorzow July 21. Reserve 1 point. Poland 74 Great Britain 34.
4th Test. Wroclaw July 22. Reserve 1 point. Poland 77 Great Britain 31.
5th Test. Czestochowa. July 24. Reserve DNR. Poland 38 Great Britain 16. Abandoned.

1966. Great Britain V Poland.
1st Test. Hackney July 29. Not selected. Great Britain 61 Poland 47.
2nd Test. Coventry Aug 1. 3 points. Great Britain 57 Poland 51.
3rd Test. Sheffield Aug 4. Reserve DNR. Great Britain 76 Poland 32.

1966. West of England V Soviet Union.
Swindon July 9. 10 points. West of England 59 Soviet Union 49.

1966. Poole V Vargarna from Sweden.
Poole Aug 3. 9 points. Poole 43 Vargarna 35.

1966. Wales and the West V Poland.
Newport Aug 5. 6 points. Poland 54 Wales and the West 53.

1968. World League UK.
4th Test. Exeter July 1. 11 points. Great Britain 51 Soviet Union 27.

1970. New Zealand V England. 1st Test. Wimbledon July 30. 0 points. England 54 New Zealand 53.
2nd Test. Belle Vue Aug 5. 2 points. England 66 New Zealand 42.
3rd Test. Swindon Aug 12. 0 points. England 70 New Zealand 37.
4th Test. Sheffield Aug 27. 2 points. England 64 New Zealand 44.

1970. Great Britain V Sweden.
5th Test. Newport July 10. 11 points. Great Britain 70 Sweden 38.

1973. Daily Mirror World League Tournament. UK.
Leicester June 26. New Zealand V England. Rained off.
Wolverhampton June 29. 3 points. Norway/Denmark 40 New Zealand 37.
Swindon June 30. 4 points. Sweden 42 New Zealand 35.
Exeter July 2. 7 points. New Zealand 53 Poland 25.
Wimbledon July 5. Res DNR. New Zealand 50 Australia 28.
Reading July 9. 3 points. New Zealand 43 USSR 34.
Belle Vue July 11. 1 point. Semi Final. England 48 New Zealand 30.


This article was first published on 28th June 2020

[ Use Desktop Version ]
---

David Cohen:

"Great article by Tracy Holmes. What a career Bill had - incredible!"
Colin Brown:

"Just like to say enjoyed the Bill Andrew article. Remembered him well at Poole giving 100% all the time. In 1968 he held the Pirates together when Gote Nordin went back to Sweden after one meeting, still we found Odd Fossengen that year with his battered old pickup truck and red tank speedway bike. Anybody remember him riding over 2 laps and finishing second with only half of his handlebars, legend! Good times."

Comment on this Article | Contact Us | Go Back to Main Menu