Bill Longley
By John Hyam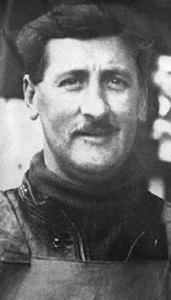 Bill Longley
FORMER New Cross and Australia speedway star Bill Longley was 93 years old when he died on Friday, April 29, 2005 in a Brisbane, Queensland residential home.
As with so many of the sport's stars whose careers scanned the pre- and post-war years, Longley is little more than a name in the records books to modern era fans.
But for those who saw diminutive Longley in action, he rates alongside other greats of this time - Vic and Ray Duggan, Aub Lawson, Frank Dolan, Max Grosskreutz and his New Cross team mate Ron Johnson. The passage of time - nearly 60 years - means there are few who saw these great riders. I did and feel that Longley's placing with them is more than justified.
Although he was an Australian, Longley established strong links with south London, where he lived in Lewisham for nearly 25 years. He only returned to Australia with his wife Kay in 1965 when his father was taken ill.
Before taking up speedway in 1937, Longley was a sidecar racing driver in road, trials and grass track events. He raced sidecars until 1936, in which he climaxed his career in this discipline by winning the Australian grass-track title.
He turned to speedway at the Melbourne Motordrome in January 1937 and made such sensational progress that he finished as winner of the season's points championship. On the basis of this, New Cross rider Clem Mitchell recommended Longley to the London track.
Longley, who stood just 5ft 2ins tall, quickly became a big favourite at the Old Kent Road track where the supporters lovingly dubbed him 'Little Bill.'
Longley was a member of the New Cross team which won the National League championship in 1938 and again in 1948. When the Rangers won the title for a second time, Longley and Johnson were the only members of the original title-winning team left. Longley took over the captaincy of the New Cross team in late 1949 when Johnson crashed and fractured his skull in a crash at Wimbledon.
When World War Two started in September 1939, Longley tried unsuccessfully to return to Australia. He then joined the RAF as a physical training instructor.
He has a vivid speedway memory of the first months of the war. "There was no racing for about six months when it was decided to hold a championship meeting at Crystal Palace at Easter 1940. This was the last ever meeting at the track. I won it with a 15-point maximum," he said in an interview in 2003.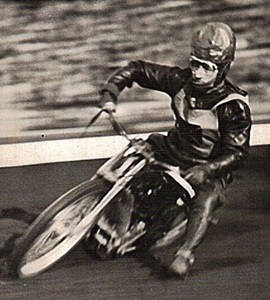 Little Bill in Action
League speedway resumed in 1946 and Longley was allocated to Bradford. The following season he returned to New Cross in a triangular deal taking Les Wotton from New Cross to Wimbledon, while Dons' Oliver Hart joined Bradford.
This was a golden era in Longley's career. He rode 53 times for Australia in tests against England in both countries and was captain of the side nine times.
Nor was Longley without achievement at individual level. He reached all three finals of the British Championship in 1946, 1947 and 1948. The peak of his form in this event was in 1947 when he scored 11 points for third place behind Jack Parker who defeated Bill Kitchen for the title after both tied on 14 points.
Longley also qualified for the first post-war World Championship in 1949, sharing joint-seventh place on eight points with fellow countryman Aub Lawson.
When New Cross closed in June 1953, Longley had brief spells with Wimbledon and Rayleigh before retiring.
Apart from his British and Australian speedway racing, Longley also competed in Holland, Czechoslovakia and Germany while in 1954 he contested the Finnish ice racing season.
One of his big disappointments was not to win an Australian championship. "The nearest I got was in the 1949 Australian three-lap Championship at Melbourne when I tied with Bill Kitchen but he beat me in a decider," he said.
Longley was also involved with speedway off-tack, in the early post-war seasons working as a test team selector alongside Arthur Simcock of the Australian Speedway Control Board.
And another off-track happening for Longley was in the early 1950s when he became one of the first people in south London to open and own a launderette! "They were a rarity in those days, but gave people the chance to not only do their washing but to have a chat about things. I met quite a few New Cross speedway supporters," he recalled years later.
In 1983, Longley started to work as a Justice of the Peace for the Queensland Police Force and only retired from this voluntary post in early 2004.
So far as speedway was concerned, one of his memorable achievements came in June 1939 when the Duchess of Kent attended a meeting at West Ham. "I always cherish the fact that I was the first Australian speedway rider to win a trophy in the presence of royalty," Longley said.
Bill Longley - a real gentleman on and off track.
This article was first published on 12th July 2015
---

* Liam NSW:
"Just a minor correction, but Bill didn't leave for the UK in 1965, as at that point he was a neighbour of my family in London. He might have visited Australia in 1965 but he was back in London after that date, I know as he taught my mum to drive, when we were living in Brockley. He left circa 1968 and I visited him and Kay in the Sunshine Coast around 2002. He visited the UK once in the 1980's when Kay wanted to visit a relative in Rumania. This was an Iron Curtain country at the time, and the visit distressed Kay greatly. He had a scrapbook that had a cartoon in the UK Times of him racing, with an image of Hitler complaining that Bill was getting more attention than him.. which I think was from 1938. "
[ Use Desktop Version ]
Comment on this Article | Contact Us | Go Back to Main Menu