Book Review: Blood and Cinders
By Arnie Gibbons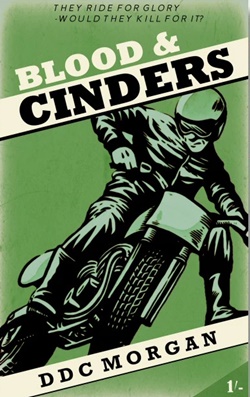 The fiction shelf of speedway's library is fairly lightly populated. Apart from solo outings by John Berry and Dave Lanning, only the works of Michael Hansen [ Speedway Fiction and Watershed ] give this section of the sport's archive any volume.
We now have a new addition in the form of a murder mystery come thriller by London based, but King's Lynn born, Dom Morgan.
The novel is set in 1949 and prominently features the management, riders and stadium of the Bermondsey Bullets a very clear doppelganger for the New Cross Rangers. For example the Bullets won their only league title in 1948, as did New Cross. Whereas New Cross was known as the 'frying pan' the similarly minute Bermondsey track is the 'dustbin lid'. There is even discussion of Ealing studios using the Bermondsey stadium for a film! ('Once a Jolly Swagman' was filmed at New Cross in 1948)
It is not a book about speedway, although it is the on track death of speedway ace Des Fenton that instigates the unfolding drama. The story is told through the eyes of Reg Calloway a solitary man, carrying a secret from his years of war service. He is employed as head of security at Bermondsey stadium by Patricia Moxon the hard bitten 'dame' who is the Bullets promoter, and before the war a 'lady' speedway rider.
At Pat's prompting Reg begins to investigate. Unsurprisingly the late Des Fenton was not universally popular and the narrative pursues a path from the 'playboy glamour' world of Patricia and her star riders through working class South London to seedy Soho and beyond. The settings felt convincing, and the characters they encountered were interesting and varied.
I enjoyed the colour that the speedway background added to the story, and an awful lot happens in the space of 233 pages. Thrillers aren't normally my preferred reading but I found Blood & Cinders an entertaining read, and good value at just £8.95.
Available from the publishers Farenheit Press at: https://fahrenheit-press.myshopify.com/products/blood-cinders-ddc-morgan
This article was first published on 24th January 2021
[ Use Desktop Version ]
---

Duncan Pemberton:

"I am 62 and thought it was an excellent read. passed it to my daughter 22 years younger and she thoroughly enjoyed it. One annoying thing!! the cover! Should have showed a proper 40s broadslider."
Cary Cotterman:

"The rider on the book's cover appears to be on some sort of odd balloon-tyred mini-bike."

Comment on this Article | Contact Us | Go Back to Main Menu