The Sixth California-in-England Speedway Reunion
By Stuart Towner
The morning of 9th October dawned very damp and the organisers – Friends of Speedway were worried it may put people off from coming along. As the morning progressed the sky cleared and it turned out great for the event.
They had organised a line-up of speedway machines to span the over 80 years that the sport has been in existence. The line of machines started with a 1928 Douglas, next a 1929 BSA, a 1930 Rudge and then through the years with a variety of JAPs, Jawas, Weslakes up to a modern laydown machine. Also something different was a rotary engined grass track machine to compliment the display. Various machines were started during the afternoon so that the assembled throng could savour the different sounds from one era to another and the intoxicating aroma of Methanol and Castrol R.
By 11am folk had started to drift in and the place began to buzz with people chatting and meeting up with friends both old and new.
The Friends of Speedway stall was busy with enthusiasts looking for a bargain amongst their goodies on display. All profits generated go to sponsoring the British Youth Speedway Championship series (formerly the Under 15's Championship). They also had a 1970s Jawa speedway bike fitted with a reaction tester which was great fun especially for the children attending to be able to sit on a bike and do a dummy start as if at the tapes.
As part of the attractions there was an organised trip up to the old track where Bryan Horsnell, who used to sweep the concrete starting grid (and it's still there) told folk about the days of the Poppies as the team was nicknamed then.
Quite a few riders were in attendance from the 1950s era which included: Jim Gleed, Eric Hockaday, Pete Rogers, Ron Webb, Dave Collett, Ernie Baker and Martin Ashby. The first four of the above riders actually all rode in the very last meeting there on 5th August, 1957 so a group photo was taken to commemorate the occasion. Also in attendance were the family of Poppies Captain, Ron Sharp and the son of Neil Roberts who also rode there.
The organisers were very excited when the Daughter of Dick Newman arrived with two of her Father's trophies from California with many photos too. To put the seal on the day four times World Champion Barry Briggs arrived to chat with everyone there. He very generously donated two copies of his latest book to the organisers to boost funds to support the youngsters – thank you Barry!
The organisers wish to thank all those who displayed bikes, some coming considerable distances.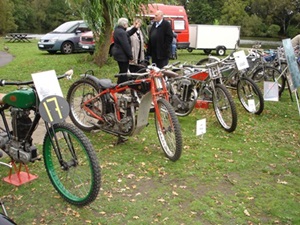 The line-up of bikes from 1928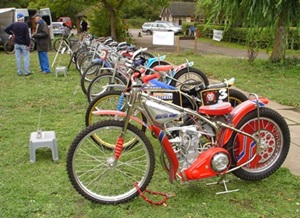 Bikes from the later years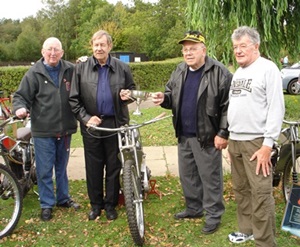 From the left; Pete Rogers, Eric Hockaday, Jimmy Gleed
(with the California Championship trophy) and Ron Webb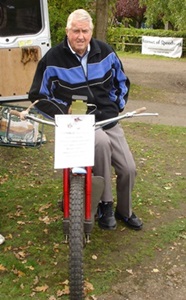 Barry Briggs posses on the reaction tester
bike but declined to have a go
[ Use Desktop Version ]
Comment on this Article | Contact Us | Go Back to Main Menu