Canterbury Noise Trials in 1968
Thanks to Russ Osbourn for sending us these fantastic pictures of historical interest.
"This is Martyn Piddock, Alan Kite, Chris Raines and me carrying out noise trials at Canterbury for the City Council members on 19th February 1968. Johnnie Hoskins and Reg Luckhurst can also be seen."
Click on the pictures to see them in a larger size.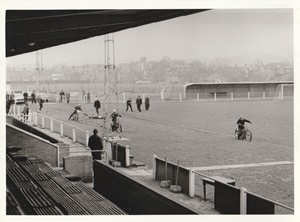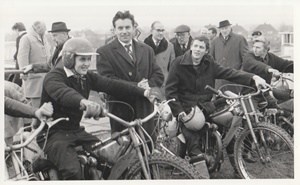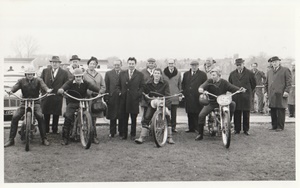 This article was first published on 25th April 2021
[ Use Desktop Version ]
---

Rob C:

"Looks like the noise test was carried out at the Brett's playing field in Canterbury which is (was) in the Wincheap area of Canterbury. On the site now is Morrisons."
Stephen Mark Harland:

"What a rider Martyn Piddock was and could have been. Tragically killed in the Lokeren disaster. I remember him appearing at Middlesbrough's Cleveland Park with Canterbury and also for Young England and he always scored well. Absolutely tragic what happened to him and some of his fellow team mates at West Ham his parent club. "
Andy Oldfield:

"What fantastic pictures bringing back so many memories. I have never seen these before but I can confirm that it is definitely Kingsmead stadium, by the time that speedway started the little covered stand behind the goals were removed. Used to play football at Brett's and it didn't have the covered areas behind the goals, although it did have the best playing surface around - it was like a billiard table! "
Terry Willett:

"Pretty convinced that was Kingsmead for the noise test. I don't ever remember the shed / stand behind the goal but certainly judging by the main grandstand, the fence and the clubhouse on its right which can also be seen in pictures of football matches since 1958 looks like the Malt House in Northlane in the pic where Martyn Piddock has dropped it."

Comment on this Article | Contact Us | Go Back to Main Menu