Cycle Speedway: Celtic Cup 2012
By Dave Beecroft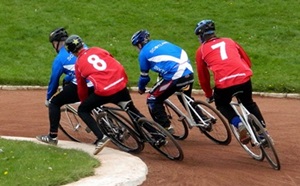 Mikey Hewitson and Jamie Bell of Scotland lead Joe Lewis
and Ryan Evans of Wales
May 19th saw the cycle speedway Celtic Cup take place at the Redbraes track of the Edinburgh Falcons.
Instead of the usual individual matches making up an end of season table, this year, all three nations, Scotland, Wales and Ireland took part in an especially composed 27 heat format match. The 2011 champions were Wales and they were clear favourites going into this match with a strong squad as Welsh cycle speedway booms.
Scotland were troubled by injury and an unfortunately scheduled wedding! Ireland were able to call upon the services of veteran John Murphy of Edinburgh but still needed rider replacement as they were one rider short. Add to that a reduced attendance due to half of Edinburgh being in Glasgow to watch Hibs play Hearts in the Scottish Cup Final and you would be forgiven for expecting a non event. Not a bit of it!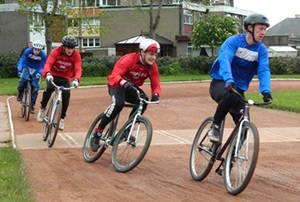 Scotland's Luke Draisey leads Jack Harrold and
Mark Carmichael with Chris Lee in fourth.
The Welshmen eventually finished with a 1-2.
As expected, Wales began to look prominent early on but but were pushed all the way by Scotland and Ireland. No-one, however could match the top Welsh pairing of Jack Harrold and Mark Carmichael who went through the card unbeaten by an opponent although on more than one occasion the Scottish team, particularly Luke Draisey and Jamie Ball, looked to have the edge only to be beaten on the last two bends.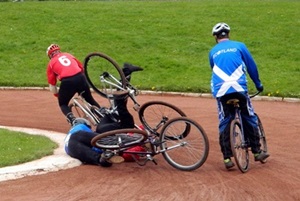 Whoops! All four riders in the re-run.
Spare a thought for Steve Copping of Ireland who travelled up all the way from Ipswich on his own to have six rides plus two rider replacement rides for a valiant 8 points. Cycle speedway scoring is 4-3-2-1.
Wales 113
Jack Harrold 23, Mark Winwood 21, Mark Carmichael 19, Chris Davies 14, Neil Power 13, Nicky Evans 9, Ryan Evans 9, Joe Lewis 5
Scotland 96
Luke Draisey 20, Jamie Ball 18, Richard Hunt 16, Mikey Hewitson 16, Nathan Groves 15, Chris Lee 11
Ireland 59
Phil Adams 15, Gary Colby 15, Harley Hammill 11, John Murphy 10, Steve Copping 8
Referee: Alan Hewitson (Edinburgh)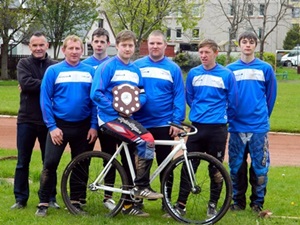 The Scotland team with the Murphy Shield,
annual competition against Ireland.
This article was first published on 27th May 2012
[ Use Desktop Version ]
Comment on this Article | Contact Us | Go Back to Main Menu