Dream Team: Colin Brown
I am 74, been a fan since Dad took me to Poole as a 10 year old. I've supported the Pirates ever since. I used to travel a lot to away matches and if Bournemouth were playing football near to a track on a Saturday I could see both.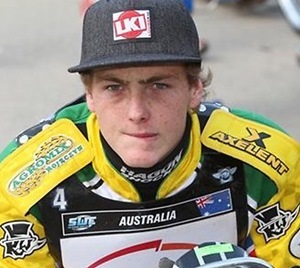 Darcy Ward
Ronnie Preston
The minute I saw him ride at Poole I thought he would be good a great personality and man. You could talk to because he never forgot his fans. It's a pity his career was cut short by his injuries.
Norman Strachan
Every team needs a rider who gets the team 6 or 7 points a meeting and you could rely on Norman to do this. Always smiling. I remember a match against Newcastle when Norman was chasing a Newcastle rider on the outside down the backstraight when the rider in front packed up, Norman with no time to avoid him, tried to go between him and the fence ripping down 30 yards of fencing. Luckily Norman got up and walked away.
Darcy Ward
A world champion he would have been without a doubt. He took chances by riding on the edge but he was a showman who loved the sport, so wherever you are in oz Darcy keep smiling because we will never forget you in Poole.
Ross Gilbertson
From 1963 to 1965 Ross was Mr Poole Speedway. He became no.1 at Poole in this period and no one could catch him round his home track. A good team man, he took a break from racing and came back in 69 to race for Romford.
Odd Fossengen
What a job he had when he came in 68 to replace Gote Nordin. He won the Poole supporters over with his gutsy riding and easy to approach attitude. Again injury cut short his career but will never be forgotten.
John Langfield
What a man! Typical Aussie, lived for today and be damned for tomorrow. A great team man, my memory of him will be of coming back down from Belle Vue on the M6 and seeing a mass of headlights screaming down on me in my rear view mirror. It was Langy towing a broken down Mike Cake car complete with his bikes on the back of the car doing at least 85mph!
Michael Lee
For all of his misdemeanours he was the most talented rider I have ever seen. One memory was him lying second to Per Jonsson and stalking him until the last bend at Poole against Reading and Michael slipped by Per on the inside
Submit Your Own Dream Team
This article was first published on 20th September 2020
[ Use Desktop Version ]
Comment on this Article | Contact Us | Go Back to Main Menu