Riders to Remember....Colin Caffrey
By Bill Elliot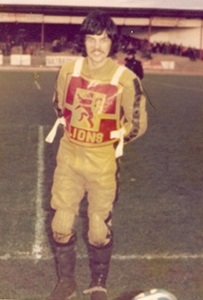 Colin lines up for his Paisley debut
My best mate of more than 35 years, Colin Caffrey, like so many of the riders so far featured in these columns, was not one of speedway's superstars, but nevertheless brought pleasure to literally thousands of followers for around 15 years from the mid 70's until the end of the 80's. Quite literally, Colin was the kind of rider who made you happy to pay your admission money, as you were never sure whether he would come from the back or finish up having a close relationship with the safety fence/track. A "Must See" rider in every sense.
Colin first came to the notice of Scottish speedway during the winter of 1974-75, when following a highly successful cycle speedway career (like a number of peers of his time) he transferred his skills to the slightly more powerful form of 2 wheeled transport, having ridden for the Shields Racers cycle speedway team during their halcyon days which included a British Championship in 1971.
He first ventured onto a pukka speedway track at a Brian Collins training school staged at Coatbridge in the winter of 1974 at the comparatively ancient age of 21. Unlike other novices taking to the track for the first time, and as a motorbike veteran of at least 3 years' experience, he immediately slid his elderly second hand bike into the banked bends at Cliftonhill with a gusto which evoked cries of "Goodness, does anyone know who that newcomer is?" (or Anglo Saxon words to that effect) from the pits. In between his manful attempts to pull the safety fence from its moorings (which he continued to go for at various times during his career) he demonstrated a level of ability well beyond his novice status. However, this prowess was not picked up by the Tigers (his home town team) in the first instance, an impromptu (not to mention unauthorised) demo during a Tigers' official practice notwithstanding, and with the promise of enrolment at Ivan Mauger's Training School in Stoke early in 1975 by the newly formed Paisley Lions' promoter Neil McFarlane, both Colin and older brother Fred signed contracts which saw them domiciled at the short lived Renfrewshire track during the 1975-76 period.
While Fred made his debut for the fledgling Lions in early 1975, Colin was restricted to an odd appearance as a No 8 for the major part of the 2 years' existence of the club, learning his trade in second halves against stiff competition in the form of the likes of Malky Chambers, Tom Davie, Bernie Foot and Geoff Sneider. With the type of luck which punctuated his career from time to time, he finally broke through to the Lions' side in late 1976, typically rounding off the season with a 7+2 from 4 against Ellesmere Port, falling in his other race when on a paid max from the reserve berth. He had, further, won the Youth Champion title at Paisley, beating such luminaries as brother Fred, Frankie Hall, and current Bandits promoter Peter Waite in his final race, only for the season to end as real progress began to be made, and the Love St Lions were gone forever .
Colin could easily have finished up at the newly reformed Edinburgh Monarchs in 1977 and, indeed, Neil McFarlane was keen to take him there, but some sweet talking by one time cycle speedway rival Dick Barrie saw him take the longer journey to the Borders each week, as he strove to break into a solid Berwick side. By this time, the Scottish Junior League had been formed and CC made up a formidable threesome with Rob Grant and Ian Darling as he moved between the Borderers and the Bandits as circumstances dictated. Colin himself pays tribute to the friendliness and helpfulness of the fans and management at the Borders track, remembering well in particular the support he received from Dave Fairbairn at the time.
With opportunities to make the full time breakthrough with the Bandits limited, Colin was loaned out to Glasgow in 1978, conversely taking approximately 200 miles a week off his travelling, and he began to make the serious inroads into a regular team spot that most observers reckoned was long overdue. He even managed to beat no less a personage than the recent world champion, Peter Collins, during a challenge match against Belle Vue at the tight Blantyre circuit, the first of the Tigers' homes in the small Lanarkshire town, less than 4 laps' distance from the Glasgow boundary. With the loan agreement becoming permanent the next year, perhaps the security of riding for his home town team helped his confidence, as Colin's average steadily improved, even if he still showed his career long tendency to allow the other 3 riders to depart the starting line before he did! There was no doubt, however, that this greatly contributed to Colin's audience-winning style which regularly saw him come from the back for a vital win and, indeed, on more than one occasion , it would be his bursts from the back for a 4-2 with regular partner Steve Lawson which often meant the difference between a Tigers' win and a defeat.
Colin was one of a number of riders who were obliged to combine full time employment with his riding career, the former making the latter possible, and it was not unknown for Colin to come straight off a trip from a midweek meeting into his work as a qualified electrician early the next day, or to be under someone's floorboards in Glasgow at midday and out on the track at somewhere like Ellesmere Port by 7.30pm the same evening. Such was the "glamour" of being a speedway rider for many like him, but a necessary evil in the absence of sustained sponsorship.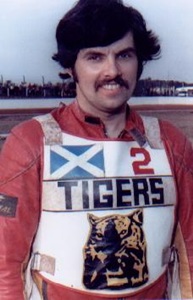 Colin in 1982
A move across the road to the second Blantyre home for the Tigers did little to disturb his progress, with possibly his best season coming in 1982 when a weak side relied heavily on his regular double figure scores, and even the odd maximum, at home to help them negotiate a difficult year, when he actually managed to attain the third highest average in the team, technically giving him a heat leader position. The strangely shaped circuit, which was not blessed with the greatest of facilities, came in for a lot of criticism from visitors (indeed, famously, Mildenhall once claimed they'd lost because the sun got in their riders' eyes!), but I can still picture CC roaring around the banked 3rd and 4th turns to pass various unsuspecting riders as they thought they were heading for a straightforward couple of points. These make or break rides occasionally ended with the latter and inevitably Colin encountered the odd trip to hospital, being on first name terms with a number of the nursing staff in A&E!
The nomadic Tigers were once again off on their travels within a few seasons and while Colin did have a few outings for the club at the ill fated Workington venture in 1987, work commitments precluded him from riding more than on an occasional basis, and the subsequent move back to the outstanding track at Shawfield allowed him to finish his career nearer home at the end of the 80's.
His career with the Tigers did not finish at that time, however. As mentioned already, CC's "real" job was as an electrician, and having been involved in the wiring of electrics at each of his Paisley and Glasgow tracks since he started, that trend has continued to this day at Ashfield, as with his colleague of many years Ian Proctor, he has continued to assist in the day to day activities required to keep a speedway track going since the 70's. Indeed, it is a tradition that is continuing, as his daughter Donna similarly has gone on to assist in the electrical field, unusually following in her father's footsteps as a "spark". Further, as a qualified bus driver, he has on many occasions driven the team/supporters bus (a practice which started when the club was cutting costs many years ago and riders travelled on the fans' bus), in the early days doing the 300 miles or so before going out on the track, then driving the bus home. Occasionally, when he has the time, he accompanies his great mate James Grieves to Redcar on Thursday nights.
As I began this article by saying, I like to think of myself as a long term friend of CC, so of course I am likely to be a little less than totally objective when I pass comment about him. What I will say, however, is that I am utterly convinced that with more of the limited financial support he received from the Paisley Lions Supporters Club through much of his career, and without the need make his full time living from his work as an electrician (thus diverting much of his energies into rushing to and from meetings as described and without the kind of sponsorship that riders attract today), he would have continued to make the kind of progress he was achieving in the early 80's and would have advanced to a steady heat leader position. As it is, I don't think being remembered as a value for money individual who gave his all for his team is too shabby, do you?
We want to feature similar articles on riders from any era of the sport's rich history. If you'd like to contribute a piece then email us at speedwayplus@hotmail.com or fill out our form here.
This article was first published on 9th October 2008
---

Ian Muir Martin:

"I enjoyed this article very much. I never saw Colin race but here is the bread and butter Speedway Rider if you like. To my mind THESE are the people who make Speedway the Sport it is. World Champions are all very well - but - without people to beat when racing - they are nothing. It should be remembered that EVERY Rider from Conference League to Elite League and beyond require courage even to mount a Speedway Bike. Those Superstars NEED people like Colin Caffrey - THEY are the REAL HEROES of Speedway. All of us should remember that."
H McGuire:

"Thank you this has brought home many happy memories for me. My dad took me to see the Tigers from the age of two and i was hooked! As a teenaager Colin was one of my favourites, never a dull moment when he was riding. As you said it was not unknown for Colin and Steve to clinch the race at the last minute with us in the stands going mad screaming. We didn't need fancy staduims we had Blantyre, we had faithful fans and we had riders who gave their all every week, not for money but because the loved their sport! Great times!"
Malcolm Patchett:

"Met Colin Caffrey at Glasgow Tigers meeting v Berwick bandits at Ashfield on Friday 28th April 2023, had a good chinwag about speedway, very enjoyable evening and Tigers won 58-32."

[ Use Desktop Version ]

Comment on this Article | Contact Us | Go Back to Main Menu