Dream Team : Connor Dugard
I support Eastbourne Eagles. I have supported Eastbourne all my life because my dad used to ride there and my granddad owns Eastbourne speedway - Bob Dugard. My uncle Dean Barker still rides there.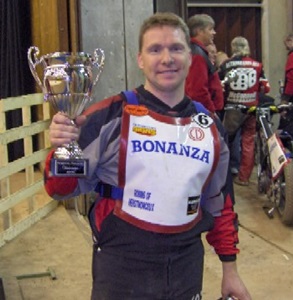 Martin Dugard (© Alex Raby)
Tony Rickardsson
Because he was the world's best and he was a great rider.
Nicki Pedersen
He is a excellent rider.
Kelly Moran
He may be short but he has got loads of speed and skill.
Hans Nielsen
The best rider who ever lived.
Martin Dugard
Martin Dugard is my favourite rider, not because he is my dad, because he was the king of Arlington and he could set a track record and no one could beat it.
Chris Harris
He may be young but I think he has got a great future in speedway!
Jason Crump
He is a very skilful rider.
Submit Your Own Dream Team
This article was first published on 20th September 2007
[ Use Desktop Version ]
Comment on this Article | Contact Us | Go Back to Main Menu