Costa Mesa Practice Session 1970
Thanks to Cary Cotterman for these pictures from a practice session at Costa Mesa (California) on 29th October 1970.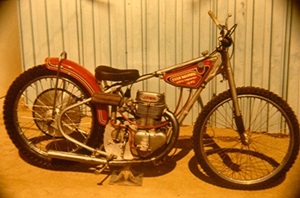 The borrowed bike (minus mudguard) Ivan Mauger rode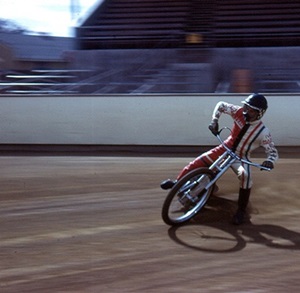 Ivan in Action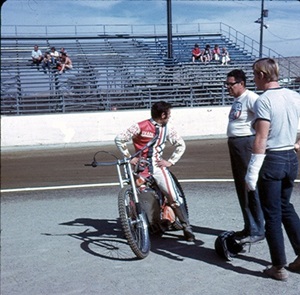 Ivan chats to G.Wenn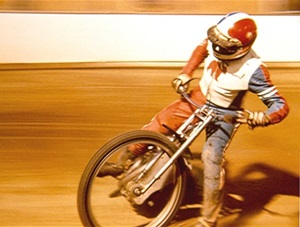 Barry Briggs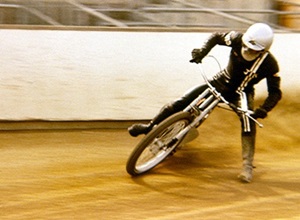 Jim Airey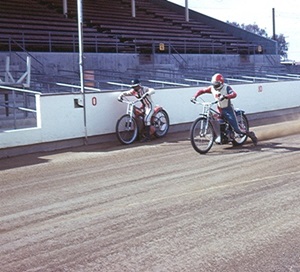 Mauger and Briggo
---

Ian Harwood:

"Was this the session where Bruce Brown filmed footage of Barry Briggs for inclusion in the film On Any Sunday? Altough the section eventually edited out of the finished film was subsequently lost there is an outtake included in the "revisited" film Motocross, Malcolm and More which was released in the 1990s and is included in the On Any Sunday DVD boxed set. The leathers worn by Briggo feature the same bear on the front and the riding style is very similar in this photo to that in the flim."
Ivan Blacka:

"Nice article. As good as Ivan Mauger was the Calif. boys gave The World a really tough time when they had there series at Costa Mesa. Can you imagine the Calif. boys riding at Hull or Exeter they would get slaughtered by The World. It just shows how tricky them little tracks are to ride."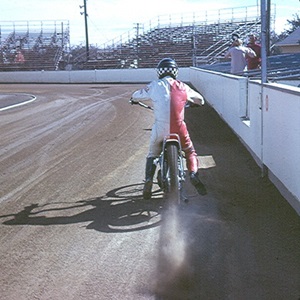 Cary Cotterman:

"In answer to Ian Harwood's question about Costa Mesa Practice 1970--yes, this was the session filmed by Bruce Brown for 'On Any Sunday'. In the accompanying photo of Ivan Mauger practicing a start, Brown and his camera are visible on the right, just outside the safety fence. He also filmed at least one meeting at Costa Mesa (probably the following night, 30 October), and one Sunday afternoon meeting at San Gabriel Valley Speedway (the original 'Irwindale'). Unfortunately, none of the speedway footage was used in the movie. "
Ivan Blacka:

"That had the annual Derby Fair at the Showgrounds and they destroyed the track. Going to cost them about $30.000 to get it back to racing condition. Got to feel for them. I hope they come through and repair the track in time for the next meeting. Speedway would not be the same in Calif. without Costa Mesa. Thumbs up for them."

[ Use Desktop Version ]

Comment on this Article | Contact Us | Go Back to Main Menu