Dream Team: Craig Godwin
Ex grasstrack and cycle speedway rider. Not a fan of any one team but was brought up watching Swindon. Love watching any good racing.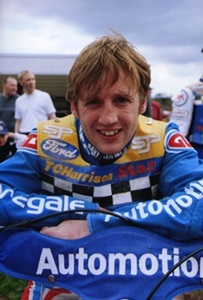 Sean Wilson
©Ian Adam
Leigh Adams
What can I say that hasn't already been said about this bloke? Top class smooth consistent rider first class kit and preparation quick to lend a hand or help anyone from team mate down to junior and an all round decent bloke Such a shame he got so badly hurt after he retired !
Andy Smith
Out and out racer committed to the sport. Three time British champion, former world number 5. Kept plugging away and bouncing back after so many serious injuries and never gave up on the sport even though the sport didn't want him!
Sean Wilson
So exciting to watch at PL level, Fast, furious hard as nails and tough as teak but always smiling and happy to help and pass on advice. A couple of years ago I was mechanic to kyle hughes we were riding at Redcar on Thursday before travelling to Poland for the world u21 semi final. I asked Sean about what set ups to use out there, Sean couldn't remember so phoned his old Polish mechanic to find out what gearing jetting and timing to use. Thought that was a nice thing to do.
Malcolm Holloway
Top bloke full of life always there to lend a hand bit of advice or anything else I needed. Never without a fag or pint in his hand and a smile on his face. One of my closest friends in speedway along with his son Rich. I still miss him and think about him every day!
Kelly Moran
Quite simply the most exciting stylish and naturally gifted person to ever sit on a speedway bike.
Joe Screen
Fast, exciting, fair never gives up and so entertaining. I'd pay money to watch him riding on his own.
Gary Havelock
Gary in his prime was one of the best gaters and fastest riders in the world, not only that but he is so smooth and steady on a bike like Leigh Adams, his riding style is effortless. He's also so passionate about the sport wants to see it grow and improve. Should definitely become the GB team manager in the not too distant future!
Submit Your Own Dream Team
This article was first published on 23rd September 2012
[ Use Desktop Version ]
Comment on this Article | Contact Us | Go Back to Main Menu