Dream Team : Dave Train
I have followed the Diamonds since 1961, although had been taken, as a small child, during the forties, several times, so was fortunate to have seen Ken Le Breton and Jeff Lloyd, but haven't included either in my selections!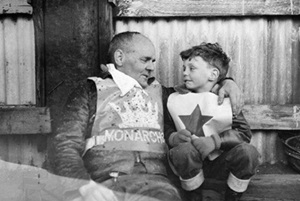 Dick Campbell and his son Ross
Brian Craven
The first real star, during the 60s, who was an excellent captain, and an expert team rider. His style was almost near that of his brother Peter, and it was said by many at the time, that they would have paid admission, just to watch him riding on his own. He showed great courage in returning to the track after Peter's death, and deserves his place in the history of Newcastle Diamonds.
Dick Campbell
Although I only saw Dick ride on five occasions, at the end of his career, his track craft was up there with the best of them, and an abiding memory I have, is of a run off at Old Meadowbank, between hiimself and Trevor Redmond, for the Scottish Open champoinship, which saw them dicing wheel to wheel, from start to finish, with Dick losing by a tyre's width. Dick's last bend overtakes at Old Meadowbank, were the stuff of legend, even though some were at the expense of the Diamonds! A real Monarch indeed!
Ken McKinlay
Super smooth performer, so unlucky not to be on the rostrum at Wembley in '62. Perhaps lacked the killer instinct, but one of the safest riders to come up against, and he could even ride Brough Park! [an 18 pt max for Scotland]
Olle Nygren
If you have to have a hard man in a team, Nygren was one of the best. How referees never caught him out, when he had those white boots on, I will never know. Booed each time he showed up at Newcastle, he was the craftiest and dirtiest rider, I have ever seen, but how I wished he had ridden for Newcastle!
Bert Harkins
Oh come on! How could you not include Bertola? 100 per cent effort, a real character and a credit to the sport! I rest my case!
Nicki Pedersen
The first time I saw him, I thought, he will either kill himself in no time, or equal Ivan's world titles. Every bit as ruthless as Ivan. Perhaps more entertaining - or perhaps breathtaking is the right word.
Mark Loram
Perhaps better than he was able to be. Top bloke, and hopefully not lost to the sport. Thanks for the memories Mark.
Submit Your Own Dream Team
This article was first published on 11th August 2011
---

Ian Graham:

"A Newcastle dream team without Tom or Joe Owen...."
Dave Train:

"re remark by Ian Graham. At no point did I say that my selection was based on a Newcastle Diamonds dream team. The purpose of the site, is to allow supporters to choose 7 riders as a "dream team" whether or not, that would be riders belonging to their "own club" or not."

[ Use Desktop Version ]

Comment on this Article | Contact Us | Go Back to Main Menu