Dream Team: Doug Phelan
I watched my first meeting at Oxford in the 1970's, saw the Rebels get stuffed by Reading; Michanek and (Dag) Lovaas were unbeaten. I fell in love with the sport, followed the Rebel license to White City but my favourite time was the return to Div 1 of the Oxford Cheetahs, Hans, Simon, Marvyn et al. I don't see many meetings now, I live near Peterborough and have been to the Showground around 4 times in 17 years, apart from air fences & GP speedway hasn't moved on in 40 years with people running the sport full of self-interest and no idea what customers want, so my speedway enjoyment is largely fulfilled on TV these days.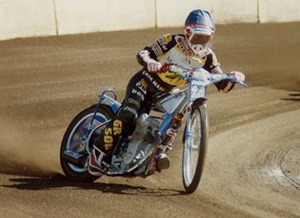 Hans Nielsen
Hans Nielsen
A massive statement of intent by Oxford's owners securing Hans. The consummate professional a great captain, great leader, immaculate equipment and was always so damn fast. His team riding with Marvyn, then Martin Dugard was something to behold. Was fortunate to witness his World Championship victory in Amsterdam. His duels with Gundersen were epic, I remember a Golden Helmet leg at Cowley that I think Hans lost 2 - 0, but it was the fastest speedway I have ever seen, neither rider put a foot wrong. The most complete number 1 in British speedway since Mauger in my opinion, he was always worth the admission money.
Gordon Kennett
Gordon went from zero to hero following the move from Oxford to White City, where his career just clicked into gear. I distinctly recall the visit of Coventry in our first season with the Olsen/Molyneux partnership virtually unbeatable - Gordon was amazing, dived between the pair on bend 3 and never looked back. Gordon was a big hero of mine, his 1978 World Final performance was outstanding, while everyone was looking for Jessup, Lee or Simmo, GK stepped up and took 2nd, we were all thrilled.
Dag Lovaas
I first saw Dag score a maximum for Reading in my very speedway meeting, I remember his smooth style, but quite under-stated, someone happy for Michanek to take the limelight. Any team with ambition needs a strong number 1 and in 1975 Oxford finally got one in Dag. I remember Dag's home debut when he signed for the Rebels, it was a cold but bright morning - he stood at the pit entrance waiting for his bike, he had the aura of a champion and in that season he delivered. I witnessed our first away win at Hackney where Dag was invincible, he also lead the team to our first trophy with the Midland Cup.
Marvyn Cox
I first saw Marvyn as a reserve for Rye House, he looked very special then. To sign Marvyn and Hans was fantastic for the Cheetahs and what a season they both had, Hans on the inside & Marvyn round the outside pretty much a guaranteed heat advantage in heat 1. I never saw much of Marvyn after he left Oxford, he had bags of talent and never in my opinion made the most of what he had - but he gave me some great memories.
Kelly Moran
I followed the Dugard promotion down to Eastbourne after White City folded. The team was weak, not helped by a small tricky track & Sunday racing, most of the team (excluding Kennett & Weatherley) didn't travel well and there were some big away defeats along the way. Much of the depression was lifted the day the promotion signed Kelly Moran, a pure entertainer. I remember Eagles at home to Sheffield and Kelly vs Shawn, a day where the entertainment was worth many multiples of the admission money. Great memories of Kelly sad to read he is no longer with us RIP.
Kenny Carter
I remember first seeing Kenny catch and pass Gordon Kennett at White City when a virtual unknown for Halifax, he was very special. Arrogant, pig-headed, single-minded, but Kenny was hugely patriotic and an out and out racer. Witnessed his world championship progression with a broken leg, saw the semi at Oxford and the final at Coventry - it was out of this world. Saw the World Final in '82 in Los Angeles and the outrageous decision to exclude him when he clearly had the better of Penhall, he deserved to be world champion that day, but was denied by a referee influenced by home support. Shame Kenny was never able to see out his career, he was a joy to watch.
Dennis Sigalos
First saw Dennis at Swindon riding at reserve for Hull - a jaw-dropping performance - just over from the states and riding small tracks, he had never seen the track before yet scored something like 17 or 18 points and Hull won the match. Dennis had class by the bucket load, smooth & fast, he was riding for club or country he was always the opposition, yet I always enjoyed watching him - a brilliant rider.
Submit Your Own Dream Team
This article was first published on 23rd August 2015
[ Use Desktop Version ]
Comment on this Article | Contact Us | Go Back to Main Menu