A Brighton spotlight on dirt track Duggie
By Philip Dalling
Malcolm Herwin in the paddock
It is rare for speedway to snatch a share of the spotlight at such a prestigious motor sport event as the Brighton National Speed Trials.
The oldest racing event of its kind in Europe (first staged in 1905) sees two, three and four-wheeled vehicles of all kinds showing their paces along a quarter mile strip of Brighton sea front, thrilling thousands of spectators.
The list of competitors over the years includes such famous names as The Hon Charles Rolls (one half of the Rolls-Royce duo), Sir Malcolm Campbell, John Cobb, Stirling Moss, Mike Hawthorn and John Cooper.
At this year's event, sadly marred by a fatal accident to a sidecar racer, there was a surprise late entry of interest to speedway fans.
Competitor Malcolm Herwin (wearing the racing number 333 at Brighton), from Ashford in Kent, intended to race his 1998 S/P Manx Norton, but had to change his plans when the machine developed a fault.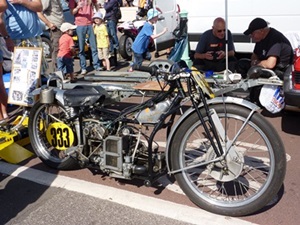 The former dirt-track Douglas in its
current form as a hill-climb machine
His second choice was a much-modified machine which had started life as a 1928 dirt track Douglas. Little is known about the history of the bike in its original form, but it was later converted both for grass track and sprint use, and was ridden in the 1940s and 1950s by its owner, the late Jim Parkes.
After the machine passed to Malcolm Herwin, he rebuilt it as a hill climb bike. He explained: "It was a basket case when I bought it. The wheels and hubs were too far gone and various bits were missing, although the frame modification was already done. It was fired up for the first time after re-building in 2008, and first raced again at a hill climb at Hartland Quay, in North Devon."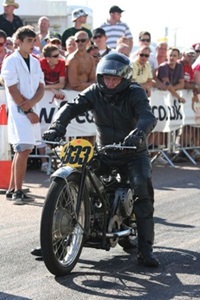 Malcolm approaches the start
Also taking part in the Speed Trials was speedway enthusiast Chris Hillman, riding a 1927 Bayley-Cole 500cc DT and his son Mark, on a 1930 630cc Leigh Rudge Special.
Thanks to Brighton Motor Club director Brian Dyer for access and Terry Booth for the picture of Malcolm Herwin on the start line. The Brighton Speed Trials have been sponsored for 21 years by Frosts Cars.

This article was first published on 21st October 2012
---

Jim Henry:

"Tiny White ran a Douglas motor in a "modern" upright speedway frame for a time. I know he raced it at a BMF Rally but can't remember exactly when. "
Eddie Walder:

"BST is a great event, unfortunately the middle spectator level is now closed as the structure is unsafe. Whilst Brighton is the oldest straight line sprint still running, the old est speed event in the World still on the original course is at Shelsley Walsh in Worcestershire pre-dating Madeira Drive by just a couple of months. Nice to see a speedway machine in a different setting. Shelsley sees a couple of speedway derived machines every season one a Velocette and the other a Weslake powered AJS. Former Brummie Mike Lawrence still competes there in a speedway JAP powered Cooper and many other similarly powered cars appear. "

[ Use Desktop Version ]

Comment on this Article | Contact Us | Go Back to Main Menu