Still Flying High - The Eastbourne Eagles
By Ian Davey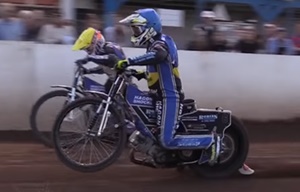 Edward Kennett
Just over ten years ago, while temporarily working in south-west London, I discovered that one of the managers reporting to me was involved in the management of Eastbourne Speedway. Surprised to discover I was a long-time Speedway fan, he gave me a free invitation to a meeting. It was the kind of offer I was unlikely to refuse even if it meant a two hour drive down to the south coast.
It was September 2009 and the "Eagles" were riding against Coventry but before the match my colleague told me it was being covered by Sky Sports, something the Eastbourne management were less than enthusiastic about as it would mean a lower crowd than usual, many regulars preferring to watch the meeting on TV. I was astounded. What? People preferred TV coverage to the live experience? Apparently so. Over ten years on this revelation by my ex-colleague still leaves me gobsmacked.
I knew a fair bit about Eastbourne and their history, which is above all associated with one family, the Dugards. Their's is an amazing story in itself. A Speedway dynasty now on its fourth generation of riders. So,at the time of my visit, Bob "Mr Eastbourne Speedway" Dugard, known for his meticulous track preparation, was still overseeing the club. I also associated Eastbourne with another well-known Speedway family, the Kennetts, particularly Gordon with his all-out battling style. So it was good to finally set foot in the Arlington Stadium and, true to form, this small track served up some excellent racing on the night.
It certainly helped that Chris "Bomber" Harris was in fine form and the Speedway merry-go-round meant we had "Eddie" Kennett, Gordon's nephew, riding in a Bees' race jacket. Not surprisingly ex-Eagle Eddie was the rider of the night showing he'd not forgotten his way around Arlington. But despite Harris and Kennett's brilliance Eastbourne had a more solid line-up and two young stars of their own in Lewis Bridger and Cameron Woodward, so the Eagles ran out winners. Arriving back in London in the early hours I was knackered, but the trip had been worth it.
Eastbourne have just announced their line-up for the 2021 season. In fact it's the same as it was for 2020, a young all-British line-up, headed up by...... one Edward Kennett. Yes, Eastbourne Speedway is a success story. At a time of track closures, and threatened closures, Eastbourne is a model of continuity and stability. It says a lot for their determination and commitment to keep going through thick and thin. I wish the Eagles every success in 2021. They certainly deserve it. Covid permitting, I'm planning a return visit to Arlington in the summer, only this time, if I make it, I'll be paying the entrance fee!
This article was first published on 28th February 2021
[ Use Desktop Version ]
---

Ian Davey:

"It seems like I was tempting fate by writing this article.The Eagles are no longer "flying high".They have withdrawn from all competitions with immediate effect, unable to overcome significant debt problems. Their Managing Director has given a lengthy explanation, but it seems the main problem was lack of paying customers. Over 90 years of Speedway at Arlington have come to a sudden stop and there must be question marks about whether Eastbourne will re-open next year. A black day for British Speedway.Birmingham and Newcastle have been making similar noises so even more closures would not come as a surprise. "

Comment on this Article | Contact Us | Go Back to Main Menu