Dream Team: Frank Crook
I am now 66 years old and started watching Belle Vue when I was 16 years old.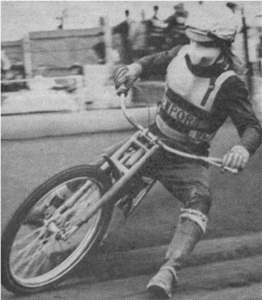 Torbjorn Harrysson
Soren Sjosten
If you ever saw Soren at his best he needed some beating. I always remember when Newport came to Hyde Road, they were magic and the fought wheel to wheel for four laps, the other rider was Torbjorn Harrysson.
Torbjorn Harrysson
Brilliant rider. I loved his style or riding. His battles with Soren Sjosten at Hyde Road were brilliant.
Dick Fisher
Dick was a good team rider and captain of the Aces in his last years at Hyde Road. He was one rider that I never saw fall off his bike, such a safe rider and a true gentleman. He always turned up at Hyde Road in his Jaguar and always wore a suit, collar and tie.
Kenny Carter
I made quite a few trips to The Shay at Halifax. The racing there was fast and Kenny took some beating. Just a shame that his life ended when he was at the top of his game, he could have been a World Champ.
Eric Boocock
Another Halifax Duke. A true Brit. A very stylish rider who was never say die - that was Booey.
Bob Paulsen
Paulsen of the Sheffield Tigers was a good second string who had many bad crashes in his career. I feel these stopped him from making it to the top.
Sandor Levai
Sandor was a good rider for Belle Vue. He used to partner Dick Fisher and was always on top of his game.
Submit Your Own Dream Team
This article was first published on 11th May 2014
[ Use Desktop Version ]
Comment on this Article | Contact Us | Go Back to Main Menu