Speedway in Germany 1933
By Doug Macfarlane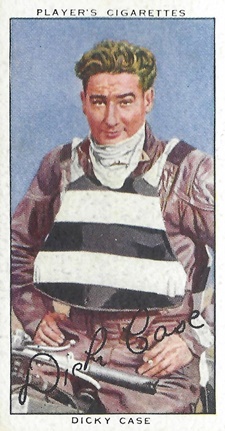 In 1933 A J Reynolds was involved in a short lived attempt at running speedway at what would have been my local track at Lokstedt in Hamburg, now long gone and is a television studio, which now and again ex World Champion, Egon Muller appears at. Sadly, on his last appearance they mentioned there was once a motorcycle stadium there, but said it was motocross instead of speedway!!
It seems Dick Case and Max Grosskreutz joined up with A.J.Reynolds, who I have an idea was involved at Wimbledon, so maybe that is where he got familiar with Case ( not sure) and started up the track for 1933 and according to the press the first meeting was very well organised and a crowd of 10,000 though not brilliant was a promising start.
A week later and it was a Germany v Australia team match as the highlight, but only 3-4,000 turned up. Who knows what the reason was? One local journalist was dumbfounded. He was full of praise for the promotion and could only speculate that the entry price was too high. I wonder if the relatively poor performance of the German riders in the opening meeting compared to the strength of the Australians was too much to bear with the political atmosphere at the time.
One or two other interesting bits have turned up about the 1933 season.
One funny tale, was that one rider was trying to make his way to the Stadium and there was a parade with 250,000 people that was ending just by the stadium. He was stopped a couple of times by police, but they had no English and he could speak no German. Eventually as he was getting nowhere he shinned up a lamp post to get a better view of the parade. All of a sudden a storm trooper started prodding that bit of his anatomy that was to be seen from ground level with a bayonet and started saying something. The rider said "He might well have been telling me to get down, but I just climbed further up the post!!"
There are various reports from some of the Australian riders, which don't seem to be 100% based on the known facts. Dick Case's I think comes closest
Firstly he reported back "Speedway racing has certainly got Germans going, and Max Grosskreutz and I are running meetings at Hamburg and Chemnitz and are opening at Cologne shortly. We have the enthusiastic support of the government press. Hamburg saw team racing for the first time a few days ago and the crowd got so worked up that 70 of Hitler's stormtroopers had a busy time trying to keep order. The local champion Rumrich has beaten both Grosskreutz and myself, while Roth, who comes from Stuttgart is another top-notcher."
He gets it wrong on Hamburg seeing team racing for the first time, as international matches were held earlier and I am not sure about Chemnitz running in 1933. I know they had meetings in 1930.....
Another report from Case, I think gets to the bottom of why they left early
"At the close of the '32 season in England he went to Germany to find out its dirt-track possibilities. After a few months reconnaissance he decided to go ahead and with Max Grosskreutz as a partner, promoted a meeting at Hamburg. It drew a crowd of 14,000, and was a big success. Two German riders in particular, Roth and Rumrich showed real championship class, and prospects were good. But the Nazi papers stressed the fact that all enterprises in Germany should be controlled by Germans, and the next meeting was not nearly so successful. "
"Case went to Berlin. An official of Capt. Goerings (sic) department was quite frank. They had nothing against the sport, he said, but they, the foreigners, wouldn't be allowed to take their proceeds out of Germany."
That for me is the crucial point and probably as near to the truth as we will get. That no matter how much of a success they made of the venture, they wouldn't be allowed to profit from it. So it made no sense to carry on.
They left and that it seems was the end of speedway at the Lokstedt Dirt Track. A year later Max Schmelling (German boxer) was watched by 102,000 fans at the Dirt Track stadium.
This article was first published on 23rd May 2021
[ Use Desktop Version ]
Comment on this Article | Contact Us | Go Back to Main Menu