The Gumball Rally 2012
By Ivan Blacka
The 2012 Gumball Rally was staged at San Bernardino in California on 26th February.
The event was a great success, with the young riders of the future and some 'slightly older' kids providing great entertainment over two nights. Great weather helped everything run smoothly.
With so many keen kids coming through it's not out of the question that a new generation of US riders could make an impact at the top level of the sport.
To help raise funds for the kids, Greg 'Grin' Hancock has donated one of his GP helmets and has signed it, as have Bruce Penhall and Billy Hamill. Sam Ermolenko will also sign it and it will then be placed into a glass clase and auctioned off. The proceeds will go to help the junior riders.
Here are some pictures from the event.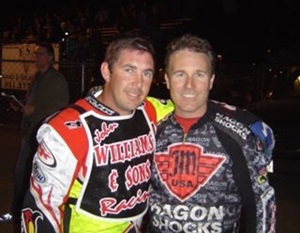 National Champion Billy Janniro and past
World Champion Billy Hamill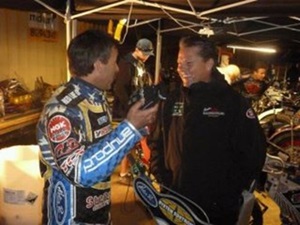 Double World Champs - Hancock and Penhall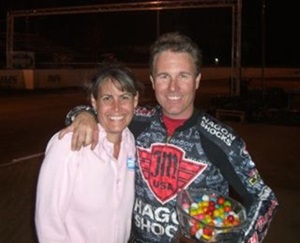 Thank you Christina and Billy Hamill
for the Gumball Rally!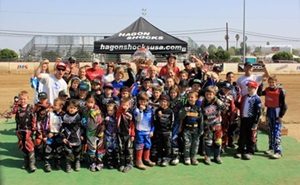 The young kids taking part in the Gumball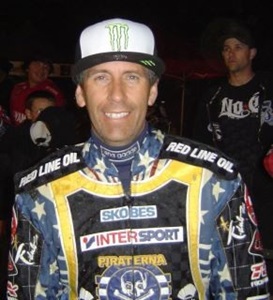 World Champ - Greg Hancock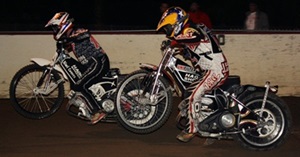 Hamill leads from the tapes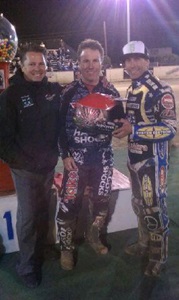 World Champs with the signed helmet
Here's a video of 'Fast' Eddie Castro picking his way through the field.
This article was first published on 4th March 2012
[ Use Desktop Version ]
Comment on this Article | Contact Us | Go Back to Main Menu