DVD Review: Hans Nielsen Racing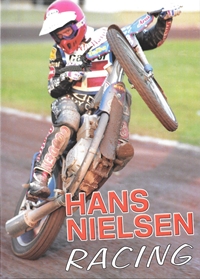 Retro Speedway are back with another of their DVD collections celebrating one of speedway's greats. Hans Nielsen is the latest to come under the spotlight, with "Hans Nielsen Racing" a four hour production split over two DVDs.
He was a rider whose career spanned many years at the top, so there must have been no shortage of material for the editor to review and select from.
The collection runs from 1978 through to 1994, a natural breakpoint when the World Championship gave way to the Grand Prix series and laydown machines took over from uprights.
Over those 17 seasons we see many of Hans' greatest moments and some of his near misses. It's remarkable just how consistently he was in the hunt for the biggest prizes on the biggest nights. The DVDs remind us that he was something of a "nearly man" for the first half of eighties, losing out to his great rival Gundersen in both '84 and '85. It wasn't guaranteed at that stage that he would ever become World Champion, let alone on multiple occasions.
In addition to World Championship action, there are many other races featured, including British club action for Birmingham, Wolves, Coventry and (of course) Oxford Cheetahs. The nine years he spent with Oxford were his most successful and best remembered, surprisingly electing to miss out a well-deserved testimonial by refusing terms for the 1993 season. Despite that rather unhappy end to his spell with the club, these DVDs are sure to be a big seller at Cowley if Oxford does indeed re-open in 2022.
There are also races from any number of different meetings that Hans was invited to compete in, ranging from the prestigious Czech Golden Helmet meeting down to more fun events on small indoor tracks. The final of the Golden Helmet of 1987 includes a remarkable start where everyone is rolling and Jan O Pedersen's front wheel is static but actually well over the starting line when the tapes rise, quite the contrast to the regimented starts we see nowadays.
Hans was a big part of the success that the Danes enjoyed in team competition in the eighties, though occasionally missing out on selection due to rather biased picks by the Danish team manager. Despite that, there's still plenty of footage from these meetings to enjoy on here.
His great rivalry with Gundersen came to a premature end when Erik suffered career ending injuries in 1989. A new rivalry with Sam Ermolenko emerged to fill that vacuum in the early nineties and there's some well-remembered controversy included here for you to take another look at.
When we think about Hans we probably recall an excellent trapper that seem to win his races with a minimum of fuss. While that's certainly true, there's plenty of evidence on these DVDS that the fella could also come from the back if he needed to, perhaps particularly later in his career.
Supplementing the racing action are plenty of interviews from throughout his career. He's always worth listening to, with his excellent grasp of English and considered opinions.
Retro Speedway never disappoint with these DVD highlights packages and this is another cracker!
You can order your copy from Retro-Speedway.com
This article was first published on 31st October 2021
[ Use Desktop Version ]
Comment on this Article | Contact Us | Go Back to Main Menu