Riders to Remember: Harold MacNaughton
By John Hyam
Harold MacNaughton
THE Pilot Field in Hastings had a brief stay in the National League Division Three in 1948 and 1949. It was laid by Charlie Dugard who staffed the side mainly with the riders who had served him so well at Eastbourne in 1947.
Pete Mold, Bob Sivyer and Eric Dunn were local men who tried with various degrees of success to get into the side. The pre-war Dagenham rider Ken Tidbury was another, while Wally Green, Arthur 'Buddy' Fuller and Jock Grierson were others who made an impact in the 'Saxons' side.
One unlikely starter was a local garage proprietor, Harold MacNaughton. He was starting his speedway career at the age of 38 years, and mainly got second-half rides - as Dugard put it - 'to give local people someone to associate with.'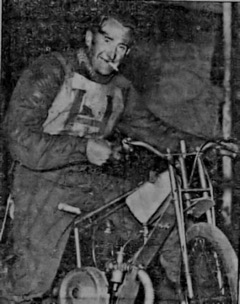 Harold mid-smoke
Craggy Harold had other ideas. One night Yarmouth turned up the Pilot Field with seemingly invincible 17-year-old sensation Billy Bales in their team. He was virtually unbeatable home and away. But that didn't worry Mr MacNaughton. He was in a reserve berth when he clashed with Bales and had the Hastings fans on their toes as he whipped into the lead and defied the Yarmouth man for four laps.
It was one of the big upsets of the 1949 season and after that MacNaughton graduated to a regular place in the Hastings' team until -a petition against the track based on planning approval and noise closed it at the end of the season.
Speedway vanished from the Sussex coastal town thanks to 11 residents and the High Court but Harold MacNaughton stayed in speedway. In the years going into the mid-1950s, he rode for Southampton, Ipswich and New Cross and also for England at Second Division level. Life certainly began at 40 in his case!
Unfortunately, a heart condition forced him out of the sport, but for some years in Eastbourne's late 1950s Southern Area League seasons he was a regular visitor to meetings at Arlington.
This article was first published on 14th February 2021
[ Use Desktop Version ]
Comment on this Article | Contact Us | Go Back to Main Menu