High Beech 2008
By Harry Ward
The annual celebration of the birth of speedway took place at the King's Oak pub in High Beech on Sunday 17th February, this year being special as it's eighty years since the first meeting at High Beech.
Outside were many bikes from all the speedway ages, inside was a small collectors fayre.
Stan Stevens and Bert harkins were present talking about the old days. I did hear Bert say how difficult it was to race in that first meeting!!!
The collectors fayre was a was a great warm up for the year ahead with many items for the 2008 season already available.
A fairly low key affair and I feel that more could have been done by the BSPA to celebrate this special birthday.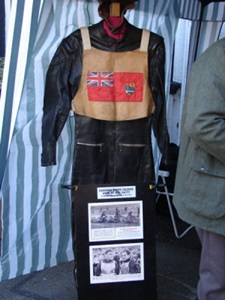 Racing colours worn by Eric Chitty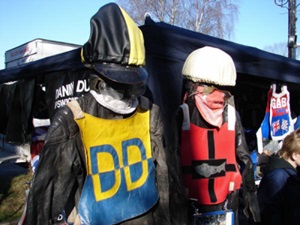 Danny Dunton's personal body colour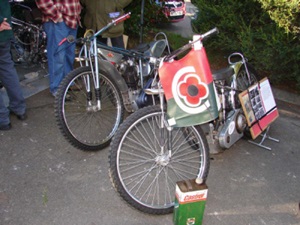 California Poppies were represented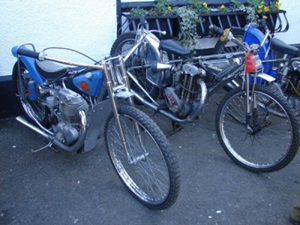 Sixties rivals - The ESO (Jawa) and the JAP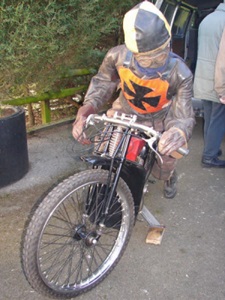 A New Cross 'action' shot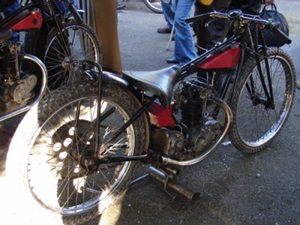 A real vintage machine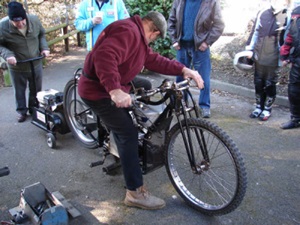 Terry Stone starts up his Douglas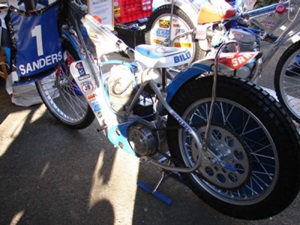 One of Billy Sanders' bikes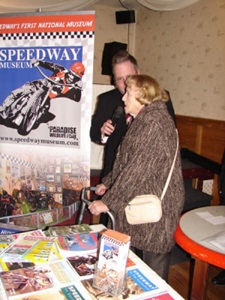 Craig Saul interviews the daughter of Mr Cearns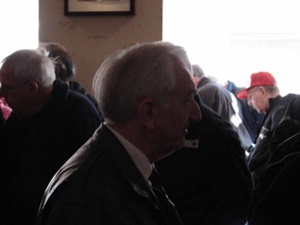 Stan Stevens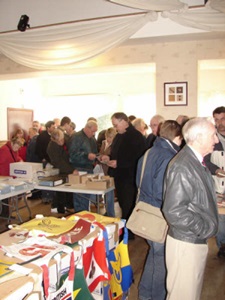 The Collectors Fayre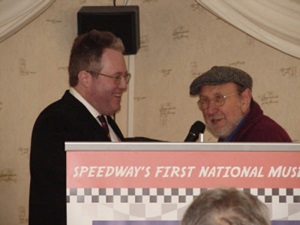 Craig Saul and Terry Stone

The Pits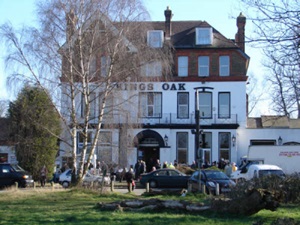 The pub behind which it all began
This article was first published on 21st February 2008
---

Bryan Tungate:

"Lee Dunton's remark about the Harringay racejackets having initials on is correct. As he says Vic Duggan didn't have his initials on his for the obvious reason."
Norman Chadwick:

"Excellent article for the 80th anniversary bash but who will keep to going for the next 80 years? When Stan and Bert depart to that pits in the sky will riders from the 70's, 80's and 90's attend. I fear not."
Lee Dunton:

"Saw the photo of my dad's old Harringay Race Jacket, it brought back a lovely story he told me about the Harringay Race Jackets, everyone had their name initial except Vic Duggan, he had Vic!"
Richard Goodwin:

"Looked very good, I did not know it was on pity. Where did California Poppies ride? One of my friends grew up with Bob Andrews, I found his website for her to look at photos of him riding for the Poppies."
Terry Stone:

"Thanks for the look at your pictures. Up the Rayleigh Rockets! Good old days."

[ Use Desktop Version ]

Comment on this Article | Contact Us | Go Back to Main Menu