Book Review: Hitchhiker's Guide to the Speedway Grand Prix (Jeff Scott)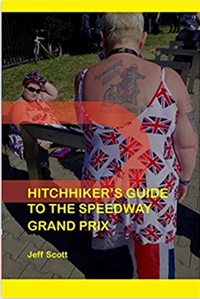 Jeff Scott made his name as a speedway author through his annual travelogues a decade or so ago. The writing bug has clearly struck anew as he's back with Hitchhiker's Guide to the Speedway Grand Prix which follows him to each meeting in the 2018 world championship series.
Traveling to each of the ten meetings in the series was obviously a pre-requisite for such a work, making for a fun-filled summer watching the bikes go round tracks all over Europe. The wide variety of stadia and tracks used ensures that no two Grand Prix experiences are ever quite the same, ideal for someone writing a book such as this.
A talented and entertaining writer, he mixes reportage with commentary on the state of the series and the sport as a whole.
Sometimes benefitting from pits access, Scott is able to get up close to some of the sport's biggest stars and see how their preparations vary. Britain's Craig Cook seems to be particularly interesting to the author and we learn a lot about the Cumbrian's demeanour and approach.
Scott's style mixes highly detailed observations on events and conversations, with more reflective passages that offer valuable insights into the SGP experience, its organisation and future prospects. If current organisers, BSI, lose their long-held rights to run the franchise when it's next awarded then many of the reasons why will be found in these pages.
He also introduces us to many of the off-track characters that play a role in the series - journalists, sponsors and officials. A number of these come in for some criticism throughout the book, good natured at times, less so at others.
For each meeting, we read about the build up, the racing and then the aftermath. Reanimating the races through prose is always difficult, so the pre and post racing sections of the chapters tend to be the most enjoyable to read.
For those who'd like to travel to watch the series in future years, the book contains a number of great travel tales that will be of interest. Not least on the perils of d-i-y travel booking in Sweden, with a laugh out loud tale about Scott's circuitous route to the Hallstavik GP.
There's a lot to like in this book, thought provoking observations, humorous anecdotes and interesting characters combine to ensure an entertaining read. It's reminiscent in tone to his original Showered in Shale book from 2006, with Scott once again setting out on a new voyage of speedway discovery. Those who purchased that original book may wish to add this one to their collection.
The book can be ordered from Methanol Press for £20, plus £4.50 for p&p.
This article was first published on 30th November 2019
[ Use Desktop Version ]
Comment on this Article | Contact Us | Go Back to Main Menu