Podcast Review: Humans of Speedway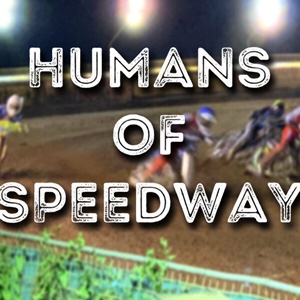 This year's unprecedented lockdown has led many people into new hobbies and ventures, with podcasting becoming a popular past-time for many creative types.
Speedway has been no exception with Talk Speedway and the Tatum/Pearson podcast providing many with downloadable accompaniment on their daily exercise.
One of the most interesting new podcasts has been Humans of Speedway, produced and presented by Ian Brannan.
Ian is an experienced radio broadcaster, with a silky smooth voice that's perfectly suited to the medium.
In his podcast he's keen to get to know the real people behind a public image and to explore their careers and philosophies in detail.
At the time of writing, there have been four episodes in the series, with seven times British Champion Scott Nicholls the first guest.
Scott's lengthy and varied experience make him an ideal contributor to a series such as this. As we know from his television work, he's articulate, intelligent and good humoured. Ian Brannan's interviewing technique brings out the best in Scott, letting him speak at length without interruption then gently guiding him towards the next topic for discussion. The podcast is very much about the guests, Ian seemingly happy to fade into the background and let the guests fully express themselves.
The second episode was all about top speedway commentator Nigel Pearson. Nigel's story is interesting and told in detail, from his earliest involvement in sports media through to his regular television work. Although the podcast is speedway based, there's also lots of interest for darts fans in this one. Tales of nights out and early breakfasts with legends like Sid Waddell and Dave Lanning amongst them. Nigel's work in breathing new life into the Cradley Heathens makes for fascinating listening also, pride and frustration seemingly the mixed emotions involved in that particular adventure.
Speedway author Jeff Scott is third up and always guaranteed to say something interesting. He made his name traveling the country and detailing his experiences in a number of books a decade or so ago. Ian asks him about those and about his most recent experiences when he followed the Grand Prix Circuit for a year (as documented in Hitchhiker's Guide to the Speedway Grand Prix). He also tells a marvellously self-deprecating story about the only time he rode a speedway bike, during a referee's day at Sittingbourne.
One of the regular features of the podcast asks the guests to dream up their perfect speedway meeting, selecting the venue and riders that would be involved. This affords Jeff the opportunity to look back fondly on the Reading Racers of the seventies, the time at which he fell in love with the sport.
The most recent edition is the longest so far and perhaps the best one yet. Neil Machin, promoter of 649 speedway meetings at Sheffield we're told, is the guest and for 90 minutes he regales us with tale after tale from his long involvement. He speaks an incredible amount of good sense, explaining how he overcame a difficult start as a promoter, to become one of the most successful of recent years. Definitely a man worth listening to and thanks to Ian Brannan and this podcast, you all can!
We really get to know Neil as a person too, hearing about his pride in the success of his god-son Tai Woffinden and how he coped with the loss of his former business partner Tim Lucking. When he talks about receiving the Geoff Dalby Award for his services to speedway, there's a real humility evident and it's clear how much that recognition meant to him.
I guess that getting that kind of insight into the people involved with speedway is the whole point of this podcast, so on that measure alone this can be considered a success.
No doubt future episodes will prove similarly informative and entertaining, this a very professional production and the subjects seem to be chosen with care.
You can find the Humans of Speedway podcast in all the usual places, but if in doubt then navigate to https://omny.fm/shows/ian-brannan/playlists/humans-of-speedway
This article was first published on 21st June 2020
[ Use Desktop Version ]
Comment on this Article | Contact Us | Go Back to Main Menu