BELLE VUE - Hyde Road
Home of the Belle Vue Aces from 1929 until 1987
Pictures courtesy of Kathy Hitchen
Click on the picture for a larger view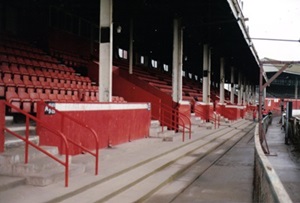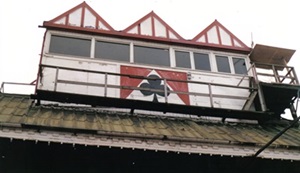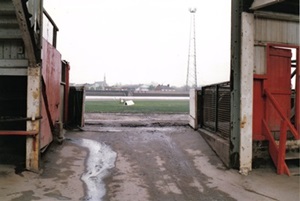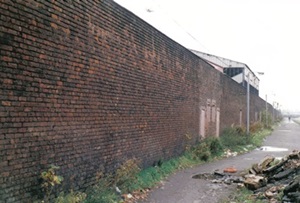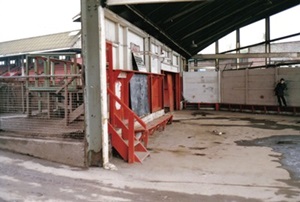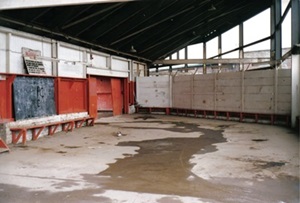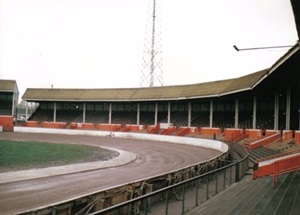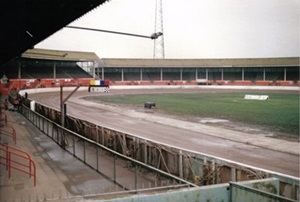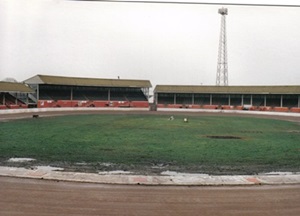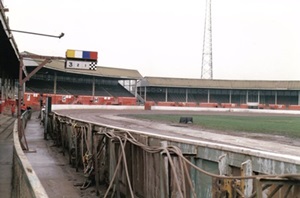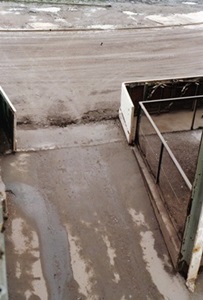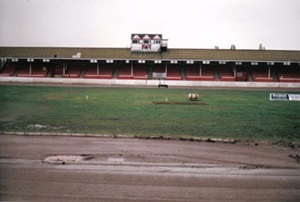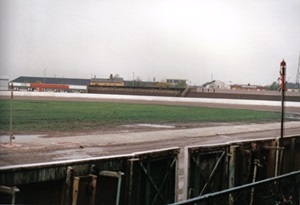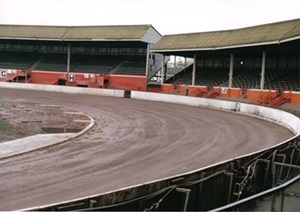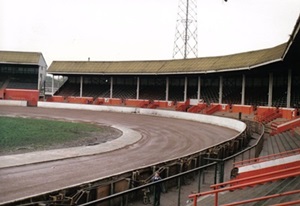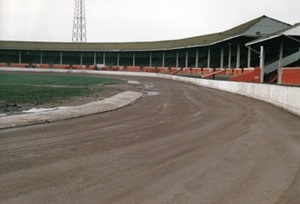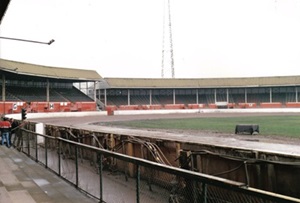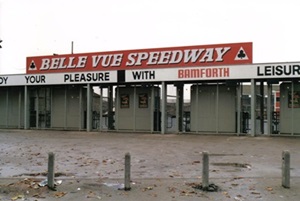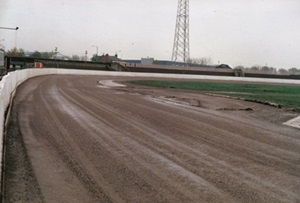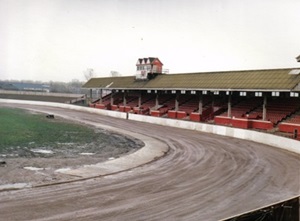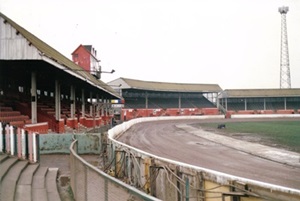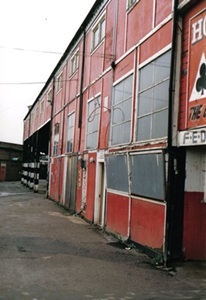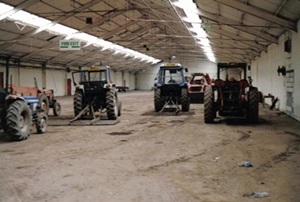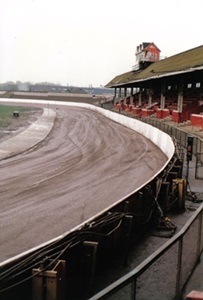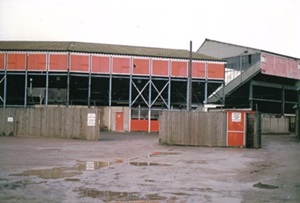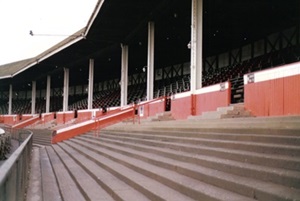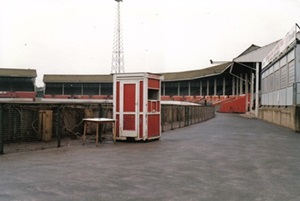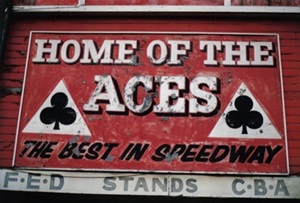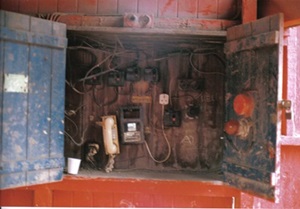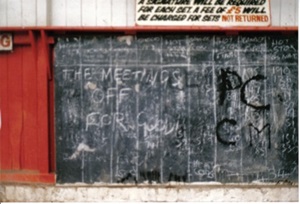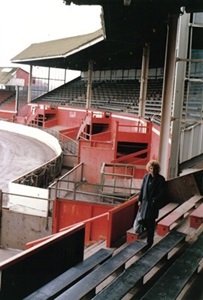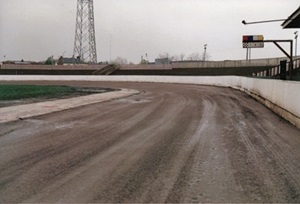 This article was first published on 14th October 2005
---

Garry Clegg:

"For the first 25 years of my life all I ever wanted to do was race round Belle Vue. The best track I ever did race on as well. When I was still at school I would make my jam sandwiches. On a Saturday morning get on a bus from Ashton bus station & go to Belle Vue & watch the Saturday afternoon training schools, that would be about 1974-6. It was the end of an era when that place closed down and speedway has never been the same since."
Kevin Lilley :

"Brought back some very happy memories. The old Hyde Road was my very first visit to a speedway meeting way back in 1985 - May 11th v Oxford"
Dave Gifford:

"Good to see so much feedback on the zoo, one of the great speedway venues to be sure. It also had a feature that I believe was unique although I could be mistaken. You know how the two minute warning siren would sound when the riders would be slow to leave the pit gate or when a rider had a bike problem, the ref up in his box would push a button, right? Wrong, at least at the zoo.

There the siren was activated by the Belle Vue team manager which in my time was Dent Oliver. The button was situated high on the wall by the out gate from the pits and very few people knew about it. So if the home rider was having a bike problem the siren never went off but if it was a visitor old Dent would scuttle round in quick time and get him on two minutes.

I was watching a second division meeting there once, I think it was the Colts and the Romford Bombers and the visitors team manager couldn't figure out why the home riders were never put on two minutes so I explained to him that it was his job to sound the siren and showed him where the button was. So the next time a Colt had a problem this guy walks over and sounds the siren and I stood back to watch the fireworks. Dent Oliver it must be said wasn't the most placid bloke you would meet and he exploded big time at this poor bloke who had dared to touch his button. Of course the Bombers team manager told Dent that it had been my idea and I got thrown out of the pits which happened several times over the years.

I had bought a house about five minutes walk from the zoo and had made it into two flats and rented one flat to Ole so we were always at the track stirring things. We rode for Mike Parker and that was like a red rag to a bull for Dent Oliver who always regarded us as troublemakers. Good times though and good memories."
Simon James Bradshaw:

"Hyde Road was the mecca of Speedway and the BSPA should of made it the Wembley of speedway. The current GP round in England would of been brilliant on the big track - I'm sorry but Cardiff could not hold a torch to the likes of the BLRC at Hyde Road.

I recently bid for and won a four hour tape of action from Hyde Road taken from the TV which includes the Northern riders champ of 1983, the BLRC from 1977, some great races from a England V USA test match in 1982, the BLRC from 1987 and some action from the Aces v Cradley in 1984. It fills me up every time I watch it. I used to sit in either B or C stand in the home straight. "
Roy Parker:

"Now that's the Belle Vue I remember... stood on the fourth corner by the pit lane and ducking every time Peter (Craven), Ron (Johnson), Bob (Duckworth), Slant (Payling) or Dick (Fisher) came round. And later on of course Ivan Mauger, Alan Wilkinson, etc. Still got a faceful of muck every racenight though. 1956-1971 Happy Days.

Does anyone else remember the meeting when Peter Craven did four laps (on his own) at the beginning of the night in a (successful) attempt at the four lap record. Then Bob Duckworth came out on his own and broke the 'Flying Lap' record?"
John Earnshaw:

"Oh for the love of Hyde Road stadium, the memories come flooding back. I used to travel down to Belle Vue on Saturdays from Barrow. The stadium had a special magic the likes of which we will never expeiance again."
Andy Button:

"These pictures brought back some fond memories, leaving Ipswich at about midday, getting to Belle Vue for five, a few pints in the "Rock" (think that was its name?) and then stagger across the road to see the Witches and the Aces slug it out. This was the day we all looked forward to Belle Vue away!, good food and drink AND the speedway was pretty tasty as well!!!!!!!"
Dave Puxley:

"G'day and Greetings from Darwin, NT. Looks like it was raining in Manchester just for a change - only time I was there it rained as well (Late 60's). More than a coincidence methinks!!."
Steve Ridgway:

"Thanks, Kathy - there's some wonderful memories in these pictures, you can practically hear the crowds and smell the dope. Although it's slowly coming back, a lot of my interest died with this stadium, so for that reason I'd remove the second picture, though, or at least edit it so that you can't see the word 'Bamforth'.

Remember the greatest race ever on this track, the 1973 Cup Final Run-off between Peter Collins and Anders Michanek? How do you follow that?"
David Cohen:

"Great shots of Hyde Road. My father and I well recall what was the first stadium in the world purpose built for dirt track racing. Great memories too of the complex - especially the fun fair."
Bernard Atherton:

"These pictures of the old Hyde Road track and Stadium bring back so many happy memories of the best race track in the world.

So many memories come flooding back into your mind about happy times spent at the Hyde Road Track, both on race days, and also the Monday night training school.

You can almost hear the bikes roaring away from the start line, and see the different lines that riders took on this the most fairest of tracks.

When I first found the pictures on this site, it sent a tingle or chill down my spine, the place was MAGIC for me, and also thousands more Speedway fans not just from Belle Vue, but from all over the World.

The Stadium and track is gone, but NEVER FORGOTEN."
David Ashcroft:

"Wonderful pictures of the old Belle Vue - the best speedway track in the country. I remember the training schools at Hyde Road on Saturday mornings in the winter and Monday evenings in the summer. Watching Peter Collins and Chris Morton and a lot more come through the ranks and never missed a home match. Now I am lucky if I can afford to attend a handful of meetings in a season. The old Hyde Road stadium was a very special place."
John Digweed:

"Every Saturday years ago we used to watch Manchester United/City in the afternoon and then go to Hyde Road to support Belle Vue in the evening. Those were days when speedway attracted really big crowds.

They are not going to come back while we have this ridiculous play off system. Belle Vue this year won the league this but are not champions because of a one off match. Belle Vue lost 12 matches over the season, does this mean that every team that beat them can also have a valid claim to be champions? The league is not a knock-out competition, it is a measure and reward for consistency over a season. What would happen in football if Chelsea won the league by 10 points, and then lost in a one-off game to Manchester United? I feel sorry also for Coventry fans whose victory is obviously tainted by the fact they were not the best side in the league this year. Come on speedway, this is not the way to win back supporters. "
Andy Bennett:

"I have only ever been to Hyde Park once a long time ago when as a Kings Lynn fan we went to the league riders final which was won once again by Barry Briggs. I remember the day at the zoo entertaining us with the disgustingly funny monkeys and the best speedway racing that we could remember. Now as a born again speedway fan with my kids loving it as well it is sad to think of the loss of this fantastic race track with its superb corners for overtaking. Seeing this site has reminded me of a distant but brilliant day."
Andy Oxley:

"Brilliant site, brings back childhood memories of the riders and tracks I travelled to as a boy. Still go to Sheffield but not as often as I would like. Thank you for a great web site will put it in my favourites."
Max Power:

"Great seeing pictures of Hyde Road. I was 11 when it got knocked down. It's where I caught the speedway bug. Although I suspect the pictures are just prior to demolition given that the whole stadium has been photographed, good that someone did it though."
Bill Elliot:

"Brilliant pictures of "the" Belle Vue which immediately took me back into a time warp of 30 years past. So many great memories of great BLRC meetings there under floodlights at the end of every season, special one for me and probably a lot of Glasgow fans of my generation when Jimmy Mac got a rostrum place in 1971 and the Tigers' fans made enough noise to make it sound like a Scotland victory at Wembley!"
Dean Hall:

"Just thought I would just drop a line with regards to the greatest speedway track ever!! Yep Hyde Road of course, my dad first took me there in 1983 and although the stadium was sadly on its last legs, the racing was quite honestly the best I have ever seen anywhere since!! For sure the stadium would have never passed the Bradford/Taylor reports of the late eighties, but to just see those pictures brings back so many great memories of my childhood, standing there with my dad watching the likes of Mort and PC. The track may have gone but the memories will never fade."
Andy Pollard:

" I have just been looking at the pictures of the old Belle Vue, they have brought back alot of memories. The atmosphere at this place was something special it used to make me quite emotional , it just was the best speedway track in the world. The racing at Hyde Road was fast and exciting and you never left there dissapointed, if only speedway was still running here, the closure of the stadium was a massive loss to the speedway world. Miss you loads Hyde Road - never forgotten."
Mike Roberts:

"Excellent site & article, I to went to Hyde Road with my family in the 60s the days when you had to reserve seats because of its poularity. I went again in the 80s and to the last ever meeting. Hyde Road was the only place to see speedway, big wide track, plenty of passing. I miss the place, the best Saturday night out."
Jim Murray:

"These photos bring back wonderful memories as I was a regular at Hyde Road from 1964 to the end in 1987. Wonderful cicuit,the best in the world, just the stands let it down."
Chris Whalley:

"Brings back a lot of memories of both stockcars and speedway. All good ones though. I attended from 1965 through to late seventies."
Malcolm Preston:

"Great pictures, takes me back a few years seeing them. They'll never be another Stadium like Hyde Rd. The Greyhound Stadium isn't a patch on the ol' Hyde Rd, even though it's where the Mecurial Aces started out from.

Hyde rd was one hell of a place to get entertainment, my family and I spent many a happy hour cheering the Aces along as well as the International matches, individual meetings etc. I used to watch the meetings at the Pits bend till I saw sense and moved to the straights, I ended up a lot cleaner as well, use to sit in C Stand when I took my family.

Best Race? There was that many I could fill a book about them, mostly about PC & Mort, Ivan was Ok, but he wasn't a racer, he was a gater. Soren was great also, he's entertaining JC now winning races in Heaven. I'm 60 now, but I used to go when I was a nipper, but took my family when I got married. Don't go as often now though."
Paul McIntosh:

"This was the best stadium for me. I was more into F1 stockcars in the 80s and had some fantastic nights there sat up in block L on the first turn. I'll never forget Stu Smith senior winning his 500th career final there at the last ever meeting. I shed a tear when I left looking back vowing never to buy a car from BCA on what the site became. GREAT PICTURES."
Ian Thompson:

"Looking at these photos of old Belle Vue brought back a lot of happy memories. I have supported Belle Vue since 1963 through the good times and the not so good. The highlight of my memories was witnessing probably the greatest match race, if not speedway race, ever ridden between Peter Collins and Anders Michanek in the run off for the 1973 Speedway Star KO cup. They passed each other on every corner from start to finish, with Collins outwitting Mich with an awesome cut back off the last bend. I also recall the sheer power of the team in the early 70s with Ivan Mauger leading the way. Love the site, keep up the good work."
John Morgan:

"Seeing the photo's brought back such happy memories, from the great Peter Craven days to the Collins & Morton era. Why oh why was it allowed to be pulled down and the land used to sell cars !!! It was such a great riders track."
John Hyam:

"Hyde Road, Manchester - the traditional and not forgotten home of the Belle Vue Aces. Although a Londoner, I made several happy visits. It was indeed a sad day when speedway ended there. "
Andy:

"I've only been into speedway for a few years and far-and-wide people tell me that this was the greatest speedway venue. Thanks for putting up the pictures."
Ian Muir Martin:

"I only ever went to Hyde Road once. I have to say that the atmosphere was quite unlike Meetings I have attended elsewhere. As soon as you walked into the place it seemed to grab you. There was a 'buzz' about the Track even before the engines had started warming up. I believe it was a World 'Pairs' Event that I attended and I remember marvelling at the different lines that were available, and, if I remember correctly Soren Sjosten tried most of them. The noise from the Supporters was amazing, I've never heard anything like it either at Wembley or at Football Matches. I remember coming away and thinking to myself - I MUST come back here. Sadly it was not to be. Perhaps some of the saddest photographs I have ever seen are those that show the Stadium as it was being demolished. I know that all good things must come to an end - sad that it was in my time. Such is the legendry status of HYDE ROAD that the very mention of it brings a tingle up my spine. I wonder what the Ghosts of all those magnificent Riders like the Max Grosskreutz, Langton Brothers, Peter Craven etc. would make of it now? I wish I had been lucky enough to go regularly - those people who were should treasure the Memories. "The Past is another Country" they say - they are definitely right."
Ian Thompson:

"Fantastic photos bring back a lot of happy memories of probably the greatest purpose built speedway stadiums ever if not the greatest spent many many happy hours there and saw all the greatest riders in the world in the 60s and 70s including the wonderful Peter Craven."
Anthony Steele:

"It brought a lump to my throat looking at the photos. Every saturday night for ten years we used to travel to the Hyde Road stadium, we used to sit in Block B, in the good old days of Peter Collins, Chris Morton, Russ Hodgson, Jim Brett - just to name a few! Who remembers the good old derbys with Halifax Dukes and Kenny Carter (RIP). Ahh well, only distant memories now ! But Bloody good ones !!!"
Andy Pollard:

"The old Belle Vue was magical, the track was fast and wide with so many different racing lines. I dont think I ever saw a bad meeting there in 25 years. Mauger, Olsen, Michanek, Briggs, Penhall , Gundersen, Nielsen, Ermolenko, Morans, Carter, Lee and not forgetting Peter Collins and Mort - I've seen them all and many other greats of speedway ride this amazing track. Speedway is just not the same anymore in Manchester. I will never forget you Hyde Road, it was a great pleasure while it lasted. RIP."
Gary Todd:

"I was sat looking at the pics of Hyde Rd with a million images and memories running through my brain remembering all the greats riding the track in BLRC, Pairs Finals, test matches and of course Aces matches and magical place gone forever but entrenched in our memories. If only I could go back in time for one meeting watching Ivan, Soren, PC, Pusey, Wilkie, Eric, Ken Eyre and Tyrer etc battling against Briggo, Ole, the Booey bros, Anders, Ray Wilson, Simmo etc under the lights. Me and my mates sat at the pits bend with shale in our hair and dusty faces."
Nigel Welsh:

"Just been looking at the pictures, feel like I'm 10 years old again stood on the pit bend watching Ivan, Chris, Soren, Ken battle it out against Ole, Nigel, Eric and Briggo. Would be nice to turn the clock back, see it all again and let some of the new riders watch and learn from some of the greats."
Jon Phelps:

"As a kid growing up in Stockport the name 'Belle Vue' held so much mystique ... the fun fair, the zoo, but most of all the speedway. I have many happy memories of Hyde Road, the sights, sounds but particularly the smell of Castrol R which used to get caught under the big grandstand roof. Good days with great racing on the best track ever built. It makes me angry that this has now all gone. Bammy had no option but to sell the place, the wooden grandstands would have needed replacing as a result of the inquest into the Bradford Stadium fire, but the lack of respect for history and the inaction by the bunch of wasters at the Speedway Control Board means that this fantastic place is now only a happy memory. Thanks for the photos, I can almost smell it now. :-)"
Mike Frank:

"My first trip to Hyde Road was for a Saturday morning (1130) meeting vs Eastbourne (1979), which meant a early start on the bus. Been to Sheffield the year before so wasn't my first speedway meeting, but the one that got me hooked. Next one was vs Halifax on a Sunday night, the meeting where Mike Lohman didn't turn left on the Hyde Road bend, ouch! Home and (most) away meetings followed for the next 19/20 years, including trips to Austrailia & Hungary - long way to go for a rain-off! Gave up on Kirky Lane as was like all the others, without the away trip buzz. Still watch on Sky, but that's it. Last event at Hyde Road was a banger meeting. "
David Cumming:

"These photos just go to show what a massive loss Hyde Road was to the sport. This was a proper speedway stadium with loads of racing lines, gone but not forgotten."
Patrick Beacock:

"Interesting to read Dave Gifford's comments about the "secret" 2-minute buzzer. From reading some of the current day retro speedway books, I thought it was Alan Morrey who used to activate the 2-minute buzzer."
Sidney Dixon:

"Commendations to the authors of this Belle-Vue tribute site, I can recall great days as a youngster attending Belle-Vue speedway & the gardens, now pushing 60 I am still going, however those early days were quite literally the Golden years. Keep the Legend alive, that is Belle-Vue! "
Alan Smedley:

"Ohhhhh, Hyde Road. Only saw 3 seasons of speedway here but I remember every detail like it was yesterday. I know the old place could have never survived with those wonderful old wooden stands but wish someone at the time had the money to buy the place and let us have a couple of more seasons with the old stands and (when only absolutely necessary) developed the place and kept the track intact."
Phil Gunning:

"My pals and I went to every home match 1960 - 67. We used to sit in H Stand half way up. Wonderful days and met some great people. If the fans of today want to see what real speedway looked like, on what was then the best track in the world, they would only have to look at Peter Craven taking on Ove Fundin/Olle Nygren in a Golden Helmet Match Race. Watch the likes of Dick Fisher riding the middle with Gordon McGregor hugging the white line. How did Soren Sjosten ever stay on his bike when ever put his left foot down? Then you would have Cyril Maidment who, if I remember, was one of the best out out of the gate there was, in those days. Absolutely marvellous. No disrespect to the riders of today, but Belle Vue had some of the best available and, when you had the likes of Ove Fundin, Norwich, Ronnie Moore, Wimbledon, Barry Briggs Southampton and Nigel Boocock (blue leathers) from Coventry, all going at it every other weekend, thats what brought in the spectators. I forget the name of the promoter in those days, but we always used to have a giggle when the old chap on the tractor (Stan Ford?) would come by doing his grading and then afterwards looking round the Fans shop at the amazing black and white photos of Wright Wood from Penny Meadow in Ashton. Lastly, after the racing, there were the fireworks displays at Belle Vue - The Taking of Quebec was one feature I remember (I had to go home and read about it afterwards) and then there was the occasional sneak into the back of the Wrestling - if you knew how to do it. 'Wheel em in' was the chant if I remember rightly. Times have changed, but nobody can take away the memories. Great times, Great Track and Great riders. "
Kel Palmer:

"How refreshing and almost heartbreaking to see the pictures of the old Belle Vue and to read the comments of folk who knew and loved it. My first visit there as a wide eyed youngster was on the same Day in late April 1938 when my Dad initiated me at Old Trafford with United and then we cycled (yes cycled with me on his crossbar) from Stretford to Belle Vue where the opponents were Wembley Lions. Belle Vue's main rivals in those early days and just after the war were Wembley, New Cross, Harringay, Bradford and Halifax and later Leicester, Ipswich and Kings Lynn.

My early idol was Jack Parker but I had a special feeling for Dent Oliver and Louis Lawson who were more entertaining riders, whereas Jack was a model of riding proficiency and speed from the gate. But that was one of Hyde roads secrets, even if you missed the gate or screwed up the first bend, you then had four laps of Belle Vue's wide open spaces in which to thrill the crowd and show the full repertoire of skills.

The ghosts come trotting from the past-greats like Bill Kitchen, Anders Michanek, Barry Briggs, Split Waterman,and Soren Sjosten followed by Neilsen, Peter Craven, Larry Ross etc. I'm a sporting nut, but amongst my strongest memories of a life time will always be that moment at 7pm on Saturday as the red, white, blue and yellow/black heads went down and looked left on the first race of the evening and the crowd roared as the guy in red came out of the first corner in the lead and fought off the challenges ,inside-outside on those wide sweeping bends.

My special era was introducing my 4 sprogs to Belle Vue in the days when Ivan Mauger was skipper, Alan Wilkinson No5 with two tearawy magnificent reserves named P.Collins and C,Morton with Ray Tyler later when PC went to No1. So many great tussles but ones stand out were PC versus Mauger when he'd gone to Exeter and they passed and re-passed each other over four 4 laps. Another in the BRLC when Chris Morton duffed up the favourite Neilsen on the first bend and went on to victory.

The only downside for me was that after the exciting racing at Hyde Road, you went to much smaller narrower tracks where overtaking was a lottery and first out meant first home. I suspect that is what killed off many supporters when we moved to the greyhound venue. Now I look wistfully at teams containing hardly any home grown riders, no teararse reserves coming through to wreck the fences, no established British riders etc -and have to sigh that "Those were the days". We had the great days of speedway and of the Aces at Hyde Road and - "Oh no, they can't take that away from me"

My regards to all those Aces fans who filled the great old stadium with noise, laughter and sheer sheer excitement."
Ian Westwell:

"What fantastic memories. I went to Belle Vue in about 1970 when I was 13 used to get the 192 bus from Hazel Grove and walk from the A6. Really was a fan straight away! My mate Tony grew up round the zoo anf moved to the Grove and we were school mates, that is how I was introduced to speedway and we didn't miss a Saturday for age. Were great teenage memories and it wasnt long before I lost a bet and joined the riders on their side of the fence! Iive no regrets there, met some fab people fans and riders over the years and still go now, but not quite the same - air fences, body armour! We had wooden even metal fences! Not a prob you had so much room you had to be unlucky to hit them! Great memories."
David Housley:

"Great track and some great teams - Was up visiting my grandparents during the summer holidays in '78 when I was 12 years old. We went with my cousins (Halifax supporters) to watch the double header Belle Vue v Halifax & Vue v (my heros) Exeter Falcons. Watching us stuff our opponents week in week out at the County Ground, I was confident of a closely fought match, with the possibility of a win. We got well and truly stuffed, Vue were in the 50 pts and we were in the 20's. All my heros were made to look decidedly average. From what I remember Autrey was the only one to put up any resistance. PC and Mort were on a different planet - overtaking all and sundry, winning races with ease, no rush to overtake."
Jerzy:

"Used to go here for F1 stock cars in the 70s and 80s. Played in the Commer van under the back straight stand when not watching the racing! Electric atmosphere, quality racing. Too many great meetings to mention. The Vue and Crewe were the best stock car tracks and now, sadly, both gone. "
Tony Cheek:

"Went from 1961 till 1975. I remember Peter Craven, Jim Yacoby, Billy Powell, Dick Fisher, Soren Sjosten, Gordon Mcgregor - loved to watch them at Halifax Dukes, Sheffield Tigers. I remember great races for golden helmet between Peter Craven and Ove Fundin and i loved the riders championship at the end of season and would love to know what Eric Broadbelt my favourite rider is doing now."
Brian Dymond:

"I think you will find that Eric Broadbelt and his wife run a hardware shop in the main street in Padiham, near Burnley. My friend Neil Calvert, a Belle Vue supporter in exile in south-east London, dropped in there a year or so ago when in the area. Eric apparently was only too willing to talk about his experiences at tracks such as Hyde Road, Edinburgh and Poole. My understanding is he got into the business when he retired from the sport."
Tony Cheek:

"Good to hear Eric Broadbelt is doing well. When watching Belle Vue from early sixties I was always interested in the middle of the road riders, who on their day could win precious points for thier team,"
Craig Pendlebury:

"Some great memories looking at those photo's I started to go as a boy Craven, Sjosten, Fisher, and Alan Morrie running the show, Stan Ford on the tractor, got bitten by the speedway bug, I can still hear and smell the place. All I wanted to do from then on was ride peedway but on apprentice wages had to wait until 20 to get a bike an old JAP and attend Dent Oliver's winter training school some weeks 50 lads would be there PC, Wilkie, Paul Tyrer, Graham Drury, amongst those at the time that made it, no place quite like "The Zoo" "
Derek T Read:

"Wonderful to see the pictures of the old zoo, like the comments from the other fans we have fond memories and old friends, the family from preston and our close friends Ian & Judith East. I met my dear wife at the zoo, so we have a lot of good memories we don't go as often now living in Yorkshire."
Gary:

"No one has mentioned old Soldier Boy on the terraces, his shouting was so loud you could hear him over the bikes."
Keith Wingrove:

"Seeing those pictures and reading what folks had to say about Hyde Road certainly brings back memories. I was born across the road from Belle Vue and before I attended my first match back in 1963 used to hear the roar of the bikes every Saturday night, the streets were blocked with cars. I later became secretary of the Aces Supporters club before a certain SB took over, the death knell sounded the minute he took over but nobody heard it until it was too late. R.I.P Hyde Road, pleasant memories and enjoyable times, and I made many friends during that time as well. "
Brian Latheron:

"Last time I visited Belle Vue was 1964 Provincial League Final. I think the Boro Bears representative was Bluey Scott, don't remember what position he finished, I think he was riding a push bike!!!!!!"
Rae1Speedway:

"Bluey Scott was the Middlesbrough representative and rode 0 1 1 0 0 for 2 points but not last as that accolade went to Jon Erskine of Newport with 0 from five. His 1 in Heat 8 was third behind Ken Sharples of Newcastle and George Hunter of Edinburgh and in Heat 9 behind Peter Vandenburg of Newport and Bill Andrew of Newcastle. Ivan Mauger of Newcastle won with 13 after a run off with Charlie Monk of Glasgow also with 13. Roy Trigg of Hackney was third after a run off with Peter Kelly of Newcastle. This meeting was on September 26th 1964. "
Raymond Brooks:

"Just found this all about Belle Vue speedway. Great memories came flooding back one - name jumped out at me who wrote on your web site Sydney Dixon. Remember me Sid? I had a brother called Paul nick name (shaking brooks) because he used to always dance like Shaking Stevens. Paul is no longer with us, when he passed away Belle Vue speedway had a 1 min silence for him and it was in the programe which I still have. We went all over the country following Belle Vue and Peter Collins. We used to get a lift a lot all over from Fred & Mavis Ball. Great memories they will never be beat. I loved my speedway days."
Neil Looker:

"Fantastic memories of my youth come flooding back - LOVED the place, the noise, the smell and the chips and gravy on the way home - all for 10 bob! Let's hope the new stadium at least tries to capture the magic of Hyde Road."
Barry Bullough:

"First meeting end of 1970 season.Thrilled at how the riders stayed on the bike. Parents took us for years home n away. Could see into the pits from stand on turn three. Never forget Ivan Mauger / Peter Collins signing programmes after heat 13, then on to the fairground BOBS / Water Shute. Used to go in school hols on the bus from WIgan.The methanol smell and shale down your shirt, being so close to the action, Fabulous.The record 'Popcorn' welcomed you to another home match. Hyde Road - Bloody Great."
Nige:

"Could someone please tell me the theme tune at the start of the races who was it by ? Thank you. PS. I have lovely memories of the old track, one of them was practice nights there when I had my speedway bike at 16 years old and watching the likes of Andy Smith, Chris Morton and Peter Colins . Top days :)"
Jim Murray:

"The tune was Tokyo Melody by Helmut Zacharius."
Jack Babrovskie:

"To answer the query from 'Nige' re the music played at Hyde Road as the riders reached the tapes for the start, it depends on when he attended the stadium. But I suspect he would recognise 'Theme for the Common Man' which can be heard in various versions on You Tube. Also heard for some years at Hyde Road was the theme from the Olympic Games in Japan in 1964.....Helmut Zacharias' Tokyo Melody....again search You Tube for a rendition!"
Dave Shipstone:

"If you mean the old march out tune It's called Blazeaway it's been recorded by many bands (brass & military) it was even played at Liverpool Cathedral at the memorial service for the late Peter Craven. I used to try and teach my mates in the pits Ken Eyre, Wilkie and Soren the rugby words to this great march."
Vincent Norton:

"Oh what happy memories I have. I started watching Belle Vue in the 1950s. I was always first in the queue on Hyde Road. On the Sunday morning I would go down to the pits and help certain riders to clean their bikes. I got very friendly with George Smith and when we had finished he would drop me home in Besses. I saw some great riders such as Jack Parker, Louis Lawson, Pee Wee Callum, Dent Oliver and many more. Thanks Belle Vue for those great times."
Mick Hague:

"Does anyone have any photos of Hyde Rd training school in the late 70s? I used to ride there in late 70s, also Pilling Sands, my name is Mick Hague from Blackpool "
Mick can be contacted on mickparklane@hotmail.co.uk
Mick Hague:

"I think Sidney Dixon was a mate of Franky Loco who is now living in Blackpool. Me and Franky met at Hyde Rd in the late 70s and have been mates since."
Malcolm Cook:

"Sadly, I never got the chance to see a match at the Belle Vue track, although I was a staunch supporter of the Harringay Racers from 1947 to 1953, a visit by Belle Vue was always a much contested match. In my day the team was captained by the legendary Jack Parker whilst the management was in the more than capable hands of the great Johnny Hoskins. A regular event always took place whenever Belle Vue visited Harringay.....near the end of the match, Split Waterman would steal Johnny Hoskins' trilby hat and burn it....it must have cost Mr Hoskins a fortune in hats. Thinking back to those great days of wonderful speedway racing, I cannot recall a single team that stood out as easy opponents to beat, Belle Vue, Wimbledon, New Cross, West Ham, Bradford, Wembley, Birmingham all had their ace riders....(my opinion) BelleVue - Jack Parker, Wimbledon - Barry Briggs and Ronnie Moore, New Cross - Ron Johnson, West Ham - Jack Young and Malcolm Craven, Bradford - Arthur Forrest, Wembley - Tommy Price and Freddie Williams, Birmingham - Graham Warren....while Harringay (during my time) - Vic Duggan, Jackie Biggs and Split Waterman, then later, the great Olle Nygren. Sorry if I missed out your favourite/s. "
Paul Goulden:

"Fred and Mavis ball, god that's going back some years, away matches with Ray and the late daft Paul Brooke's, Tez O'Connor and Steve Knott."
Anton Hammer:

"Sad loss to speedway, been a lifelong Robins fan but belle vue was pure magic. I remember seeing Martin Ashby ride there in BLRC when finishing second to Ole Olsen. Very sad it has gone, but let's all look forward to the new track and stadium."
John Maude:

"Great memories of the 1960's and 1970's of Hyde Road when my father used to take me and go on the fairground for free after the meeting. Thanks for the brilliant photos."
Steve Holmes:

"The first meeting I went to at Belle Vue, was in 1965 . It was the first year of the British League and we lost to Glasgow Tigers. Dick Fisher had been injured the previous evening at Wolverhampton and didn't ride. I went for the next 10 years or so, sitting in the small stand above the supporters club on the back straight. As others have said - the BLRC nights at the end of the season were just something else. Supporters from every team in the BL, all mixed together and from what I experienced never a hint of trouble just friendly banter. What was it with visiting supporters and being by the starting gate - I admit we did the same thing if we went to other tracks. Happy days!"
Jason Daniels:

"Special days and memories. I was luckily enough and blessed to of once ridden around the old Vue, and was simply in awe as I rode around. Speedway has never been the same since the ending in '87. Thanks for the photos - brought back so many memories. Now with a tear in my eye. "
David Thomas:

"I raced at the last ever meeting at the ONLY real Belle Vue, but sorry guys, I was on the dark side... I raced Stock Cars, but I loved this place, I was brought up in Gorton so the whole complex was magical. I had the pleasure of working at Belle Vue as well. How Manchester let something of the likes of Belle Vue die, I'll never know - or forgive them for that matter. I've been inspired by the photos to try and make a 1.76 scale model. I'll post it if I ever get it done... you know what life is like... best laid plans etc. Brilliant site."

[ Use Desktop Version ]

Comment on this Article | Contact Us | Go Back to Main Menu