The Ipswich Witches
By Ian Davey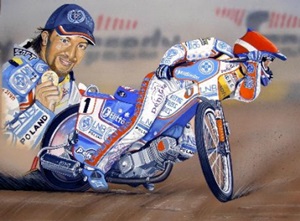 Jason Crump
as painted by Jim Blanchard
Despite growing up with Speedway in Norwich I had never been to see our East Anglian rivals, Ipswich at Foxhall Road. Temporarily working in Suffolk in 2014 it was time to put that right and at the same time introduce my French wife to the delights of British Speedway. Before she met me she had never even heard of the sport.
I had chosen a typical British summer evening for the occasion, cold, grey, windy, with the threat of rain in the air. Yes this was July!
In the taxi on our way to the Foxhall Stadium our Polish driver was interested in the fact that we were going to Speedway. Yes he had been to see the Witches but told us in no uncertain terms that Speedway was much better in his country. I smiled. I humoured him. I knew it couldn't be true. British Speedway was the best in the world. In hindsight I know now how out of touch I'd become with the realities of World Speedway not realizing that it was Poland who were starting to call the shots even then.
Back to the meeting itself and I hadn't exactly chosen a glamour tie, Ipswich against Plymouth Devils, whose cause wasn't helped by their having to use rider replacement from the off and with only one rider, Ben Barker, consistently able to challenge the home riders superiority. They deserve some respect however as they were fielding two riders, Adam Roynon and "Sam" Simota who had come back from career-threatening injuries.
The weather obviously hadn't helped to boost the attendance which was a far cry from the 20,000 who had attended a meeting at Ipswich some 50 years previously according to the programme notes. At least a young lady supporter standing next to us was enthused by Sam Masters's riding, the Australian brought in as guest in the number one berth for the Witches. Half way through the match the rain arrived, driving us into the main stand where we found seats in a construction resembling an overgrown chicken hutch. With no elevation it wasn't the best view in the stadium but we were right in line with the riders at the starting gate. At this particular time a black cloud had descended over me relating to difficulties in my professional life. My mood reflected the thoroughly miserable conditions, but then a strange thought went through my mind. That moment when the riders crouch at the start waiting for the tapes to go up is always a thrilling one. Yes I thought, whatever the outcome of my work problems, no one can take away from me my passion for this sport.
All credit to the riders they carried on despite the wet and although the Witches ran out comfortable winners, both teams produced a couple of exciting last two heats to finish off the night in some style.
I'll be returning to our Polish friend's view in a future article but since 2014 Ipswich "Witches" have returned to the top flight of British Speedway and helped boost attendances in a renewed local rivalry with King's Lynn "Stars".
Covid permitting, Ipswich fans will get a chance to see a Speedway legend in their colours this season with Jason Crump coming out of retirement after an 8 year absence from the sport. By a strange coincidence he has also signed on for Plymouth in the Championship for the new season. At least that way he won't be required to ride against himself! Best of luck to both his teams.
This article was first published on 2nd May 2021
[ Use Desktop Version ]
Comment on this Article | Contact Us | Go Back to Main Menu