Jack Millen
By Kevin Lyth
Some pictures of Jack Millen aka "Millen the Villain" who was a controversial but entertaining star in the National League in the 1970s.
Jack was tragically killed in a car crash on the A1 in 1978. He was riding for Berwick Bandits that season.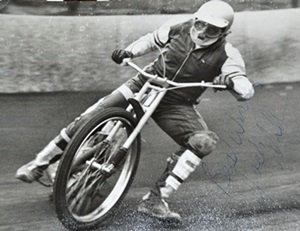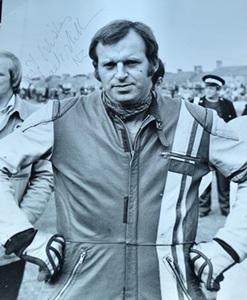 This article was first published on 31st March 2013
---

Dot Laird:

"The dreadful car accident that ended the life of Jack Millen, was a terrible tragedy for speedway as a whole. He was a breath of fresh air in our wonderful sport, at a time when we seemed to be losing so many of the great characters. Great entertainers, guys the other side's supporters loved to boo! Men who gave 100% effort and had no time for those who didn't! The sort of men who got people through the turnstiles ... where are they now? RIP JACK MILLEN. You never won the world championship but oh how you entertained us all. God bless you always. xx"
Ian Harwood:

"Isn't there a photograph somewhere of Jack Millen riding with a broken left leg and his steel shoe strapped directly on to his plaster cast?"
Jacqueline Millen:

"Lovely comments about my dad. Thank you. He was an incredible individual and his loss is felt always by our family. Speedway knew one side of him, as children we only knew kind, caring and loving - and immensely funny. 35th anniversary in a weeks time - still seems like yesterday. It is both incredible and moving that he is still written and talked about all these years later. "
Jim Finnie:

"Yup, still have wonderful memories of "The Villain" from his Edinburgh Powderhall days. Even Monarchs fans booed when "Jack The Villain Millen" was announced only because he expected it and milked it! Great character and speedway rider. RIP Jack and Powderhall."
Ian McLean:

"For some strange reason a group of us Glasgow supporters referred to Jack as Uncle Jack, a fact that he acknowledged. R.I.P Uncle Jack."
Maurice Brader:

"Jack never won a world title, but he was a great entertainer and people loved to see him ride, and was also a willing hand with the up and coming young rider. A wonderful man and sadly missed. If we had more characters like Jack in speedway today the sport would be better off. "
Andy Weaver:

"I knew Jack Millen in the 70s when he rode for Stoke. I would love to buy photos of Jack . If any one can help me please get back to me on 07796274342. I really miss Jack as he was such a character. I used to help him with his bike at weekends and prepare the track ready for the race. R.I.P Jack."
Alexander Falconer:

"I still to this day remember where I was when I heard about the terrible tragedy that ended the life of Jack. Indeed I had an article published in the Edinburgh Evening News about it. I was really saddened as I loved every minute of watching Jack riding for the Monarchs. I spoke to him once or twice when he and other riders came round with their helmets for the collection for the riders benevolent fund. A one off never to be forgotten."
Chris Page:

"As a speedway supporter from what to me we're the golden days of the sport the 1970's and one time track taker at the old Blackbird Road stadium I think I only saw Jack there once riding as a reserve guest for Reading I believe? However I did used to travel to Peterborough on race nights back then when I could as it's not far up the A47 from Leicester.

Of all the nights in speedway I have witnessed and there are plenty I happened to attend Panthers v Stoke Potters with their number one rider Les Collins and Jack Millen as second heat leader. I still have the programme somewhere. Jack scored 13 points that night and I can still remember him driving the fans crazy on both sides and he rode his heart out in his black leathers what a match, unfortunately I failed to write down if he won the old rider of the night! I do have him winning his heat but not the final result shame. Anyway after all these years RIP Jack I salute you a true warrior and still missed. God bless."

[ Use Desktop Version ]

Comment on this Article | Contact Us | Go Back to Main Menu