Trackin' Down: Jan Staechmann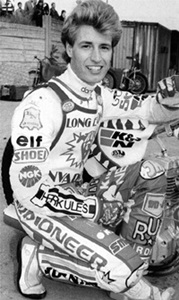 Jan Staechmann
An extract from Ian Gill's interview with Jan Staechmann that appears in Trackin' Down 4.
What was your personal reaction when one of your engines failed with a bang?
I personally didn't think "pounds, shillings and pence" when an engine blew. It was more about the points I'd lost in the race. The lay-downs were worse than the uprights and, with hindsight, it would have been better to have stuck with the uprights in terms of the cost to the riders. There was a lot more skill required to ride an upright as well. Mind you, at the time, I was all for having lay-downs as I just saw it was a natural progression. I'd had experience of riding the lay-downs in Australia and really liked them and I was in the Grand Prix in the forthcoming season, so they certainly got my vote.
With the lay-downs came more revs and as a consequence, more horse-power. The downside was more strain on the internal parts of the engine which meant less reliability.
For one of the Grand Prix meetings in 1995, I remember throwing money at trying to improve my set-up (even though I always knew you couldn't simply 'buy success'). I was good friends with the German, Klaus Lausch, who was a well known engine tuner, as we had ridden together at U21 level. He worked on Hans Nielsen's and Tony Rickardsson's engines. I got talking to him after one of the earlier Grand Prix rounds and told him I was in a bit of a fix regarding engines and wondered if he could help me. He told me he had got one of Tony's engines and that it was for sale for 6500 marks which probably equates to around £3500 in 1995. That sort of a price for an engine was basically unheard of at that time but in desperate times, desperate measures are called for.
So I bought a plane ticket for Munich where Klaus was based and when we landed, I literally ran through the airport and out to the car park where Klaus was waiting in his van with the engine. I got the bag with the engine in it and handed over an envelope with 6500 DM in it and the deal was done. I went straight back into the airport and caught the return flight home.
I tried the engine at Hull after the meeting and it was the fastest thing that I had ever ridden for a long time. It was fabulous. We had one more meeting - away at Cradley - before the next Grand Prix and the engine sh*t itself in a most spectacular way that night! I didn't even get it on to the track as it went "bang" while I was warming it up on the stand pre-meeting. The con-rod broke and the engine casing exploded; it was only any use as a paper-weight. I think that is a perfect example of just what can happen.
Click here for details on how to order your copy of Trackin' Down 4
This article was first published on 17th June 2012
[ Use Desktop Version ]
Comment on this Article | Contact Us | Go Back to Main Menu