Debut: Joe Screen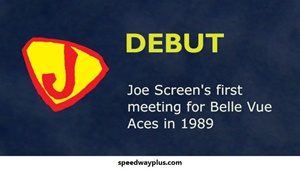 Good Friday 1989 - Belle Vue were taking on Bradford Dukes in a war of the roses clash for the Frank Varey trophy at Kirkmanshulme Lane. Appearing in the famous Aces' race jacket for the first time was 16 year old Joe Screen.
Screen was considered to be a rider of vast potential, having enjoyed success on the grasstracks and shown up well in second half speedway action. There was a tug-of-war for his services between British League Belle Vue and National League Hackney Kestrels. Being from the north, he elected to join the Aces and stepped straight into the world's toughest speedway league.
He was the latest in a new wave of emergent British talent, following in the tyre tracks of Gary Havelock, Martin Dugard, Mark Loram and Chris Louis who had made their name in preceding seasons.
The Aces were a new look team in 1989, having recruited the Moran brothers from Sheffield to replace Andy Smith and Paul Thorp who had crossed the Pennines to join the Bradford Dukes. The Dukes had lost the services of Gary Havelock for the season.
Joe Screen lined up at number 7 in and made his first appearance in heat two. He may have been nervous as he lined up at the tapes alongside Gordon Whitaker, Glenn Doyle and Simon Green, but 62.2 seconds later he'd won his first pukka speedway race. Despite the world class riders on display, nobody bettered that time throughout the evening,
Tougher tests were to come in his later races, in heat 8 he managed a third place behind his team mate Peter Ravn and Neil Evitts the Dukes' number one.
He faced Evitts again in heat 11 and this time came out on top after a sensational ride from the back.
His final appearance of the match came in heat 14, which was a repeat of the heat 2 reserve race. Screen made no mistake and won his third race of the evening, finishing the evening on 10 points as the Aces crushed the hapless Dukes by 62 to 25.
Belle Vue promoter and club legend Peter Collins was suitably impressed by the teenage debutant:
"He was superb. He was under pressure before he started because the fans had heard such a lot about him, but he didn't let that worry him. Now all those that were there know what we have been talking about for the last few months. I could not have asked for more from the lad, but this is only the beginning, he has still got it all to do and he knows it's a long, hard road ahead of him."
Team skipper Chris Morton was also singing his praises:
"What impressed me most was his attitude. He had a faster winning time in his first ride than any other rider and that could have gone to his head. But instead he kept asking questions, he kept asking advice and he's already shown he's willing to learn. You couldn't have asked him to do any more and he's certainly got the ability to do very, very well."
Joe was remarkably grounded after his sensational debut:
"All I do is try my best. If things don't work out while I'm trying my best then I don't know what I'll do."
He needn't have worried and went on to enjoy a fine debut season, racking up a 6.5 point average in the British League and an incredible average of over 11.5 in the Junior League.
The Aces generally fared less well, finishing a disappointing fourth in the league, partly due to an injury to Kelly Moran that kept him out for a large chunk of the season.
This article was first published on 31st January 2021
[ Use Desktop Version ]
---

Ian Harwood:

"We were really excited about seeing Joe in his first match. We'd seen him without actually knowing who he was doing laps after matches at the end of the previous season. He was very impressive, very controlled, and looked very quick. It was some time before we knew he was only fifteen then. He made his debut for Belle Vue the following year just a few days after his sixteenth birthday, and just a few days after that was entered in the British quarter-final at Middlesbrough. There was no excuse not to go, so in the car straight after work and across the M62 and up the A1 we went. I don't have the programme anymore but memory tells me Joe missed qualifying by just a point. Afterwards he said he thought it would be easier because it was National League. He'd only been a professional speedway rider for a week!!"

Comment on this Article | Contact Us | Go Back to Main Menu