Enthusiasts Bypassed by Fame: John Pilblad
By Philip Dalling
Speedway in the late 1950s suffered from a siege mentality. The National League tracks which had survived the sport's meltdown earlier in the decade were highly protective of their position.
Ronnie Greene of Wimbledon, Charles Ochiltree of Coventry and their colleagues were content to tolerate the existence of the Southern Area League, with its emphasis on juniors proving a useful source of new talent.
They were not so keen on attempts to re-open tracks for challenge matches using National League-contracted riders. The abolition of entertainment tax had made speedway potentially a much more attractive financial proposition. The NL chiefs, having struggled to keep speedway alive in the face of the tax, resented new promoters who they believed were attempting to cash in on its abolition.
Despite this frigid stance, would-be promoters were persistent. Riders such as Reg Duval at Liverpool, Cyril Roger and Geoff Pymar (Exeter), and Trevor Redmond (Plymouth/St Austell), ran short seasons. By 1959 established names such as Johnnie Hoskins and Charles Foot were involved re-opening New Cross and Bristol respectively.
The obstacles to be overcome by men already well established within the sport were nothing compared with those faced by complete newcomers. The speedway authorities initially rejected Mike Parker. Another enthusiastic would-be speedway entrepreneur, John Pilblad, was to experience one setback after another over a number of years.
A speedway fan since 1949 when his hometown club Leicester Hunters were launched, John served in the RAf and then found himself in London in 1954, working in the BBC's Outside Broadcasts section.
"I watched speedway at Wimbledon and West Ham and at Plough Lane I used to stand with a group of enthusiasts called the Ferndown Flyers, who once a year were allowed by promoter Ronnie Greene to ride in a special second half event. They told me the stock cars were pulling out of Tongham Stadium at Aldershot and I was persuaded to re-open that track for Southern Area League racing."
When the SAL and Mike Parker began the exploratory talks which were eventually to lead to the formation of the Provincial League, John soon became involved.
"Parker asked me to go up to Manchester to talk about possible mutual interests. When I arrived at his base in Moss Side, the first thing I noticed was his midget cars, all on a low-loader, just parked out in the street outside his shop and flat. He had bought every car he could lay his hands on and effectively ran midget car racing, such as it was.
"In later years , given the neighbourhood, these would have simply disappeared or been destroyed on the spot, but at the time no-one seemed to touch them."
Planning for the Provincial League proceeded and it seemed everyone would benefit. Sadly, there were to be losers as well as winners. The Control Board rejected John Pilblad's application for Aldershot, on the grounds that the support for SAL racing in 1959 had been insufficient to meet the additional expense of a nationwide league. A licence to run open meetings was little consolation, and 1960 was the Shots' last season. Applications from Rye House and Eastbourne were also rejected, due to the difficulties at that time of running on a Sunday.
John now turned his attention to Weymouth, without speedway since a short-lived attempt to run NL Division Two racing in 1955. With a band of helpers, he worked tirelessly to bring the track and stadium at Radipole Lane up to scratch.
Again, the result was to be heartbreak. An application to join the expanding Provincial League for 1961 was turned down, without even the consolation of an open licence. The Control Board believed a seaside track with its crowd potential restricted to the peak holiday season was not suitable for league racing.
Pilblad, despite a blossoming professional career - he was eventually to become the BBC's top outside broadcast cameraman - was persistent. An open licence was granted for 1962 and although rain wrecked the opening night for the new Weymouth Royals, speedway was back in the resort, with John at the helm.
The Royals made it through 1963 and 1964, although Provincial League promoters became increasingly reluctant to load out their young riders to non-league circuits. By the end of 1964 Pilblad urgently needed a break.
A break was what he got, although not of the kind he was looking for. While filming a scramble for the BBC he borrowed a machine to get a feel for the sport he was helping to televise, suffered a compound fracture of his left leg and spent the next 18 months on crutches.
John's final fling with speedway was at Ipswich, which he had re-opened in 1964. The Witches took part in a new SAL-type competition called the Metropolitan League, for which the fixtures were never completed. He ran some open meetings in 1965 but although crowds were good for the revival, clashes with other promoters and broken promises made life virtually impossible. A final straw came when Wimbledon pulled out of an agreement to send a side to Foxhall Heath.
"During all the years I was promoting speedway, I had countless clashes with the Control Board and with some individual promoters. I was not out to make money, just to break even and provide fans at some of the lesser tracks with speedway. I always paid the appropriate rates and made sure the riders were fully insured, but although some promoters, particularly Len Silver, were helpful, others were obstructive.
"Ipswich was the end of my direct connection with speedway, although I have never lost interest in the sport," John added.
John Pilblad, refused a licence for Provincial League racing in 1960, ran open licence meetings at Weymouth. John is pictured on his tractor, bringing back to life a track unused since its closure in 1955.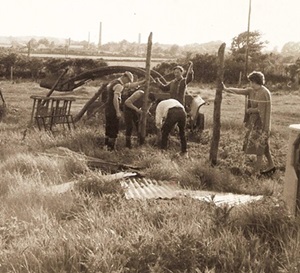 John Pilblad and Weymouth supporters worked long hours to make the circuit at Radipole Lane fit to stage speedway in 1960.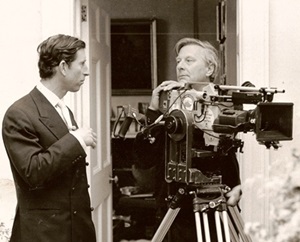 Pilblad was BBC TV's top outside broadcast cameraman. He is pictured here with HRH The Prince of Wales during a documentary he filmed featuring the heir to the throne.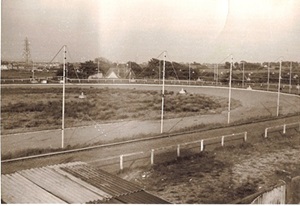 Weymouth's Radipole Lane Stadium as JohnPilblad discovered it in 1960.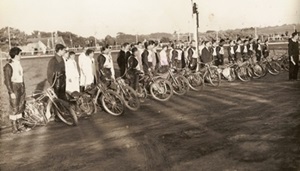 Riders on parade before Weymouth v Exeter challenge match.
This article was first published on 27th October 2011
---

Terry Stone:

"Best ever promoter. Good on you John. He knows my words. Well done John one of the boys. Keep the wheels turning and the plugs sparking."
Dudley Jones:

"Nice to see the piece on John. I never went to one of his meetings, but I did take Speedway Star each week (for more than 30 years) and followed what he and a couple of others were doing with the Metropolitan League. I had never been to Ipswich (except for a stock car event) at the time that John revived the venue which had closed mid-season in 1962.

The merging of the National and Provincial leagues in 1965 was, arguably (together with the formation of the Provincial League itself), one of the two most important domestic speedway events of the past 60 years. It did, however, remove the lower league, and left precious little opportunity for the youngsters to get a grounding of proper racing. John was a great supporter of the sport, and deserves more recognition. It was a shame that he didn't take a team into Division 2 in 1968. I have great respect for Johns efforts, well done John."
Phil Lock:

"Happy days at Weymouth indeed. I remember a lot of John's frustrations at the time. John was also godfather to my late son, Ian, and I would love to get in touch with John if possible, and have a reminiss. For the record, I am the lad in a white jumper, helping to put up the posts for the perimiter fence, in the second photo."
Bob Radford:

"Only met John once while announcing at Smallmead. Fascinating man who I think, given the chance, would have been a good and successful promoter. "

[ Use Desktop Version ]

Comment on this Article | Contact Us | Go Back to Main Menu