King's Lynn - Part One
By Ian Davey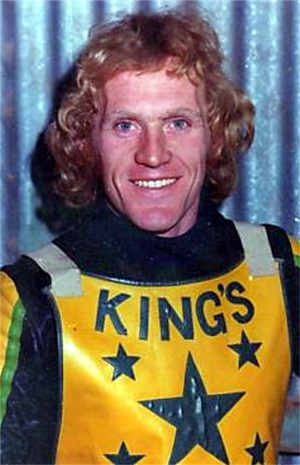 Terry Betts
King's Lynn, my "spiritual" Speedway home. I haven't lived in Norfolk for over 50 years but "The Stars" are my Speedway team, just like Norwich City is, and always will be, my football team. Roots are important. My love affair with Speedway started at the Firs Stadium in Norwich, my heroes, Ove Fundin and Billy Bales. Then tragedy struck. "The Firs" was sold to property developers in 1964 and Norwich Speedway was no more. A year later King's Lynn Speedway was born and naturally they became "The Stars". A young Norwich "Star", up and coming Terry Betts, was enticed to don the famous race jacket and became Mr King's Lynn Speedway during 14 glorious years, one of the most popular riders in the history of the sport.
King's Lynn is a rural outpost. When asked if he would ride for King's Lynn, Terry reportedly said "King's Lynn? Where the hell is King's Lynn?" And yet the Saddlebow Road Stadium, now dubbed the "Adrian Flux Arena", out in the sugar beet fields of West Norfolk, has been serving up mostly top flight speedway virtually continuously for over 50 years. In view of all the track closures that have taken place I'm lucky to still have somewhere I can call my Speedway home, the "Stars" now just one of six teams to offer Elite League racing in the 2021 season.
Not living in the UK for some time I'd gradually lost touch with British Speedway apart from one-off visits to Reading, Eastbourne and Ipswich. Then my cousin suggested a "Nostalgia Night out" to King's Lynn while we were visiting family in the region in 2015. "Right Boy, you're on". Adding a bit of spice to the occasion my 85 year-old uncle decided to join us. Very fitting as it was he who'd introduced me to the sport at "The Firs" as an 8 year old and set me dreaming about becoming a World Champion like my idol Ove Fundin.
Before the start of proceedings my uncle told me something which had my brain reeling. British born Tai Woofinden, World Champion in 2013, had decided to stop racing in the UK in 2014 to give himself "a better chance" of winning the World Championship, or Grand Prix in modern parlance, plying his trade instead in Poland and Sweden. I was gobsmacked. So the UK, once the Mecca of Speedway, had become what my home county was when I was growing up there in the 1950's, a backwater.
He also told me King's Lynn promoter, Keith "Buster" Chapman, was taking over as chief of the British Speedway Promoters Association and that he was going to "sort out" Speedway in the UK. Has that happened during the last six years? Let's return to that question in Part 2 of this article. But what was clear was that Mr Chapman would have his work cut out. There were some sobering words from the local newspaper reporter in that evening's programme. The previous week in the Stars' match against Leicester "Lions" each team had only HALF of their team riding, the numbers being made up by guests and rider replacement. The journalist went on:-
"Whether we like it or not, the product that is being served up by the British "Elite" League is a million miles behind that of its Polish, Swedish, and Danish counterparts. And it's why crowds continue to dwindle".
On to the racing and the Stars were fielding four of their own riders, operating rider replacement for the injured Robert Lambert and bringing in two guests in the shape of Freddie Lindgren and Adam Ellis. Opponents Coventry Bees fielded "just" one guest. So a better ration than the previous week against Leicester but still far from perfect, and only serving to show why it's difficult for non-Speedway aficionados to take the sport seriously. What would some viewers on Sky Sports who were covering the meeting make of it?
I have my own criteria for judging the quality of a Speedway match. If there's overtaking after the second bend in more than half of the races it can be classified as a good meeting. This one qualified. We even had passing and re-passing. It was a grey evening with a threat of rain in the air but it held off to allow us to appreciate the entertainment, the Stars running out fairly comfortable winners.
Niels-Kristian Iversen not only towered over his fellow riders but the lanky Dane was head and shoulders above the rest in Speedway terms as well, rolling out an immaculate 18 point maximum from his six rides.
We were also offered a "Second half" with junior teams and even some 250cc races.
My enthusiasm for Speedway had been rekindled. The "Nostalgia Night-out" had been a success and was to be the start of a biennial pilgrimage to my spiritual Speedway home, but more of that in follow-up articles.
This article was first published on 31st May 2021
[ Use Desktop Version ]
---

Bob Bath:

"Intereting article - when I saw that there are just six teams in the Elite League it took me back to the last year of the NL in 1964 - they couldn't continue and had to amalgamate with the then PL to form the British League."

Comment on this Article | Contact Us | Go Back to Main Menu