King's Lynn - Part Three
By Ian Davey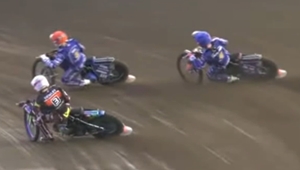 Heat Five Action
August 2019 and I was back at Saddlebow Road, my spiritual Speedway home, for a Premiership match between the Stars and Belle Vue "Aces". Two years ago on my last visit we had witnessed a farcical ending. How would things pan out this time around?
After the rider presentations and a few practice starts we were straight into the action. The first eight heats were reeled off in double quick time with riders given a two minute warning even if they had to ride two heats on the trot. There were no stoppages, re-runs or crashes. That certainly helps with keeping the action coming
Judged by my criteria if at least half of the races provide passing after the second bend, we had a pretty good match. Heat 5 produced an enthralling battle for second place between Thomas Jorgensen and Dan Bewley, the Dane leaving Bewley with nowhere to go on the last lap. A 5-1 to the Stars and the turning point of the match. This breathtaking race has had 4000 views on Youtube.
A short breather at the end of Heat 8 for track grading and a raffle draw, then on with the action. The Stars had the upper hand from this point onwards and ran out 55-35 winners. Match over by 9.05, a massive difference from my previous visit, but no more Speedway action, no second half, no junior races, no nothing. Not a full Speedway night out to my way of thinking but enjoyable nevertheless and overall things were well-organized and professional in stark contrast to my previous visit.
On the other hand each team only had five of its own riders, injured Robert Lambert being replaced by a guest, and both teams fielding a guest in the reserve birth. Rider replacement operated for the injured Aces' captain, Max Fricke. I wonder how often teams turn up with a full complement of their seven contracted riders in either the Premiership or Championship?
The crowd was definitely up on two years previously and the Grandstand was nearly full so we had some atmosphere as well. So Speedway is surviving, even thriving, at King's Lynn, and that is good news but overall there's a long way to go for British Speedway. Other tracks are struggling to pull in paying customers in sufficient numbers and more than half the riders in the Premiership are doubling up in the Championship. The successor to Sky Sports, BT Sport has limited audiences. The Covid pandemic hasn't helped the situation and this season's Premiership has just six teams with the withdrawal of Somerset and Swindon. At least the Stars are still going even though this season Robert Lambert was not be leading the team. A real blow. This "local boy made good," who has grown up with King's Lynn, has been forced to base himself in Poland just like Tai Woffinden and the other superstars of the sport.
This article was first published on 3rd October 2021
[ Use Desktop Version ]
Comment on this Article | Contact Us | Go Back to Main Menu