Book Review: Life on the Edge - Split Waterman Biography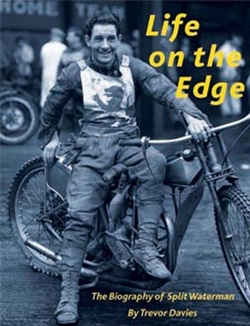 Split Waterman was one of speedway's greatest ever characters. A rider of genuine world class standing whose life on and off the track has always carried an air of mystery.
Trevor Davies got to know Waterman in his later life, being invited to spend time at Split's Spanish retirement home and being able to discuss his career and life in great depth. He's now used that unprecedented access to write "Life on the Edge - The Biography of Split Waterman".
Trevor has previously written "Warzone Speedway", a terrific tome that detailed the rough-and-ready speedway meetings that were staged by British troops as WWII drew to a close. Split was one of those riders, making his first appearances in Naples in 1944, where he picked up racing experience that would help to shape the rest of his life.
After the hostilities had ended and he was demobbed, Split headed back to civvy street and began a professional speedway career with the famous Wembley Lions no less. He was one of the first genuine new stars to emerge after the war, holding his own against an older generation of riders whose careers had been placed on hold for 6 years.
The book tells of his progression in reasonably broad strokes, perhaps in-keeping with his rapid progression, mixing Split's own recollections with contemporary comment from the speedway press. It covers the full arc of his career, from his early days at Wembley, through his climb to the rostrum of the World Final and to his final appearances for Ipswich and Belle Vue in the early sixties. Along the way there are triumphs and controversies, not least the events of 1952 when he was essentially stripped of the Golden Helmet due to injury, which led to a well-remembered legal battle.
The author is telling a story, rather than getting bogged down in too much detail about every meeting that Split appeared in. At times it feels like there's not quite as much detail as some readers may expect or want.
Although Split's speedway career was relatively short, it was extremely successful and he made a massive impact, meaning he's well remembered to this day.
The book features contributions from those who knew him. Personalities such as Ove Fundin, Len Silver, Alf Hagon and Mike Broadbank share some memories and thoughts, all adding to the rounded picture we get of a remarkable character.
His life after speedway was no less colourful, with a conviction for illegally exporting stolen gold and another for forging £500,000 of Spanish Pesetas! There's certainly no shortage of material for this biography!
Trevor Davies' close personal relationship with Waterman enables him to write authoritatively. Despite their friendship, he never tries to whitewash the reputation of his subject, acknowledging him to have been a talented but flawed individual.
The book runs to 134 pages and is illustrated throughout with many pictures, plus a short statistical review of Split's career. It's published by London League Publications and retails at £14.95
This article was first published on 11th July 2021
[ Use Desktop Version ]
Comment on this Article | Contact Us | Go Back to Main Menu