Dream Team : Mark Drummond
Belle Vue Aces fan since being 5 years old. Didn't get to see the likes of Craven, Collins, Morton or Mauger so this team is based on riders I've seen whether it was riding for the Aces or visiting.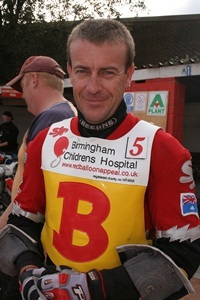 Jason Lyons
Picture by Ian Adam
Jason Crump
Without doubt the best rider I've seen in recent years wearing the Aces colours. A great team man and a guranteed points scorer and leader.
Jason Lyons
A legend. One of the most loyal and commited riders the club has ever had. At his peak could beat anybody around Kirky Lane. And did! You name them,he beat them.
Mark Loram
Never rode for Belle Vue,but would have loved to have had him. Amazing to watch, very dangerous when coming from the back. Always a pleasure to watch.
Joe Screen
Belle Vue's favourite son.The Screen Machine! Watched him progress in the Colts team and work his way up to the main team. Like Loram, was excellent at passing from the back. Never made a good start in his life,didn't need to.
Shawn Moran
Shooey! A great captain. Very talented. Should have been a World Champion.
Tony Rickardsson
What a reserve to have - ha ha. Quite possibly the most professional rider I've ever seen. In my opinion,the greatest rider the sport has ever seen.
Billy Hamill
Really enjoyed his one season with the Aces. It's a pity it wasn't more. Deserved more than one world title. At his peak, he was almost unstoppable.
This article was first published on 2rd June 2011
[ Use Desktop Version ]
Comment on this Article | Contact Us | Go Back to Main Menu