A Mauger Event
By Julie Magro
With thanks to Ivan Blacka and Julie Magro, here are some great pictures from a recent gathering at Ivan and Raye Mauger's place.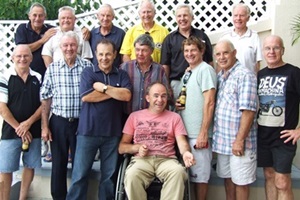 The former riders (and one official) in attendance.
(Back) Jim Airey, Nigel Boocock, Max Wintle, Bill Bryden, Vaclav Verner, Bluey Scott
(Middle) Mike Farrell, Bert Kingston, Martin Rogers, Greg Kentwell, Kym Mauger, Ivan Mauger, John Titman
(Front) Steve Magro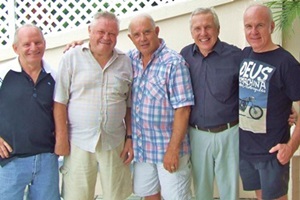 Exeter Five! Mike Farrell, Nigel Boocock, Ivan Mauger, Vaclav Verner and John Titman.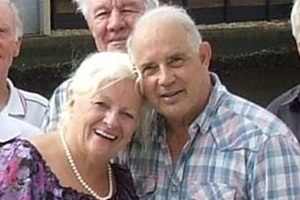 Raye and Ivan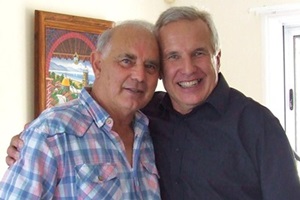 Ivan and Vaclav Verner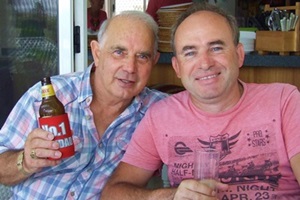 Ivan and Steve Magro
This article was first published on 17th March 2013
---

Steve Magro:

"Max Wintle is standing next to Nigel Boocock. Bill Bryden is in the yellow shirt. Bluey Scott is far left, back row."
Thanks Steve. Caption fixed now.
Steve Luxton:

"My heroes! Ivan and Vaclav, wow I was so lucky to see them race at Exeter! Raye is such a lovely lady!"
Lynda Dent:

"I can't believe it is nearly 34 years since I saw Ivan win his 6th title in Poland. I used to be at Hull Vikings every week but I was a big fan of Ivan before he come to ride for us. I still have my ticket to that meeting. I was over the moon a few years ago when he saw me & recognized me! The same when he turned up at Craven Par k one Wednesday night in Hull. So wonderful to see names from the past that I remember. Ivan Mauger will ALWAYS be my Speedway Idol."
Ray Hill:

"At the age of 71, I remember the Roger brothers. Don Hardy, Bronco Slade and many others. As a young lad I went and got some black boot polish for Norman Clay to clean his leathers with, this was also back when the Falcons had an old railway carriage to keep their bikes in. Over the years of following the Falcons, I've seen many a great riders, but for me the one rider who lit up the County Ground was Ivan, the ultimate professional. The man who took Exeter to the top. I've done a fans view of the last meeting, plus the demoliton of the stadium, to the building of the new estate. If Ivan wants a copy I'll send him one."

[ Use Desktop Version ]

Comment on this Article | Contact Us | Go Back to Main Menu