45 Years a Racer
By Mike Coombes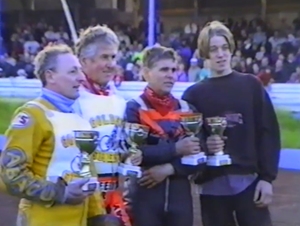 Mike at the Golden Greats in 1995
with Jim McMillan, Briggo and Blair Scott
Dad took me to New Cross. I became hooked and as soon as I had a Bicycle and then a Motorbike I supported Wimbledon. I joined the Saltbox MCC and as a 15 year old entered a Scramble on New Year 's Day 1963. It took three weeks to clean the bike, a Royal Enfield 350. I never did another scramble, but took up Grass Track racing, mostly in Kent. Tried Speedway at the Rye House training track when Mike Broadbank was doing it. My barber had a bike - a Rotrax JAP - but was frightened of it, so I got to ride it. Cyril Maidment gave me a few second half races at Wimbledon. I held my end up, doing OK. That finished when I declined a Speedway Contract. I was told " Sign or don't come back!".
So I did not ride Speedway much more, concentrating on Real Road Racing in the IOM and Ireland, International Enduro events and Trials. I was in at the start of Vintage Road Racing - I was keen on old bikes - plus my wife became a Star in the Sidecar Class, regularly finishing on the box. We rode for many, many years with a great bunch of racers. It was said if you could hold your end up in Vintage Racing, you could hold it up anywhere!
I went on to ride in the IOM four times plus many Irish Road Races, the Cookstown 100, the Temple 100, the Tandragee, Mid Antrim, Killinchy, Skerries and at the short circuit at Kirkistown. I was invited by Bill Davies to a couple of Veteran Speedway races at Swindon and Poole, did OK on borrowed bikes.
Getting regular rides was tricky, it was a bit of a closed shop. I decided to run an annual Vintage Speedway Championship, the first at Kings Lynn where Martin Rogers hosted us. This continued for several years, Reading becoming the venue when Pat Bliss was promoting. I then turned my attention to starting an Amateur Speedway Club. I had rented Mildenhall for a day. Break even was 20 riders at £25.00 each. We made it OK, plenty of others turned up to watch and see how it went.
We had a great day on the track and there was a positive vibe, so I started negotiations with the Speedway Authorities. Not encouraging, a resounding " No You Cant! " That was like a red rag to a bull, so I took them on. Having by this time over 20 years involvement in Motorcycle Sport, some at organiser level, I knew what levers to push.
After a lot of hassle, mostly caused by the untimely death in a car crash of John Eglese the Control Board boss, with whom I had a handshake deal, Amateur Speedway through the medium of the Club I founded, the Southern Track Riders, got off the ground. The STR wound up after 26 years of running fifteen meetings each year. Not a bad record.
Amateur Speedway has never been in a better place than now with several clubs operating at Amateur level. I retired from the STR after ten years at the helm, and I am very proud of those who followed in keeping it going. Just for information British ACU Speedway licence holders averaged 120 each year for many, many years. Once the STR was operating, over 300 Speedway licences were issued each year. A significant jump!
I was invited to ride in the Franta Juhan Memorial at Pardubice. There I met a bunch of German Racers who had the genesis of the Oldtimer Longtrack and Speedway series, but not quite enough riders to make it happen. With my help getting the Brits along it began a fantastic series of events, often running alongside the World Longtrack final at venues like Herxheim. Longtrack venues were Muhldorf, Pfarkirchen, Marianske Lazne, Herxheim, Hunstetten and Aarhus in Denmark. Speedway tracks used were Pardubice, Divisov, Svitavy, Zarnovica, Wolfslakker, Pilsen, Elgane - Norway - Mildenhall and Reading.
I had my first race on New Year's Day 1963 and I retired from racing in September 2008. I was very lucky, I broke one arm, had it plated, at Brands Hatch, plus the right collar bone and shoulder blade at Reading Speedway. Not too bad for 45 years racing non stop!
That's all folks, Yours in Sport, Mike Coombes.
This article was first published on 2nd January 2022
[ Use Desktop Version ]
---

John Benjamin:

"Lovely. seems you had a great time. My first time was at Rye House aged 10 stood by the fence and got smothered in wet cinders, not sure but seem to remember Ronnie More made a guest appearance at Rye House.Thanks for your story. "

Comment on this Article | Contact Us | Go Back to Main Menu