Riders to Remember: Mike Tams
By John Hyam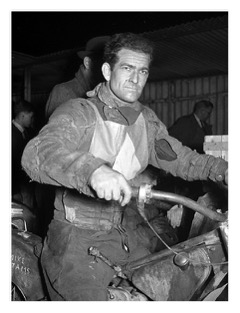 Mike Tams at Newcastle in the 1950s
MIKE TAMS was born of Irish parents in Canada but brought to England as a child in the 1930s.
After war time service wth the RAF, he decided on a speedway career and was a junior rider with his brother Les at Eastbourne in 1947. From 1948 until 1950 he mainly concentrated on speedway in Ireland before joining National League Division Two side Newcastle in 1951. The following year he joined Southampton where he spent several seasons.
In 1955 he had a brief successful spell with Ringwood in the Southern Area League but was later refused permission by the Speedway Control Board to continue in that league because he was "too experienced."
Tams subsequently went to Canada and in 1959 was among a group who started promoting meetings at Dundas. From then until the late 1980s, Tams was a regular starter on tracks in both Canada and the USA's Eastern States. Tams continued riding until the late 1980s when entering his early sixties.
After his retirement, Tams suffered ill health and was living in a care home when he died in the early 2000 era.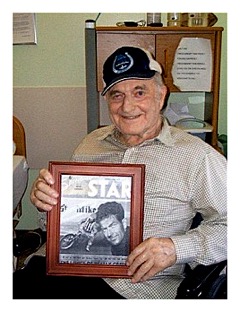 Mike Tams in retirement shows the
1952 Speedway Star front page
Canadian rider Mike Tams' younger brother Les had a spell with him at Eastbourne in 1947, but declined the chance to move to Hastings the following season when the Eagles' moved there.
In 1948, Les and Mike were involved in a bid by then Belle Vue rider Wally Lloyd to promote at Belfast in Northern Ireland before linking with Santry in the Irish Republic.
It was then that Les became known as Les Gordon. Mike explained, "It was felt that one Tams around a place was enough for most people!"
On August 29, 1948, Les scored two points for Ireland who lost 39-33 to England at Santry. Mike added, "Early in 1949, Les gave up racing. He went to work for Ford at Dagenham, then reverted to his trade of plumber and for many years was involved on housing developments in the south of England."
This article was first published on 9th August 2020
[ Use Desktop Version ]
Comment on this Article | Contact Us | Go Back to Main Menu