Every Picture....
The 1971 NZ Test Team
By Tracy Holmes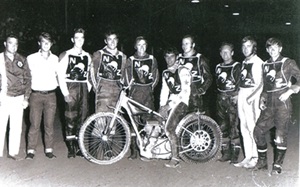 New Zealand 1971
This team picture, in the classic 'team shot' pose, comes from the second test between New Zealand and England staged at Western Springs (Auckland, NZ) on February 13th 1971.
The Kiwi's line up from left to right is: Reece Facoory (manager), Jim Wells, Lance Gandy, Frank Shuter, Bob Andrews (captain), Ivan Mauger (on bike), Jack Milen, Bryce Subritsky, Freddie Timmo and Gary Peterson.
The picture comes from the collection of the late Bruce Kent.
Those who were paying attention will spot that, most unusually, the captain is not the man on the bike. Instead the posterior of one Ivan Mauger is the only one seated.
The story goes something like this...
Bob Andrews was selected as Captain of NZ for the Test series. Ivan was not available for the first Test, but he is for the second and when it comes time for the team photos, Ivan plonks himself on the bike!
Bob Andrews asks what is happening and reminds Ivan just who is Captain. That doesn't faze Ivan, "I'm the World Champion so I sit on the bike!" he responded.
This comes as no real surprise to Bob or his team mates but again Bob reminds Ivan that it is the Captain's place, never mind what Title anyone is carrying.
Ivan will not be moved, "Well I'm the World Champion and I will sit on the bike. And what's more, if I don't sit on the bike, I will not be in the photo!!!"
Yes, a little Ivan tantrum and here we have the photo.
It gets better.
Bob's role as Captain gets completely ignored as the meeting continues as Ivan takes over with the blessing of his best mate, NZ manager, Reece Facoory. As a result, Bob tells the selectors where they can stuff the Captain's role.
New Captain? Arise 'Sir Ivan'. How about that?!!!
This article was first published on 18th March 2010
---

Ross Dow:

"Nice story. One thing about the photo that prompts a question. I always recall Mr Timmo as 'Rick' and do not recall his name being Freddie. By coincidence, I had a visit from some long lost relatives from Napier, NZ a few months ago. The talk got around to speedway. Wayne was not a big fan but had been a few times during his life. He rhymed off a few names which he remembered including Freddie Timmo who he knows slightly. He reckoned that he had raced in Britain with a fair amount of success. I mentioned the name Rick but he had never heard him called that. Is there a story behind the name change?"
John Callaghan:

"Just a quickie on the Rick/Freddie Timmo question - presumably, his given name was Frederick, so he might opt for either Rick or Freddie as a diminutive, like an Albert might choose to be called either Al or Bert. I don't think there is any name "change" involved."
Mike Wilson:

"I have known Fred my whole life and raced against his son Spencer for many years. In NZ Freddie was always known as just that Fred or Freddie but in England chose to use the more 'racy' name of Rick. He is still fit and well and has been running Timmo's Motorcycles for over 35 years in his native NZ."
Stephen Kelly:

"My father worked with Jim Wells and pushed his bike for the tests, what an atmosphere."

[ Use Desktop Version ]

Comment on this Article | Contact Us | Go Back to Main Menu