A New Experience at Newport
By Dudley Jones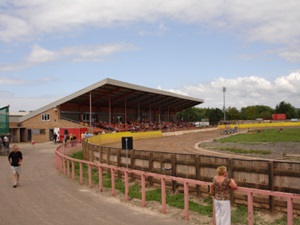 Newport
On a recent Sunday my wife and I made our first visit to Newport for 2 or 3 years. Last time was for a Somerset & Plymouth double header. On that occasion things were so slow that we had to leave after only a couple of heats of the second match, and the whole thing, on a cold day, was depressing.
This time the place seemed to be much better. For a start Newport had, for the first time I can remember, a competitive team who went out to win. There was an air fence at each end (the naked wooden fence always worried me for rider safety, being a great believer in the Ipswich style collapsing fence, although it would not fit at Newport).
The new Wasps nest bar was a big plus (especially for my wife, a Coventry supporter who failed to understand why there were wasps and hornets being talked about, but no bees!).
The track was a good racing strip (although it appeared to go from slightly over-watered to dust in about a dozen heats - better bowser needed) and presentation was sharp, with little sign of the lethargic running of our earlier visit. The match (versus a Kings Lynn side, who I supported many years ago) was exciting to watch.
Although I felt there could have been a little more 'promotion' a la Len Silver the announcer was more in evidence than before.
I enjoyed the match, and a proper supporters shop did no harm at all! The place looked, and felt, like the Wasps mean business.
As a racing strip I have always favoured Somerset, but that is 40 miles down the M5 on a Friday night when I dread the holiday holdups. On the current showing we shall go more often to Newport, and I urge more ex supporters to give the new promotion their support.
[ Use Desktop Version ]
Comment on this Article | Contact Us | Go Back to Main Menu