Book Review: Peter Collins Autobiography - Keeping It on the Tyres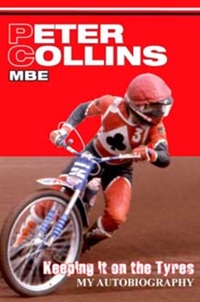 The 1976 World Champion and one of the greatest British riders of all time has finally put pencil to paper (literally) and written his long-awaited auto-biography. "Keeping It on the Tyres" is Peter Collins' story in his own words and has just been published in conjunction with Retro Speedway.
The reference to pencils and paper is explained in the introduction, with P.C. electing to start the writing process by retiring to a holiday home and writing things out in long hand. We learn that the process later evolved to the use of a Dictaphone, but it's an interesting insight into the Collins character, deciding to do things in his own way and at the time of his choosing.
Peter was determined that the book should be the story of his life, rather than just his racing exploits, so the early chapters deal with his family history and upbringing. His first visit to speedway, at Belle Vue of course, was in 1962 and he seemed to decide pretty much immediately that it was the sport for him. The fact that he was fortunate enough to see Peter Craven in regular action may well have influenced him significantly.
Living on a farm proved advantageous as it allowed him and his school chums to race around the farm on an assortment of old motorbikes. Dave & Chris Morton, Andy Reid and Dave Trownson being amongst the gang who went to enjoy success as professional speedway riders.
Peter reveals that his hero was Chris Pusey and he followed his lead by starting his career on the grasstracks of the North West of England. It was while racing on the grass that he met Jim Rawlinson who would prove to be a key figure in Peter's career, providing him with the machinery that allowed him to really get his career moving.
When he was old enough, he made the move into speedway, riding at Crewe training schools where he immediately caught the eye. The Crewe promotion considered him to be their discovery, but some training sessions at Belle Vue's Hyde Road stadium resulted in him being offered a contract with the Aces.
Although these events are now over 50 years ago, Peter's recollections are crystal clear, demonstrating his remarkable memory. That's reflected throughout the book where there's always a feeling that the account is personal, rather than being cobbled together from newspaper reports or simply dusting down well-worn anecdotes.
Peter made his first speedway appearances as a Rochdale Hornet, effectively the Belle Vue Colts in all but name, but now with a track of their own. His progress was rapid and it wasn't long before he was a Belle Vue Ace on a full-time basis. It seems like huge natural talent, coupled with enormous ambition and belief were the catalysts for his success.
It wasn't long before he was genuinely world class and in 1973 he was involved in what was (reputedly) one of the greatest races of all time. A whole chapter is devoted to that classic clash with Anders Michanek in the K.O. Cup final. Sadly that race was never filmed, so only those present on the night ever saw it, making its legendary status all the more remarkable. 1973 was also the year in which he made the first of his eight World Final appearances, reaching Katowice in only his third season of senior racing.
When the British season ended, Peter and many of the other top Brits, would head off to Australia to ride as the British Lions touring team. Those trips are a rich source of stories within the book, more for the off track incidents than the on.
The mid-seventies were a key time in the development of speedway machinery, with the traditional two-valve engines giving way to new four-value equivalents. Although often blamed for the subsequent demise of the sport, P.C. is having none of that, believing their introduction to have been a good thing. He details his own journey from Jawa to Weslake, initially requiring some persuasion to switch to the British based engine, though never regretting the decision to switch, not least due to the numerous benefits of being a "works" rider.
He was on a Weslake when he won his World Title, back at Katowice, in 1976. As his finest hour it's not surprising that the meeting is covered in detail with a race-by-race breakdown of the evening. He also reflects on the overall experience of actually becoming the World Champion, the opportunities and responsibilities that became part of his life. He tells us that Anders Michanek had not enjoyed the experience at all, but Peter embraced the title and all that came with it.
At that time he was probably the best rider in the world and he may well have added a second title the following year had fate not intervened. Riding in a meaningless second half race at Belle Vue he hit the lid of a mancover that had been left in a raised state on the track. He suffered significant leg injuries that left him riding in the final while nowhere near fit. A second place on the night was an incredible achievement, though for Peter it's clearly still "one that got away". He analyses the meeting in some detail and has clearly given it a lot of thought over the last 45 years!
An even more significant injury was to come at the very end of the 1980 season. Peter was riding for Belle Vue at Cradley Heath in conditions that were far from ideal, the meeting had actually been cancelled earlier in the day, then "uncancelled" in the afternoon. It proved fateful for Peter as he picked up a shoulder injury that he never really recovered from, indeed he's only just had an operation in 2022 to properly fix the problem! He estimates he was never more than 70% fit after that injury and it definitely hastened the end of his career.
Before he finished he managed to win the World Pairs with Chris Morton in Lonigo. Two old school pals who started together at the farm, standing together on the podium was real boys-own stuff. In total Peter won the World Pairs four times and the World Team Cup five times.
His career continued until 1986 when he decided to call it quits. Although virtually synonymous with Belle Vue he reveals that he almost became a Leicester Lion in 1982, having virtually agreed the move with the persuasive Martin Rogers, before a late change of heart saw him return to Belle Vue.
The famous Hyde Road home of the Aces only lasted one more year than Peter, being sold at the end of the 1987 season. Peter couldn't face the prospect of the club not existing at all, so set out to save the club. A chance meeting with John Perrin led to the two forming a new promotion and approaching the nearby greyhound stadium about opening a new track there. Peter's tales of his time as a promoter are eye-opening to say the least. He says, with massive understatement, that he and Perrin were "not a match made in heaven".
There could probably be a second volume that just concentrated on the couple of years in which P.C. was a promoter, truly remarkable stuff.
It's fairly well known that Peter has had his differences with the Belle Vue promotions of recent years, admitting that he's not even been to the National Speedway Stadium yet. The problem relates to the complimentary passes that are made available to former riders, or rather the lack of them. It's obviously a real hobby-horse for Peter and is given generous focus towards the end of the book.
As well as telling his own story, writing the book has given Peter the chance to pay tribute to others who have shared his journey. These include his four younger brothers who followed in his tyre tracks, his long-time mechanic Rob Hignett and even a famous fan "Soldier Boy".
He's also able to share many great stories and opinions. Whether you want to know about Bruce Penhall going commando, the mechanic who thought Newport Pagnell had a speedway track or a smelly toilet on a warm Australian bus, it's all in here!
Peter has waited many years to write his story and it's been worth the wait. With over 500 pages, forewords by Bruce Penhall and Eric Boocock, plus a huge number of captioned photographs, it's a fitting tribute to a speedway legend.
You can order your copy at retro-speedway.com
This article was first published on 11th December 2022
[ Use Desktop Version ]
Comment on this Article | Contact Us | Go Back to Main Menu