One One Eight - The Drew Kemp Magazine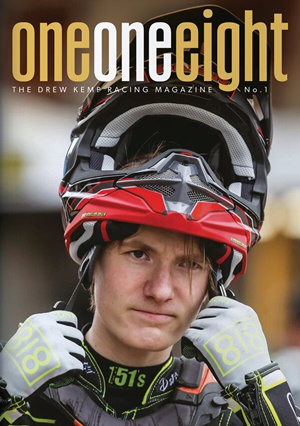 Top British prospect Drew Kemp continues to impress with his professional approach to the sport and to his own personal branding. Following on from a book and a range of quality merchandise is his own magazine - "One One Eight - The Drew Kemp Racing Magazine".
Produced in conjunction with the extremely talented Barry Cross, it's an A4 publication that runs to 36 full colour pages and is professionally printed on quality paper.
Within the pages you'll find a number of articles about the lad himself, covering his lockdown life, looking back on his trip to Australia and on the 2019 season. While he probably found life tougher on the domestic scene than he'd anticipated, he put in many impressive performances at home and abroad. He's very honest about the ups and downs he experienced, though the good clearly outweighed the bad.
There's plenty for all the family in the magazine, with dot-to-dot and word searches included for his younger fans. They'll also enjoy the many pictures throughout, including some from his motocross days, showing that he's been popping wheelies for many years.
While we fans are impatiently waiting for the 2020 season to begin, the frustration must be even greater for those whose livelihood relies on it. Drew shares his hopes for the season ahead and his excitement at lining up for Eastbourne and Ipswich, particularly since he'll be able to count Jason Crump amongst his Witches team mates.
He says:
"It was amazing to line-up against Jason in Australia and I never dreamt that I'd end up riding at Ipswich with him this season, it's going to be mint and I know I'll learn so much just being in the company of a three-time world champion".
The final couple of pages of the magazine show Drew in action wearing his new Ipswich kevlars and the page border shows details of all 34 of his sponsors! The fact that such a young rider has accumulated so many is proof positive that his positive approach to engagement has paid off. Lessons there for other riders and the sport as a whole?
It's a fine publication and future editions will surely follow as and when the action kicks off.
You can order a copy from Drew's website for £3 (plus p&p).
This article was first published on 7th June 2020
[ Use Desktop Version ]
Comment on this Article | Contact Us | Go Back to Main Menu