Crash Sequence from Paris Speedway
Words and Pictures by 'Tiger' Tom Marriott.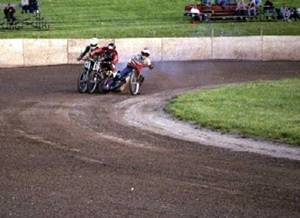 Not looking good in turn one! From L-R Jeff Orosz, Gary Hesmer and Kyle Legault (now riding for the Sheffield Tigers)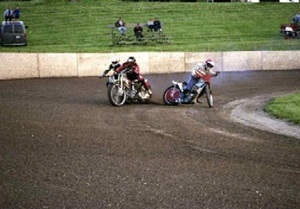 Legault fights for control while Orosz and Hesmer become locked!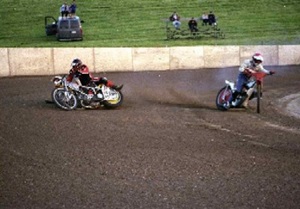 Legault back on track but Orosz and Hesmer going for the ride towards the fence!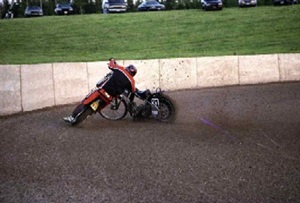 Gary Hesmer now going in the wrong direction (not a good idea on a speedway bike!) and Jeff Orosz is hidden behind his #32 bike!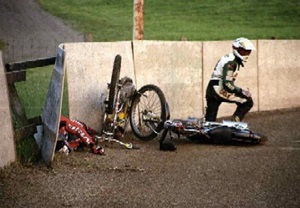 At last the nightmare comes to an end. Jeff is up and ok but the unfortunate Gary Hesmer suffers a concussion and is out cold. After a brief time spent with the St Johns Ambulance attendants Gary came round and he wanted to continue in the re run but the medical staff vetoed his return. Gary rode the following week.

This article was first published on 30th March 2006

[ Use Desktop Version ]

Comment on this Article | Contact Us | Go Back to Main Menu