Dream Team : Peter Jupp
I have been going to Speedway since 1973, my 1st meeting was a World Championship qualifier at Eastbourne won by Gordon Kennett and I have been hooked ever since. I have visited most tracks in my time and although supporting the Eagles of Eastbourne I would class myself as a Speedway supporter over any one Team. My selection includes a number of Eastbourne riders as well as my all time greats from both Leagues.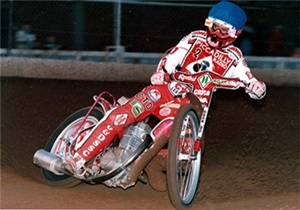 Joe Screen
Kelly Moran
Kelly had two spectacular years at Eastbourne in the early 80s I still recall his swoops round the outside on the 1st & 2nd bends. In my opinion the most spectacular rider ever. I still followed his progress when at Sheffield and laterly at Belle Vue and Swindon. Very much missed.
Joe Owen
I remember Joe riding at Eastbourne in the mid 70s and no one could get near him, a good gater and stylish around the track. I seem to recall when he rode for Newcastle in one season he only dropped 1 point at home when John Jackson beat him.
Steve Weatherley
The 1st rider to break 60 seconds around Arlington. Whenever he rode he looked a natural on the bike and very sylish. Had the potential to be a World Champion but for that fateful night at Hackney in 1979.
Martin Dugard
I followed the young master of Arlington's career from the junior track in the car park to being the British Grand Prix winner. On his day was unbeatable round Arlington and had a great style with it. Although he only rode in one Individual World Final I think he could have done more always appeared to be more of a team man than an individual rider.
Joe Screen
I first saw Joe ride at Coventry in the Golden Greats Meeting as a very young lad, what a talent he was and carried this on during his Speedway career. Always having to come from the back as he couldn't gate ( which was probably a blessing ) he could find a gap where others couldn't and was a joy to watch at all tracks
Mike Sampson
Mike rode for many years at Eastbourne and was always consistant around Arlington. My most vivid memory of Mike is that he always had the cuffs of his navy blue leathers rolled back.
Chris Harris
I felt I had to include another current rider and Chris would be in any of my Dream Teams. I have seen him ride numerous times but his inclusion has very much to do with his bravery and commitment to Coventry in the play off Final in 2010. After being run over by Lewis Bridger the way he carried on riding despite being in obvious pain and then went on to have probably the best meeting of his season marks him down as an all time great in my book.
Submit Your Own Dream Team
This article was first published on 7th July 2011
[ Use Desktop Version ]
Comment on this Article | Contact Us | Go Back to Main Menu