Dream Team: Peter Williamson
50 years old working in the media industry, an ex loyal Wimbledon fan from about 1970 onwards. My team is very biased to Wimbledon riders as they were the guys I saw week in week out.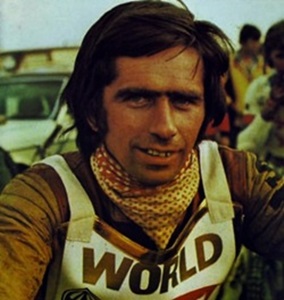 Edward Jancarz
Trevor Hedge
Great servant to Wimbledon, very under rated, but always gave 100% in every race wearing the Wimbledon race jacket.
Ole Olsen
Came from a country where Speedway was not supported and was the start of something great for Denmark, without him Denmark would not have had such gre at riders as Hans Nielsen, Eric Gunderson, Tommy Knudsen, Jan Pedersen, Bo Peterson etc etc. A great pioneer for the sport, was the reason why the current grand prix format came into existence.
Rocky Coutts
Who?, I hear you all say, he was a young novice at Wimbledon, unfortunately Rocky could not stay on his bike very often, we used to love watching him after the main meeting, he was never going to make it but he did his best and was determined to carry on.
Tommy Jansson
Sheer class from day one, unfortunately, died just as he was reaching his peak, true style and a future world champ if circumstances had been different. He had just won the Golden Helmet and scored a 15 point maximum in his last meeting at Plough lane, a great way to go out.
Edward Jancarz
Came over from Poland to ride for the Dons, he was a world class rider, who oozed style, He has a stadium named after him and was the first speedway rider in the World to have a monument dedicated to them. That sums up what people thought of him.
Ivan Mauger
I really cannot add anything more to what anyone else has said about this great rider, He was just so good that some seasons his meeting average for Newcastle and Belle Vue was over 11 points a meeting, numerous world finals and other titles, a legend, but because he was so good, I did not like him.
Bruce Penhall
Brought razzmatazz to speedway, the girls loved his looks he was a star even before he became one, a great rider who never knew when he was beaten, loved every race he was in and the 1981 world final win at Wembley was one of the great meeting I saw.
Submit Your Own Dream Team
This article was first published on 10th February 2013
---

Anthony Williamson:

"My brother was right about Rocky Coutts. Never was going to be a great ,but one hell of a tryer."

[ Use Desktop Version ]

Comment on this Article | Contact Us | Go Back to Main Menu