The Polish Problem
By David Pickles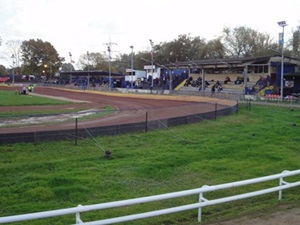 Rye House
After the disappointment of losing the last oval in London, Plough Lane at Wimbledon, now comes something even bigger, this time on an international scale. The news recently, that Poland have now "banned" riders from overseas that sign for Polish teams, from riding in other countries could be the last straw and death knell for any form of major league speedway in the UK.
Those of us of a certain age that can clearly recall the boom of the mid-60's, through the 70's to early 80's are appalled at the selfishness of the Poles in bringing in this rule, when it must be remembered that British clubs not even 4 years ago willingly accommodated their change of race nights so that British riders who had signed for Polish clubs could travel with ease. However, this led to considerable problems by forcing clubs, for example such as Rye House to change their race night from Saturday to Wednesday which in the end killed them stone dead as the crowds dropped away leaving them no chance of survival.
It was proven beyond any doubt that top-flight speedway at less glamorous clubs such as Rye House could more than survive and initial Saturday night crowds were massive. That is just one club that went, and thanks to the pandemic there may be many more in the next year or so.
I will say here and now that I am surprised that the FIM have allowed this to happen on an international basis. There is a large scarcity of top GP riders now plying their trade on the British scene, so the UK now has to stand up for itself and play the same game as Poland.
Firstly, the BSPA, with the backing of the FIM, have to refuse to have fixed race nights from next season, just to accommodate the ease of travel for riders that are signed to Polish clubs.
Secondly, because the "Premiership" now has so few top riders in it, with a couple of notable and honourable exceptions, surely the time has now come to "level down" and amalgamate the leagues into one. The National League, of course, must remain the same, as the third tier is an important "feeder league" for the sport going forward.
Those that remember a 20 team British League in the mid 60's will recall with affection a 30-week season, from mid-March to end-October. We saw each team once, there was a World Championship Qualifying round, plus cup matches and a home open meeting of note, ending with a local rivalry (in London of course the London Cup), and a grand fireworks display. Every week for 30 weeks the race night was the same, and the crowds were upwards of 10 times what they are now.
So, although we may not get back to those "glory" days, we must, as a country, do what we can for our own benefit, and not that of Poland and the speedway authorities there. This, of course, isn't a direct jibe at Poland as such, but to be allowed by the FIM to bring in a rule that could actually destroy any vestiges of top flight speedway in the UK, must not be allowed to happen.
This article was first published on 27th December 2020
[ Use Desktop Version ]
---

Steve Haire:

"Again another good article by Dave Pickles. Riders will go where the money is and Polish Speedway want to be the best so more people will subscribe to watch it. I think it will be good for British, Swedish and other leagues in the long run as it will force them to produce and bring on their own riders. What is probably forgotten is that back in the early 70's British Speedway did more or less the same thing. When Britain could field a top class side a fair percentage of top British league riders were Swedish and for a season commuting riders were banned.

I think British Speedway needs to go back to pre 1968, one league, the current fifteen heat formula with the second half individual racing with juniors partaking. I would say do away with maximum team averages so no levelling up of team strengths and let teams pay what they can afford, this would do away with doubling up. Race days would need to be on whatever day suits the individual tracks.

The way we watch speedway has changed, you can now watch the top riders live at tracks you probably would never get a chance to visit, in the comfort of your own home at a fraction of the price of actually going to watch it live. The GP's, Polish and Swedish speedway have shown us that even during lockdown you still get excellent racing and British speedway needs to try and attract these sort of supporters to subscribe to watch British speedway. Lets hope 2021 sees the virus gone and we can get back to doing the things we love. "
Bob Bath:

"Excellent article David, remembering as you do the mid sixties-the first BL season in 1965 for example, it makes me weep to see the current state of British speedway. Although I now live in Canada, I have thought of visiting England just to see the tracks that I didn't go to which were operating in 1968 when I left and still are at the same venue. These are Brough Park, Monmore Green and Kings Lynn. My mates have said to me don't come over just for that-best to remember the photos of how they were. BTW an excellent book re the depths of mid fifties speedway and how it made a major comeback try and get "Saving Speedway" by Philip Dalling an excellent book."

Comment on this Article | Contact Us | Go Back to Main Menu